Cut the Cost of Groceries
in 5 Easy Steps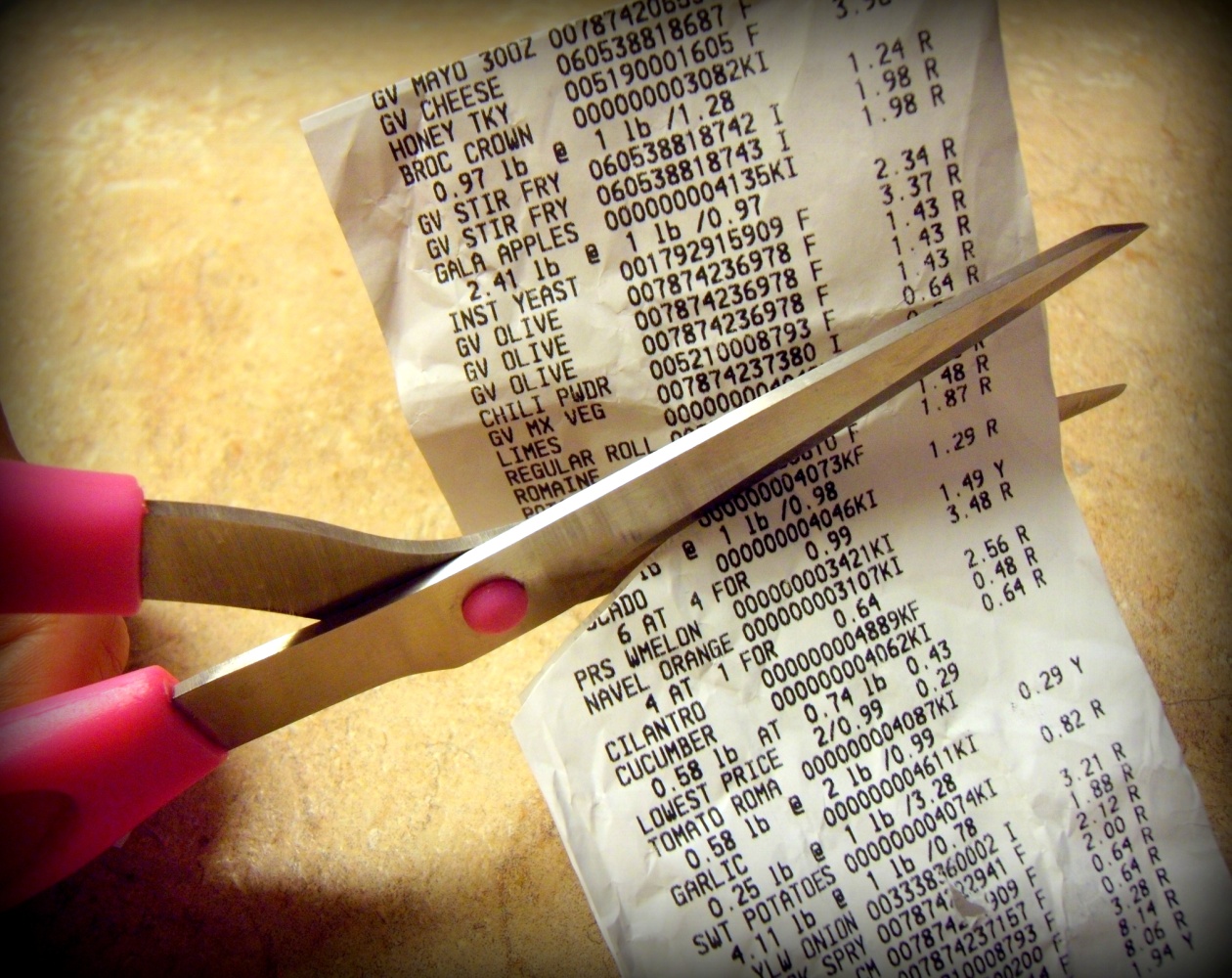 If, like me, one of your New Year's resolutions is to spend less but you don't know where to start here's an idea-start with your grocery bill. By following these 5 simple steps you can easily spend a lot less at the grocery store.
---
Step 1: Shop around the sales
Surprisingly, shopping around the sales will save you a lot more money than even couponing. If you want to save a lot only buy an item when it is on sale. Determine whether or not a sale is authentic by calculating if it is around 30-50 percent off the regular price.
A lot of stores have ad-match pricing which means you can get the lowest prices all in one location if you are willing to do the research. Do not rule out any store. Check every store's ad and see where you can get the lowest price for an item. You may eventually find that a certain store consistently has the best sales and you can save some time by regularly checking their ad first.
Trust me, the work you put into shopping around the sales will pay off—quite literally! Hence why this is the first and most important step in cutting the cost of your groceries.
---
Step 2: Stock up
Stores typically rotate sales every 6-8 weeks. It is important to remember this when you are shopping the sales. If there is an item on sale that your family normally rotates through, buy enough for you and your family to last until the next sale. Pay attention to how much your family uses of a particular item in one week's time and then buy at least six times that amount whenever that item goes on sale. You will eventually build up a nice varied storehouse of items you normally use without the fear of running low until the next sale.
---
Step 3: Eat Less Meat
If you break down your monthly grocery bill, you will most likely discover that meat is by far the priciest item on your list. By simply choosing to eat meatless meals at least twice a week, you can save a bundle. Some research suggests you can save nearly $1000 a year by doing so. I personally, would not mind having an extra thousand dollars every year. However, if you do happen to find incredible, too-good-to-pass-up deals on meat—stock up!
Here is a list of amazing meatless meal ideas from your very own DVO crew. You may want to consider taking all these recipes and creating a new chapter in Cook'n entitled "Meatless Meals". This is a great way to make sure you have these recipes on hand any time you need them.
---
Step 4: Meal Plan around the Sales
I personally think this is the most difficult habit to adjust to. When I meal plan, I normally look through my favorite cookbooks, websites, blogs, etc. and find recipes that look good that day and then write down everything I need. It is fast and painless. However, by planning meals around the best sales of the week, you can save a significant amount more.
Another way to do this is to view your pantry as your personal in-home grocery store with a large selection of items you normally use for meals. Simply keep stocking up on these items every time there is a sale and plan your meals around what you have on hand already. It takes more time, effort, and planning but it is worth the savings.
---
Step 5: Use Coupons for Sale Items
Although couponing typically can't save you more than shopping around the sales, using coupons for sale items is simply an added bonus. Saving your coupons for an item until that item goes on sale will definitely be worth your while. Don't let coupons burn a hole in your pocket. Save them if you can and wait for that item to go on sale because most likely it will in the near future. If you are going to coupon, do it in this fashion. Don't simply use coupons for the sake of using coupons. Especially on items you don't even need. This is just a waste of money and time.
Sources:
http://www.livingwellspendingless.com/2012/11/01/how-to-save-on-food/#_a5y_p=705854
---


Carrie Collette
Monthly Newsletter Contributor since 2013