---

Recipe from the July 2011 Newsletter
---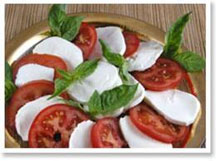 Ingredients:
3 vine-ripe tomatoes, 1/4-inch thick slices
1 pound fresh mozzarella, 1/4-inch thick slices
20 to 30 leaves (about 1 bunch) fresh basil
Extra-virgin olive oil, for drizzling
Coarse salt and pepper
---
Directions:
Layer alternating slices of tomatoes and mozzarella, adding a basil leaf between each, on a large, shallow platter. Drizzle the salad with extra-virgin olive oil and season with salt and pepper, to taste.
July 2010 Newsletter
Be sure to check the Cook'n Recipe Archive for more recipes.