Cook'n with Rhodes
by Rhodes
---
---
NOTE: You must have Cook'n installed to use this download!
---

Cook'n with Rhodes
Every great cook has a few secrets that they never reveal. One of the best kept secrets to preparing delicious meals that come out perfect every time is to use Rhodes Frozen Bread Dough!
Over the last 50 years, Rhodes has perfected the art of bread dough. Now you can benefit from years of research with access to over 240 of Rhodes' best recipes--from traditional favorites to innovative new ideas--all on one comprehensive cookbook.
Finding just the right recipe is easy since this cookbook includes a photo of EVERY mouth-watering recipe. And, with 20 video demonstrations, you will learn preparation techniques that ensure a perfect result every time.
It's easy to make Rhodes bread a delicious part of every meal. Whether you're a frozen dough beginner or a seasoned Rhodes baker, you're sure to love these delicious fresh ideas for appetizers, main dishes, desserts, breads and rolls, dough sculpture and more!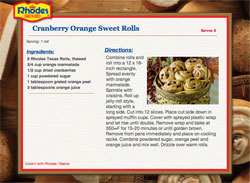 ---
"Cook'n with Rhodes is a fantastic program with some of my now favorite recipes! I think my favorite part is the pictures for every recipe. Thank you for this great addition to my Cook'n Library!"
--Reed Rovick
Cook'n Is Several Products in One!