Cook'n is the best selling recipe organizer
TODAY'S SPECIAL
10% off all orders of Cook'n Software $50 or more.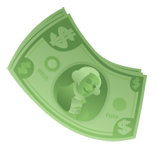 Choose from over 100 different titles
Organize, email, and print recipes
Make menus and shopping lists
Adjust recipe serving sizes automatically
---
Enter the coupon code:
DailySpecial
---
The Cook'n Recipe Organizer is an easy-to-use program that makes recipe management and organizing using your home computer a snap.
DVO has collected a large variety of recipe books ranging from Taste of Home to Cook'n in China. Order over $50 of products from our Cook'n software line and receive a 10% discount.
---
"I might learn how to cook yet with all this software of yours. You can't believe how much it has helped. I've had friends come over (I'm just a single guy with a dog - but looking for the right woman) and rave about the meals I prepared for them. It's not all that hard if you just follow the directions. In the end I have to tell them my secret, it's not talent - it's your software.
Oh well, the food is still delicious. Now if I could just figure out how to use the dishwasher.
-John
Cook'n Is Several Products in One!