---

Recipe from the February 2012 Newsletter
---
Ingredients:
4 tablespoons olive oil
2 cups chopped leeks , white part online (from approx. 3 medium leeks)
2 tablespoons finely minced garlic
kosher salt to taste
2 cups carrots , peeled and chopped into rounds (approx. 2 medium)
2 cups peeled and diced potatoes
2 cups fresh green beans , broken or cut into 3/4-inch pieces
2 quarts chicken or vegetable broth
4 cups peeled, seeded, and chopped tomatoes
2 ears corn , kernels removed
1/2 teaspoon freshly ground black pepper
1/4 cup packed, chopped fresh parsley leaves
1-2 teaspoon freshly squeezed lemon juice




---

Directions:

Heat the olive oil in large, heavy-bottomed stockpot over medium-low heat. Once hot, add the leeks, garlic, and a pinch of salt and sweat until they begin to soften, approximately 7 to 8 minutes. Add the carrots, potatoes, and green beans and continue to cook for 4 to 5 more minutes, stirring occasionally. Add the stock, increase the heat to high, and bring to a simmer. Once simmering, add the tomatoes, corn kernels, and pepper. Reduce the heat to low, cover, and cook until the vegetables are fork tender, approximately 25 to 30 minutes. Remove from heat and add the parsley and lemon juice. Season, to taste, with kosher salt. Serve immediately.

February 2012 Newsletter

Be sure to check the Cook'n Recipe Archive for more recipes.
---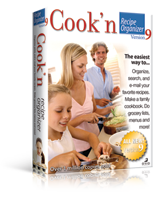 Be sure to check the Cook'n Recipe Archive for more recipes.
Piles of recipe cards in your drawer? Download Cook'n today and get organized!
Buy the CD or download of Cook'n right now! Includes over 300 of our best recipes.
---
"I might learn how to cook yet with all this software of yours. You can't believe how much it has helped. I've had friends come over (I'm just a single guy with a dog - but looking for the right woman) and rave about the meals I prepared for them. It's not all that hard if you just follow the directions. In the end I have to tell them my secret, it's not talent - it's your software.
Oh well, the food is still delicious. Now if I could just figure out how to use the dishwasher.
-John
Cook'n Is Several Products in One!