Olive Garden Five Cheese Lasagna



---

Recipe from the February 2013 Newsletter
---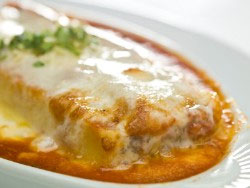 Photo and recipe courtesy of: www.copykat.com I have tried this recipe and absolutely loved it, very delicious! It's a nice make-ahead meal too, so you can prep it when you have the time and then bake it for dinner. Served with salad and breadsticks, this meal is a hit for your family or to impress company. Note: If you want to add meat to your lasagna (my husband says it's not lasagna without meat) you can add 1 pound of browned ground beef or 1 pound of browned and chopped Italian sausage to the cheese filling.
Ingredients:
extra

Parmesan cheese

, freshly grated
marinara sauce

as desired
1/4 cup
fontina cheese
1 cup

regular or spinach

lasagna noodles
4 cups

shredded

mozzarella cheese
OTHER
1 teaspoon
black pepper
1/2 teaspoon
salt
1/2 cup

grated

Romano cheese
1 cup

grated

Parmesan cheese
3
eggs
3 1/2 cups
ricotta cheese
1 tablespoon

minced fresh

garlic
1/4 cup

sun

dried tomato

, oil packed and minced
CHEESE FILLING
2 cups
milk
1/4 cup
flour
1/4 cup
butter
CREAM SAUCE
Directions:
To make sauce, melt butter over medium heat in heavy, 1 quart saucepan. Add flour and stir until well blended; cook until frothy. Add milk, stirring constantly with wire whisk as mixture comes to a simmer. Cook and stir until thickened (3-4 minutes). Chill while mixing other ingredients. Drain tomatoes. Place other cheese filling ingredients in 3-quart mixing bowl with tomatoes and garlic. Add 1 and 1/2 cups of cooled cream sauce and mix until well blended. Refrigerate, reserving 1/2-cup for later use.
Cook lasagna noodles according to package directions. Cool under cold water and drain. Place 3 lasagna noodles in a 9x13x2 lightly oiled baking dish, overlapping slightly. Spread 1 and 1/2 cups cheese filling over noodles; sprinkle with one cup mozzarella and 1/4 cup fontina cheese. Repeat pasta and cheese layering three more times; top with remaining three lasagna noodles. Spread 1/2 cup of reserved cream sauce over top and cover lightly with foil. Preheat oven to 350 degrees and bake for 1 hour. Remove from oven and keep warm at least 30 minutes before serving.
Serve topped with hot marinara and Parmesan cheese. (Can be refrigerated for a day before baking if desired)

Recipe formatted with the Cook'n Recipe Software from DVO Enterprises.
February 2013 Newsletter
Be sure to check the Cook'n Recipe Archive for more recipes.
---
Be sure to check the Cook'n Recipe Archive for more recipes.
Piles of recipe cards in your drawer? Download Cook'n today and get organized!
Buy the CD or download of Cook'n right now! Includes over 300 of our best recipes.
---
"I might learn how to cook yet with all this software of yours. You can't believe how much it has helped. I've had friends come over (I'm just a single guy with a dog - but looking for the right woman) and rave about the meals I prepared for them. It's not all that hard if you just follow the directions. In the end I have to tell them my secret, it's not talent - it's your software.
Oh well, the food is still delicious. Now if I could just figure out how to use the dishwasher.
-John
Cook'n Is Several Products in One!