---

Recipe from the March 2012 Newsletter
---
Hands down, this is my favorite kind of pizza! It's easy to make, and delicious!
Ingredients:
1 pre-baked pizza crust (I recommend Boboli)
1 (10-ounce) can diced Rotel Diced Tomatoes and Green Chillies drained very well
1 (15-ounce) can black beans rinsed and drained well
1 cup tortilla chip crushed (or fried tortilla strips)
1 cup Mexican blend shredded cheese
shredded lettuce
1 diced tomato
ranch salad dressing or sour cream for garnish




---

Directions:

1. Spread the Rotel tomatoes on pizza crust.

2. Scatter black beans over tomatoes evenly.

3. Scatter tortilla chips over that, then cover with shredded cheese.

4. Bake according to pizza crust directions until heated through and cheese is melted.

5. Layer with shredded lettuce and tomato. You can add whatever else you may want like green onions, olives, etc.

6. Drizzle with ranch dressing or dollop with sour cream if you prefer.

7. Enjoy!

March 2012 Newsletter

Be sure to check the Cook'n Recipe Archive for more recipes.
---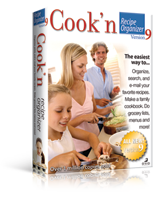 Be sure to check the Cook'n Recipe Archive for more recipes.
Piles of recipe cards in your drawer? Download Cook'n today and get organized!
Buy the CD or download of Cook'n right now! Includes over 300 of our best recipes.
---
"I might learn how to cook yet with all this software of yours. You can't believe how much it has helped. I've had friends come over (I'm just a single guy with a dog - but looking for the right woman) and rave about the meals I prepared for them. It's not all that hard if you just follow the directions. In the end I have to tell them my secret, it's not talent - it's your software.
Oh well, the food is still delicious. Now if I could just figure out how to use the dishwasher.
-John
Cook'n Is Several Products in One!