New Year Resolution:

Eat healthier (without getting sad about it). Or how to not have to hide in the closet while eating treats.
It seems like everyone's goal: eat healthier and lose weight, my family included. It seems like one of the easiest ways to do this is to add in more fresh vegetables and fruits into our diets; that way, those yummy temptations won't throw us off course as quickly.
I am no expert at the weight game, though I do like to eat healthier. Since I am no expert I contacted a few health gurus that I know. Here are some of their suggestions.
*Start the day with filling, healthy meals. Skipping breakfast will catch up with you by not having energy, leading to grabbing whatever convenience food is available. Often this convenience will be a sugar-coated bit of yumminess, because it's a power boost. When starting your day, protein and a little fat keep you going. A completely fat free diet is not that healthy, according to my sources. Fat is needed for our bodies. Suggestions for healthy breakfasts can include oatmeal, omelettes, scrambled eggs, and multigrain English muffin with egg or nut butters.
*Pack snacks for throughout the day. This is great for on-the-go people and especially those that work. Having prepackaged snacks helps to avoid boredom and stress eating and by planning ahead we control what we eat. I enjoy snack sized bags of popcorn (plain white with a bit of salt), carrots, sliced apple wedges dipped in lemon juice (to avoid yellowing) and almond butter, grapes, a squeezable yogurt (watch these, as some of the "kid" options are high in sugar), and homemade oatmeal bars. There are so many options, and even purchased trail bars can be great. Anything can be better than the soda-and-hot-fries vending machine run that I know a certain husband is famous for.
*Allow yourself a little cheat once in a while. If you completely deprive yourself, then you might just give up. Some of the experts I talked to suggesting a day of the week to plan a cheat. Example was to plan a Saturday afternoon lunch out with friends, or family. If you know it is coming, and are expecting to eat something you might crave, then you can look forward to it, and hold off those urges just a little longer. Another suggested a small treat in the evening after her kids went to bed, she did mention that this was one or two tiny Halloween sized snicker bars, not the giant sized KitKat bar. By waiting until she was alone, she could truly savor the treat instead of hiding in the closet so her toddler didn't see it. (I heard that one loud and clear!)
*Sneak in extra good stuff when you can. Adding extra vegetables in your diet is a great start! Or add a fruit to your breakfast. If you have to have a chocolate bar, pick one with fruit for extra protein, if you have to have ice cream, try frozen yogurt or a fruit bar. (I think chocolate-dipped, frozen banana chunks qualify as sneaking in extra good stuff.)
*Drink one more glass of water a day than you are used to doing, and it is especially helpful to drink water before you eat, which keeps us from over-eating.
*Serve your meals on a small plate rather than a larger dinner plate, it will trick your mind into thinking you are actually eating more than you are!
*Don't get down on yourself for slip-ups, and don't give up. Doing something is better than nothing. You are going to mess up once in a while and that is okay!
Some of these tips were great and so I wanted to share them with you. Also, I thought it was great to get some realistic advice, and still be able to eat good things, while being healthy.
Here is an easy way for me to get a filling breakfast. Oatmeal breakfast bars are a good start to the morning, easy for on the go, economical, AND for those of you that have an aversion to mushy, globby oatmeal, this is awesome! The peanut butter adds protein while the oatmeal (fiber) keeps your tummy from grumbling until lunch. You can switch out the tart cherry for blueberries, or many other fruits as well. These came from the famous Dr. Oz.
Dr Oz Energy Bars with Tart Cherries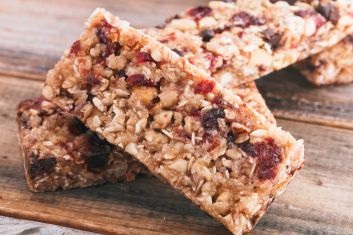 A quick and healthy way to start the day, or to keep energy up throughout the day.
Prep time:
Cook time:
Yield:
8 bars
Serving size:

8


Calories per serving:

60




Ingredients:
3 tablespoons
honey
1/2 cup
peanut butter
1 cup

quick

oats
1/3 cup

, dried tart

sweet cherries

, (or substitute other dried berry or fruits)
1 teaspoon
vanilla extract
sweet cherries
Directions:
Stir all ingredients in a bowl until blended. Grease a bread pan (approximately 4? x 8? pan) or line with wax paper. Spread the batter into the pan and press down until even. Refrigerate for two hours. Cut into about 8 bars. Wrap in parchment paper or waxed paper, for ease on the go. Keep uneaten bars in the refrigerator.

Recipe formatted with the Cook'n Recipe Software from DVO Enterprises.
---
Source:
http://www.doctoroz.com/videos/dr-oz-no-bake-energy-bars
---


Sharon Ng
Monthly Newsletter Contributor since 2012