Blackberry Crisp
Servings: 12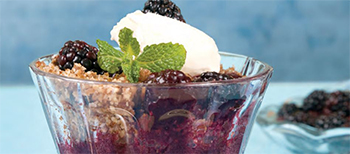 ---
Tart, juicy blackberries are a delight under this sweet, crumbly topping. Try Blackberry Crisp warm, with a scoop of Vanilla Ice Cream (recipe found in Shakes, Ice Creams, And Sorbets chapter).
Prep time:
Cook time:
Yield:
One 8-inch crisp
Calories per serving:

54




Ingredients:
4 cups

fresh or thawed and drained frozen

blackberries
3/4 cup

pitted medjool

dates

, soaked in water for 10 minutes and drained
1 tablespoon

freshly squeezed

lemon juice
2 cups

Crumble Topping (recipe found in this chapter, use second download button below)
Equipment:
measuring cups
small bowl
small colander or fine-mesh strainer
citrus juicer or reamer
measuring spoons
food processor
rubber spatula
medium bowl
square pan, glass, 8-inch
Directions:
Put 1 1/2 cups of the blackberries along with the dates and lemon juice in a food processor fitted with the S blade and process until smooth. Transfer to a medium bowl, add the remaining 21/2 cups of blackberries, and stir gently until well combined.
To assemble the crisp, press 1/2 cup of the topping into an even layer in an 8-inch square glass baking dish. Spread the blackberry filling on top using a rubber spatula. With your hands, knead pieces of the remaining 11/2 cups of the topping until they stick together. Lay these pieces of topping on the filling to form a cobbled appearance, allowing some of the filling to peek through. Refrigerate for at least 1 hour before serving. Serve chilled, at room temperature, or warm (see warming option). Covered with plastic wrap and stored in the refrigerator, Blackberry Crisp will keep for 3 days.
Warming Option: Preheat the oven to 200 degrees F. Turn off the oven, insert the crisp, and warm for 15 minutes. Alternatively, heat for 30 minutes in a food dehydrator set at 105 degrees F.
Directions:
**2 cups walnuts or pecans, unsoaked 1/2 cup unsweetened shredded dried coconut 1/4 teaspoon ground cinnamon 1/4 teaspoon ground nutmeg 1/4 teaspoon salt 8 pitted medjool dates, unsoaked 1/2 cup raisins, unsoaked 1/2 cup whole cane sugar, coconut sugar, or maple sugar (optional, for a sweeter topping) Put the walnuts, coconut, cinnamon, nutmeg, and salt in a food processor fitted with the S blade and process until coarsely ground. Add the dates and raisins and process until the mixture breaks down into coarse crumbs and begins to stick together. Donít overprocess. Add the optional sugar and process briefly. Stored in a sealed container, Crumble Topping will keep for 1 month in the refrigerator or 3 months in the freezer.

Recipe formatted with the Cook'n Recipe Software from DVO Enterprises.
Blackberry crisp recipe download:
Crumble topping download:
---
Source:
Raw Food Made Easy for 1 or 2 People, availible in the Cook'n library