Oatmeal—It's Not Just for Breakfast!
You know the chatter: Oats are a healthy whole grain; oats lower blood pressure; oats are good for digestion; oats are loaded with nutrients that help fight diseases; oats aid in losing weight. So we should eat our oats.
But one thing to understand: Oatmeal is not just for breakfast. This versatile grain-besides being a perfect breakfast and a terrific ingredient in cookies, cake, casseroles, soups, and stews-also makes a terrific snack. Considering this idea, here are 6 different ways to eat your oatmeal that fitness bloggers have come up with.(Thank you to Fitness Magazine for sharing):
---
PBJ Oatmeal (from mealsandmovesblog.com) is just what it says-oatmeal garnished with old fashioned peanut butter and your favorite jam. One thing I do when I cook my oats, though is to add a smidge of vanilla to the pot right after I pull it off the stove. I love the flavor combination of vanilla and peanut butter. One fitness blogger says she adds vanilla protein powder to the water when she adds her oats. Good way to add extra protein.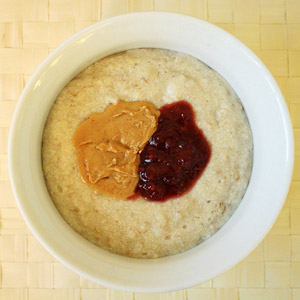 ---
Pumpkin Pie Oatmeal (from fANNEtasticfood.com) is 1/4 cup canned pumpkin puree and 1/4 oats cooked with 1/4 cup milk, and then combined with some sliced banana, a few blueberries, and cinnamon, nutmeg, and cloves. This is all to your taste, and however you mix it, it's delicious.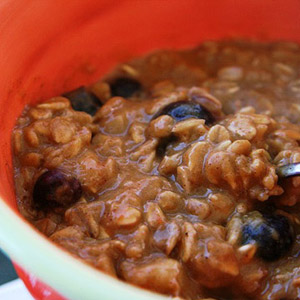 ---
Blueberry Banana Oat Cakes comes from LoveVeggiesandYoga.com. This is truly an awesome snack. Here's the recipe:
Blueberry Banana Oat Cakes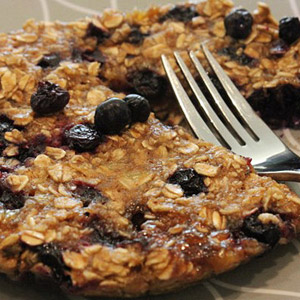 An unusual breakfast or amazing snack!
Serving size:

2


Calories per serving:

212




Ingredients:
1

ripe

banana

mashed
1/2 cup

dry

oats
1/4 cup
brown sugar
1 teaspoon
cinnamon
1/4 cup

blueberries

frozen or fresh
dash
vanilla extract
1 tablespoon

chia seed , optional
1 tablespoon
flaked coconut
2 tablespoons

unsweetened cocoa

(optional--for chocolate banana cake)
Directions:
Mash the banana. Add everything else except the blueberries and stir. Gently fold in the blueberries. Spray a clean bowl with cooking spray and put the batter in it. Microwave for 3 1/2 to 4 1/2 minutes. Allow to cool for a couple of minutes before serving.

Recipe formatted with the Cook'n Recipe Software from DVO Enterprises.
---
Pumpkin Oats with Maple Syrup and Granola (from sweettoothsweetlife.com) is another way to insert the highly antioxidant food, pureed pumpkin. You make a typical batch of oatmeal but add some milk to your water and oats along with about 2 teaspoons of chia seed, some cinnamon and pumpkin pie spice. When oats have reached desired consistency, remove them from the heat and add a dash of vanilla extract. Then whip in some mashed banana, stir in 1/3 cup of pumpkin and mix well. Finally, top with your favorite granola and sweeten with maple syrup.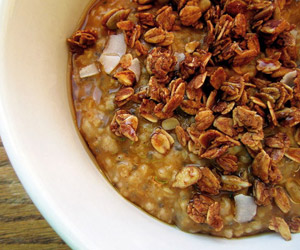 ---
Chocolate Latte Oatmeal comes from katheats.com and uses instant oatmeal. Just prepare one packet of oatmeal as directed and stir in a couple tablespoons of chocolate granola, about 1 tablespoon of peanut butter, some toasted almond slices, a little unsweetened coconut and a couple tablespoons of brewed coffee.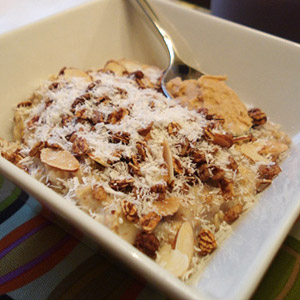 ---
Raspberry Cheesecake Oatmeal is one of my favorites and is from Iowagirleats.com. Does she know how to eat! Here's her recipe:
Raspberry Cheesecake Oatmeal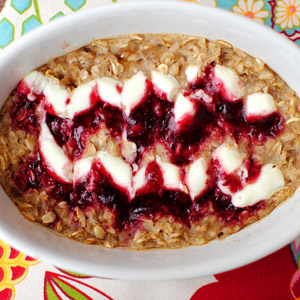 Serving size:

2


Calories per serving:

112




Ingredients:
1/2 cup

old-fashioned

oats
1/2 cup

water

, unsweetened almond milk, or skim milk
1/2

mashed, medium

banana
splash of

vanilla extract
2 tablespoons

cream cheese

(softened for 5 seconds in microwave)
1 teaspoon

powdered sugar

(more or less to taste)
squeeze of

lemon juice

(optional)
1 tablespoon
raspberry preserves
Directions:
Preheat oven to 375 degrees. Combine oats, water or milk, banana, and vanilla and pour into nonstick sprayed baking dish. Combine cream cheese, powdered sugar, and lemon juice. Put into plastic bag, snip off one end and squeeze into two horizontal lines on top of oatmeal. Put raspberry preserves in another plastic bag and squeeze two horizontal lines in between the cream cheese. Drag knife up and down through lines to create a swirl. Bake for 20 minutes. Enjoy!

Recipe formatted with the Cook'n Recipe Software from DVO Enterprises.
---
And here's a small confession: Sometimes I've come home from work too tired to fix a real meal and have resorted to the two oatmeal dishes with pumpkin as my evening meal. So remember, oatmeal isn't just for breakfast. Any time you serve these, any way you mix them, they're so filling and so good!
---
---


Alice Osborne
Weekly Newsletter Contributer since 2006