10 Fall Crockpot Breakfast Ideas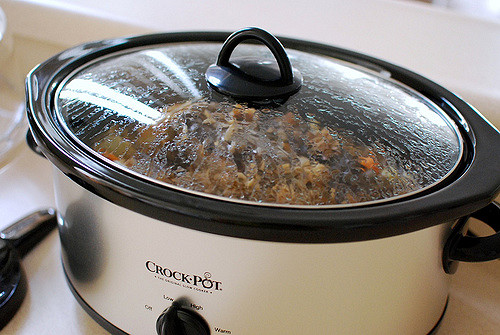 One time a friend asked me if I had to get rid of all my small kitchen appliances and could only keep one, what would it be? I answered without hesitation, "My crockpot!" I love my crockpot and am pretty sure my family would cease to exist without it. I cook dinner in it at least 4 days out of the week, and sometimes more. As much as I use my crockpot for dinner, I tend to forget that it can be used for other meals too. Fall and winter are the perfect times to start experimenting with breakfast in the crockpot.
Breakfasts in the crockpot are warm, filling, and easy to prepare. Many recipes can be cooked overnight. Here are some ideas for you to try. If you have any other ideas or recipes you would like to share, please comment below!
Oatmeal – Oatmeal is the perfect crockpot breakfast. You combine the oats and water in the crockpot the night before, set it to low, and cook all night. It will be creamy perfection in the morning! You do have to careful to follow recipes and make sure you add the correct amounts of oats and water so they don't turn out too mushy. You may also have to make adjustments depending on what type of oats you are using.

French Toast –French toast in the crockpot?! Who knew? Most recipes have you cut up a loaf of French bread and place the pieces in the crockpot. In a separate bowl, mix the eggs, vanilla, cinnamon, etc. Pour the egg mixture on top of the bread cubes and cook on low for about 4 hours.

Omelets – Sometimes the flipping of omelets stresses me out! I am afraid they will fall apart or be overcooked. Omelets in the crockpot are so easy! Beat the eggs and milk together and pour the mixture in the crockpot. Add your veggies and meats. Cook all night on low. Top with cheese in the morning!

Cinnamon Rolls – Yes, you can bake cinnamon rolls in the crockpot and yes, they are delicious! If you are looking for a super easy recipe, you can always use canned dough. It is helpful to place a piece of parchment paper or a crockpot liner on the bottom of your crockpot to prevent the dough from sticking.

Granola – Say goodbye to cold, boxed cereal and hello to crockpot granola! Oats and your favorite mix-ins can make a delicious granola in the crockpot. Most recipes will cook on high in about 2 hours.

Breakfast Potatoes – There are all sorts of ways to cook potatoes in the crockpot. You can slice them, dice them, or cook them whole. For breakfast, I prefer sliced or diced with some bacon or ham smothered in cheesy sauce. (Check out my recipe below!)

Applesauce– I wrote an entire article dedicated to crockpot applesauce a couple of years ago. Crockpot applesauce is amazing! And cooking it all night will make your house smell amazing too.

Breakfast Quinoa – Breakfast quinoa is a great gluten-free alternative to oatmeal. Cook it on high for 2 hours or on low for several hours until all liquid is absorbed. You can also cook it with fruit or add fresh fruit to it after it is cooked.

Yogurt – I had no idea it was so easy to make yogurt in the crockpot! All you need is milk and a yogurt starter. A yogurt starter could be as simple as a tablespoon of plain yogurt.

Fruit Butter – This isn't a complete breakfast, but will definitely make your breakfast better. You can make fruit butter out of apples, pumpkins, pears, apricots, peaches, etc. Dice your fruit into small chunks. Add some spices like cinnamon or cloves. Cook on low overnight. When the fruit is soft the next morning, puree it with an immersion blender. You can spread it over toast, pancakes, waffles, muffins, and more.
I hope this makes you excited to try breakfast in the crockpot! Here is one yummy recipe to get you started.
Crockpot Ham & Cheese Breakfast Potatoes
Ingredients:
6 medium russet potatoes, thinly sliced
1 medium yellow onion, chopped
2 cups cubed ham
½ cup milk
1 can cream of chicken soup
1 ½ cups cheddar cheese
¼ tsp pepper
Directions:
Spray crockpot with cooking spray. Add the potatoes, onion, and ham. In a separate bowl combine the milk, cream of chicken soup, cheddar cheese, and pepper. Pour the mixture over the potatoes, ham, and onion. Cook on high for 3-4 hours or on low for 6-8 hours.
Add Recipe to Cook'n

Cristina Duke
Monthly Newsletter Contributor since 2014
Email the author! cristina@dvo.com