The Power of Perseverance!
Today I have a story to tell. A story that has been years in the making. A story that I'm sure isn't over yet. One that hasn't been easy to live through, and I still have a ways to go.
Several years ago, I ended up working in a library shelving books. As I worked there, I discovered I loved working there. I didn't get to sit and read, but I got to know some amazing people in a great environment. This inspired me to work towards a Master's degree in Library Sciences. I enrolled in an online program and started working to my new goal.
And failed. Miserably. And I felt like a failure. Online classes where I don't know the people was NOT for me! I had to stop and think about how much I really wanted to achieve this. Was it worth it? Did I really want to do this? I decided that I felt it was definitely worth it!
So, I regrouped, looked at more options and found a new program with a hybrid of online and in-person classes and was on my way. This time, I loved my classes, loved the people I was with, and while it took a while and definitely wasn't easy, I did it! I graduated! Woo hoo! First lesson in perseverance learned, right?
At this point I had been working part-time in the field for several years, had a degree, and wanted a full-time job. I got left the system I had worked for 5 years for a new system that offered me job. It was great!
And disaster struck. Again. The job that I thought was going to be fantastic ended up not working out. Here I was with tons of debt from school, bills to pay, life to live and no job.
That was over three years ago. My previous system didn't have a spot open for me. And that covered the two major library systems closest to me. While I did get some substitute hours here and there, it was nothing consistent and dependable. Not enough to live on.
Over the next few years I learned several new skills. How to fill out job applications, how to find jobs in strange places, how to interview and smile when I knew I didn't get the job. How to keep filling out applications and smiling. And how to continue doing it when I felt discouraged.
Even though I had earned a Bachelor's and a Master's degree, while working jobs through school, and thought I had done hard things, this was taking it to a whole new level. Working strange hours, trying to make ends meet, seeing new people every day (which for me is strenuous), job hunting, interviewing, plus just trying to live life! At times it seemed impossible to make it through everything. I interviewed for more jobs than I thought existed.
At one point I took what I thought would be a part-time regular job in a bookstore to help make ends meet. They ended up giving me lots of hours, and I loved the job, but it didn't have as much potential as I could find in the library scene. I keep looking for library jobs, and ended up working part-time at the bookstore and part-time in a library. At least I was in a library! Yay!
Finally, after more than three years of hunting, interviewing and just simply waiting, I did it. I found a full time library job! Hooray!
Of all the things that I've learned, patience and continual effort have been most important. Without those, I never would have made it to where I am now. It's not easy, and I know I have a lot more to do, but I've manage to learn a ton over the last few years. While I've had my failures, I get back up and keep working.
One thing that helps me get through is a good breakfast! Enjoy this baked oatmeal recipe to help you get moving in the morning!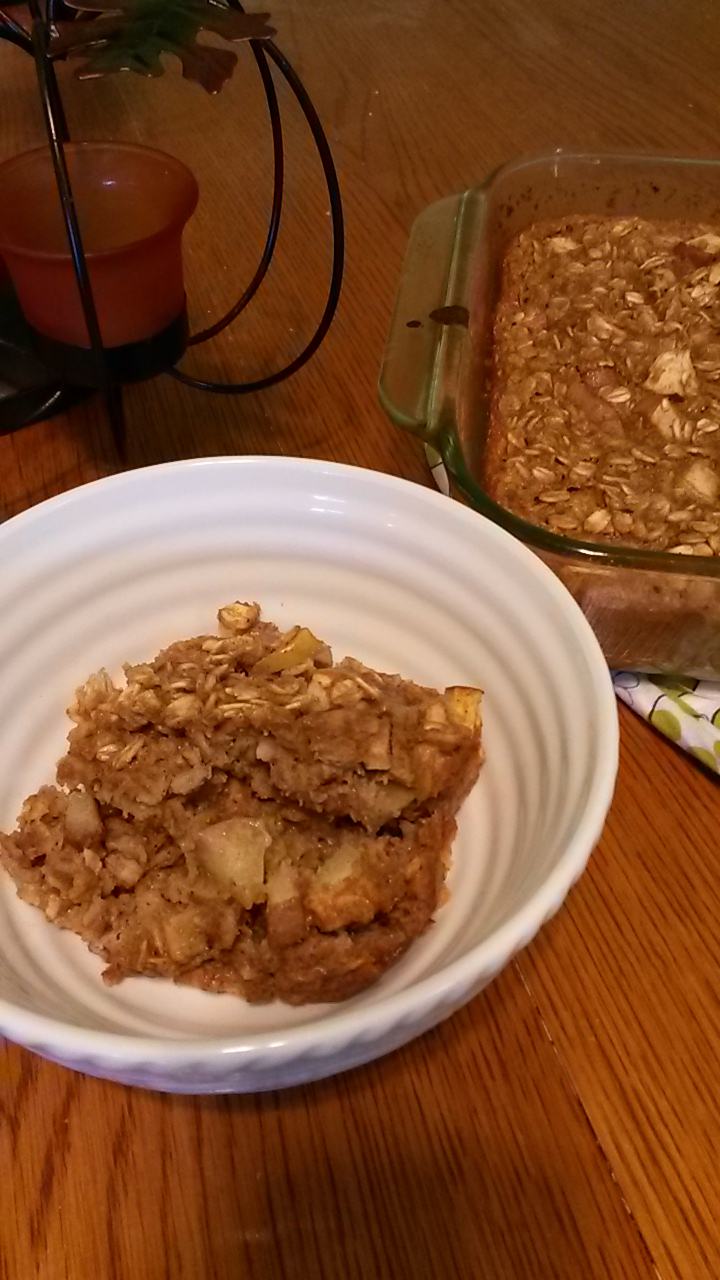 Baked Peanut Butter Apple Oatmeal
Another great breakfast that you can make ahead. Fantastic in the fall, I love the smell!
Serves: 4
Prep Time: 15 minutes
Cook Time: 35 minutes
Yield: 8 x 8 pan
2 cups old fashion oats
1/4 cup brown sugar
1/2 teaspoon salt
1 teaspoon baking powder
1 teaspoon cinnamon
1 3/4 cups milk
1 egg
3 tablespoons applesauce
1 teaspoon vanilla extract
1/2 cup creamy peanut butter
1 1/4 cups diced apples
If you need to, make sure all ingredients are gluten free! Also feel free to substitute various types of milk, as you need.Preheat oven to 350 degrees F. Grease an 8 x 8 square baking dish.In a large bowl, place the oats, brown sugar, baking powder, salt and cinnamon. Whisk together and set aside.In another bowl, whisk together the milk, egg, applesauce, and vanilla extract. Pour the liquid mixture over the oat mixture. Stir to combine. Add the peanut butter and continue stirring until well mixed. Add the apples and fold in. Pour mixture into the prepared 8 x 8 pan.Bake for 35 minutes or until the top is golden and oatmeal is set. Let cool for about 5 minutes. Serve warm.This is still great reheated! I make a pan and reheat a portion each morning. I like to put just a little milk or yogurt on it after it warms! SO GOOD!
Add Recipe to Cook'n

Brenda Lower
Monthly Newsletter Contributor since 2015
Email the author! brenda@dvo.com