Birthday Eggs Benedict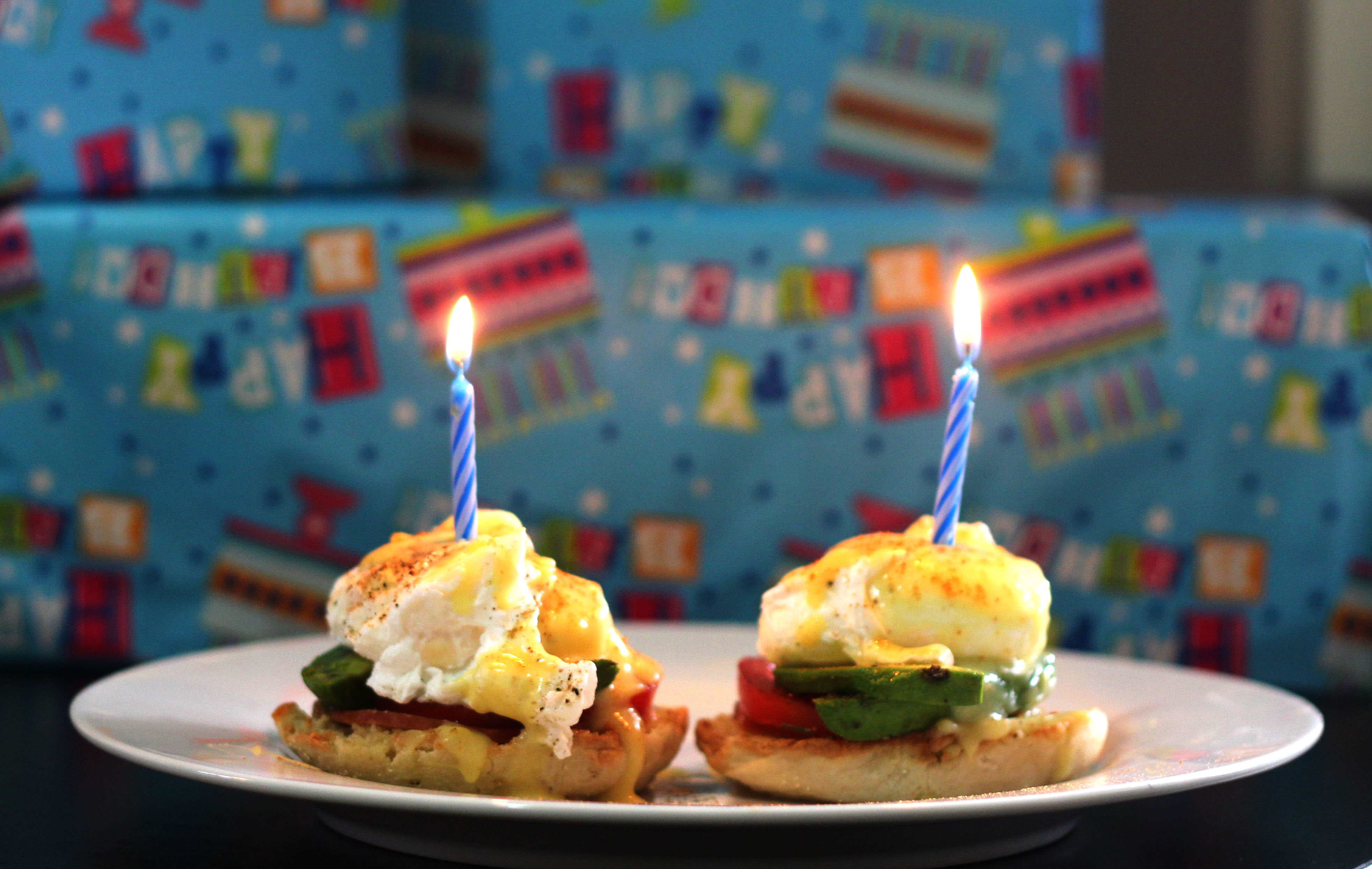 Eggs benedict have been my husband's most requested breakfast meal for YEARS. He's always up for "eggs benny" but specifically requests it every year on his birthday. Bread, meat, eggs… sounds easy enough, right?! Except that I'm basically terrified of poaching eggs, and building hollandaise sauce! I don't know what's so intimidating about a poached egg, but the circling water, pressure of overcooking it, and challenge of getting it out of boiling water in one piece has just kept me far, far away from egg poaching. The last few years, I've just fried an egg and put it on top of the other fixings and called it a birthday! This year, Scott turned 33 and I got up my guts to make him some real eggs benedict!
You really need to prepare all your components before you start cooking so that everything finishes together and comes onto the plate before getting cold. Since I only make it once a year, it always surprises me again every September how much I need to be on my game when preparing this meal! It's not so hard, you just need to be prepared!
Add Recipe to Cook'n
The first thing to do is get the oven heating and a pot of water boiling. Now, place as many English muffins and rounds of Canadian bacon on a jelly roll pan as you'll need. Don't heat it yet, just get it ready. Then, slice a big good tomato, and a ripe avocado, seasoning both with salt and pepper.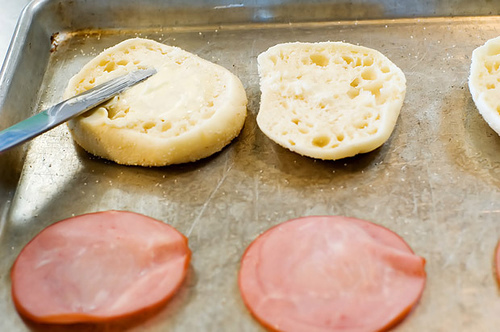 At this point, I prepare the hollandaise sauce. Melt two sticks of butter, careful not to burn it! Now separate 3 eggs and put the yolks in the blender. Or you can use an immersion blender if that's easier! Get the eggs blending on low, then pour the hot, melted butter in slowly, blending the entire time. Once all the butter is in, start squeezing the lemon juice into the blender. If it feels too thick, add more lemon juice. You can now season with cayenne pepper or any spice of your choice.
Put your tray of bread and meat into the oven, set a timer so you don't forget about them. Now it's time to poach! The trick to poaching an egg, is to get your pot of water really boiling, and then add a dash of vinegar. Get a good swirl, or tornado, going in the water by circling a wooden spoon so the egg white will wrap around the yoke and keep the egg together. Then, you simply drop the eggs in and wait exactly 3 minutes. I cracked my eggs (one at a time) first into a little ramekin instead of directly into the pot. This way, I could gently lower the egg and drop it into the swirling water with intention. Once the 3 minutes is over, lift each egg out of the water with a slotted spoon and let it rest on a paper towel for a few moments before placing it on top of the rest of the ingredients.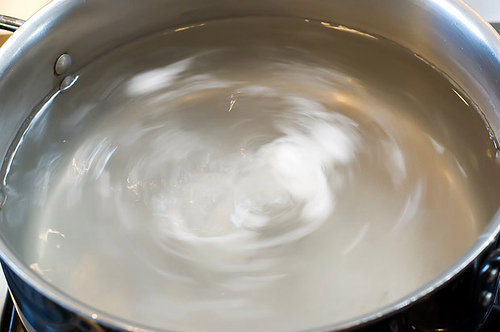 Layer your components—English muffin (face up) on the bottom, followed by Canadian bacon, tomato, avocado, and egg on top. Finish with your homemade hollandaise sauce and garnish with paprika to make it beautiful! Enjoy!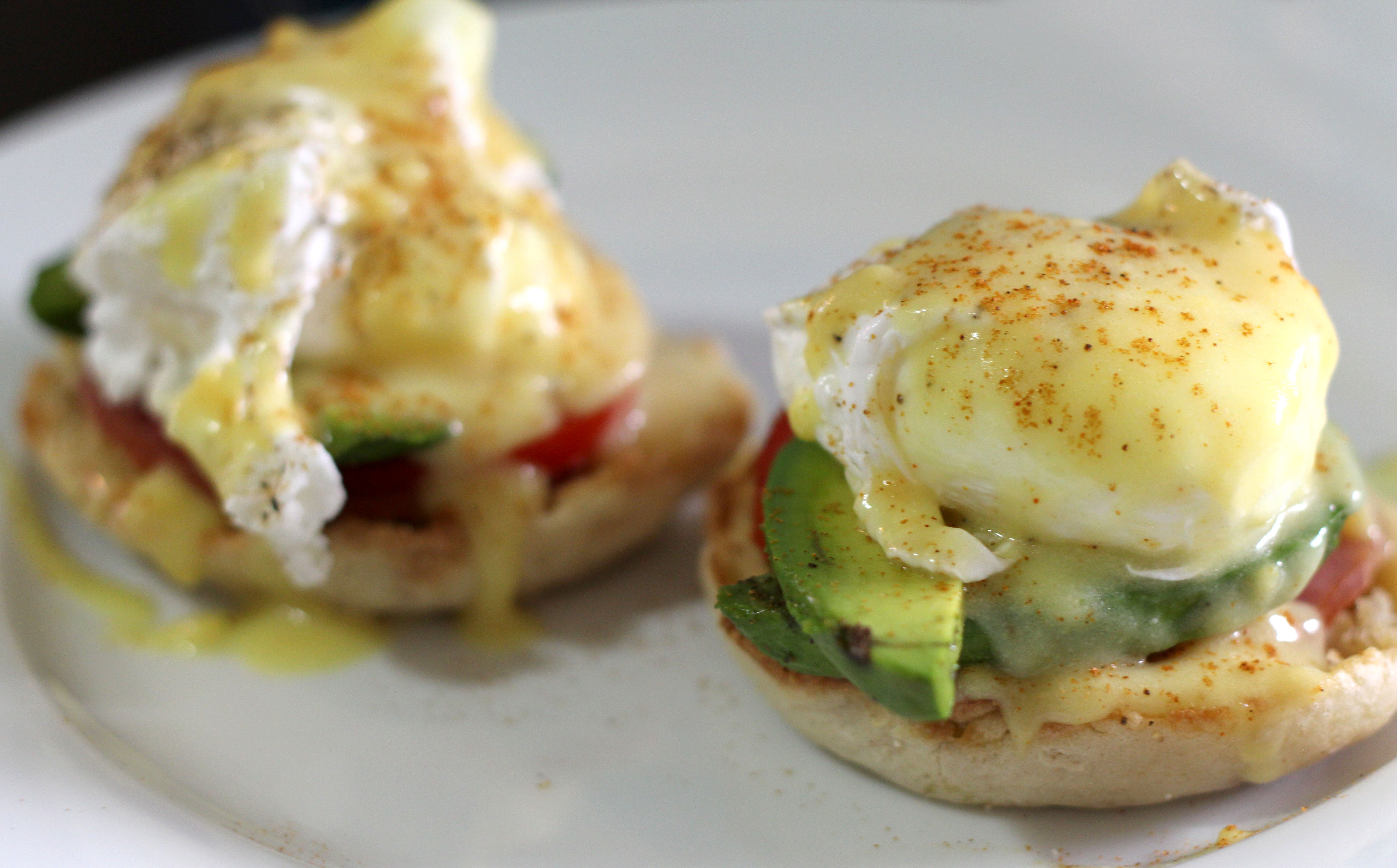 Sources:
http://thepioneerwoman.com/cooking/eggs_benedict/

Stefanie Hathaway
Monthly Newsletter Contributor since 2016
Email the author! stefanie@dvo.com