A Boo Breakfast
If you have read my articles before you know I really like parties. And some of the best ones you can host are during the seasons we are entering now. Fall and Winter just scream parties to me. There are so many fun traditions that surround this time of year and one that I want to do with my little family as they grow is a Boo Breakfast. We all know the joy of waking up to a holiday meal. This fun tradition could also include others as well. If you're gathering up your little ghouls this year for a playdate, school party, or just an at-home family breakfast with relatives, give it some cute "ghost touches" to make it a sure hit!
THE MENU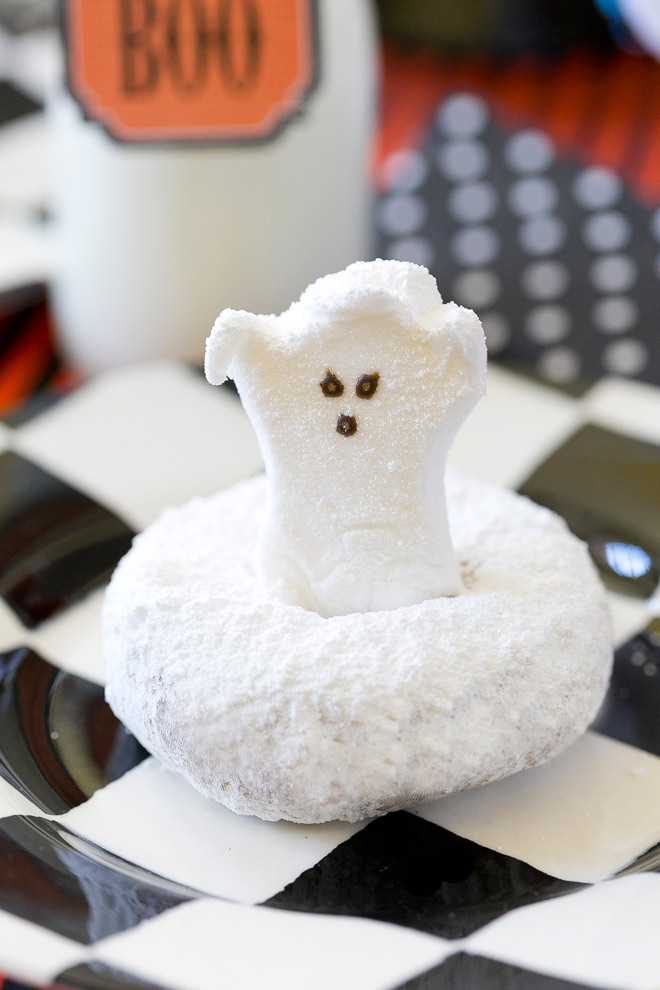 The ghost donut! This can easily be a homemade donut or store-bought. Just make sure they're powdered white sugar. Squeeze in a white ghost peep and ta-da! You have a spooky yet sweet ghost donut treat!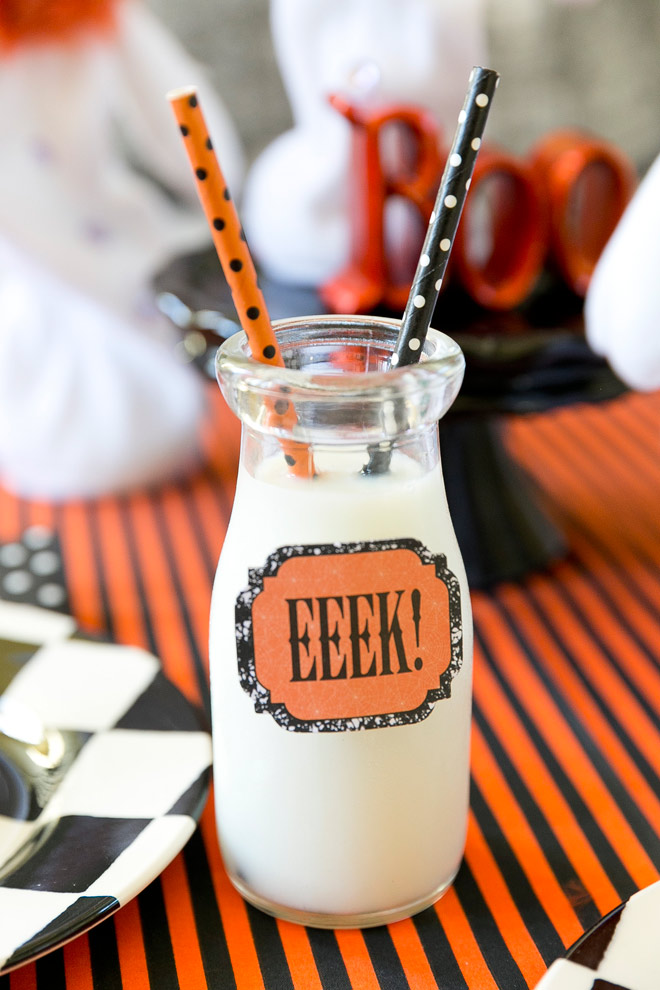 Halloween Milk. All you gotta do is buy milk. Easy. But if you want to go the extra mile get some cute milk jars to make perfect beverage glasses! Add on some Halloween signs like BOO! and EEK! or find some stickers or even black cut-out paper to form a ghost's face!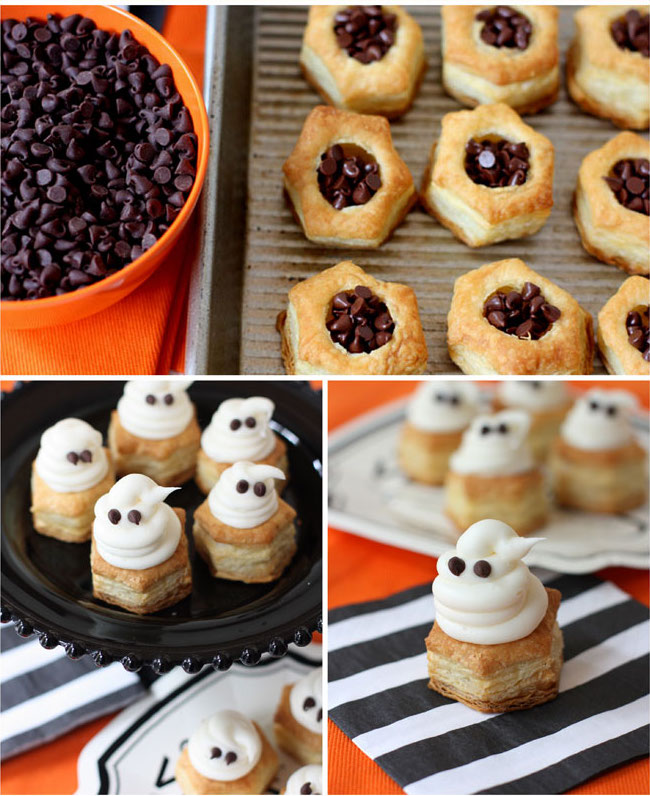 Ghost Pastry Surprise. Go snag some puff pastry cups and fill the center with a filling. You can tailor these ghosts to your favorite flavors: chocolate, caramel, chopped candy bars, truffle filling, white chocolate, and more! Then pipe on some marshmallow fluff on top to make them ghostly.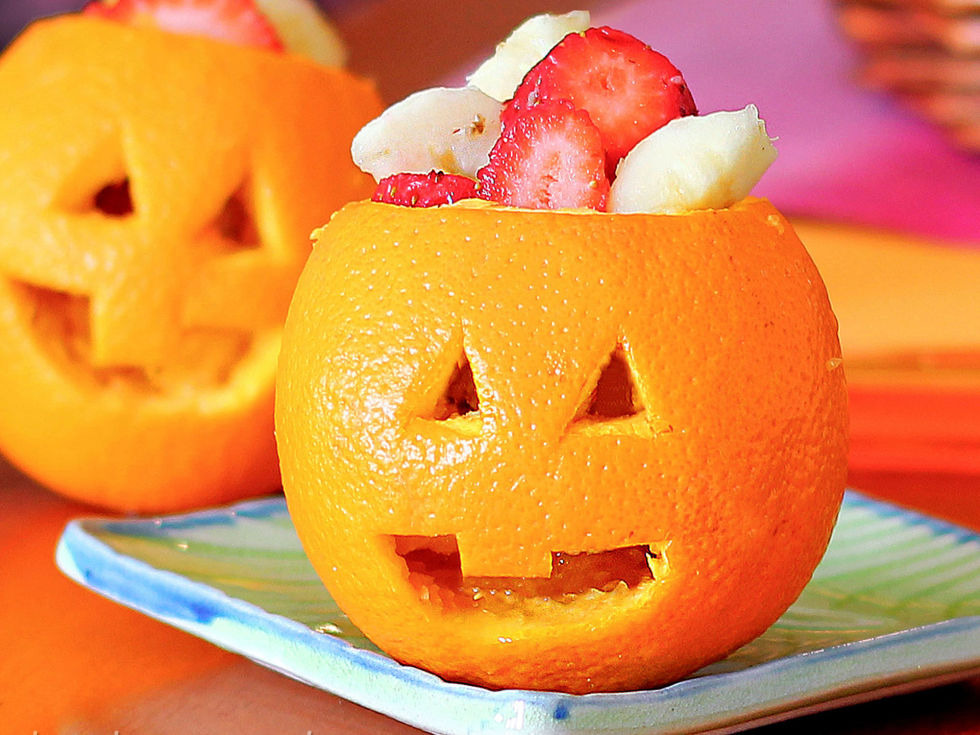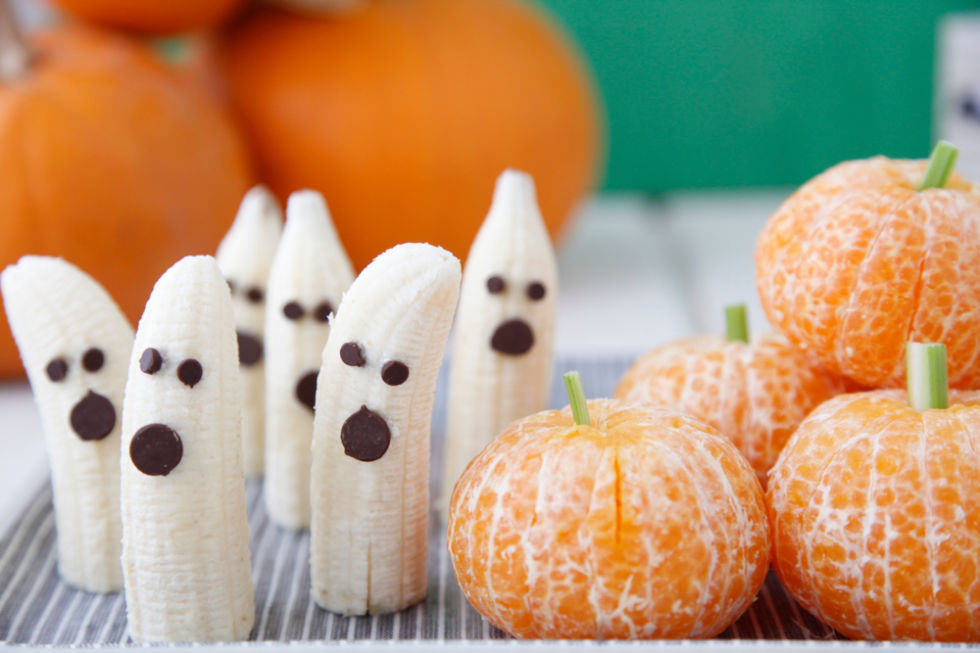 Ghost Nanas or Jack-o-lantern Oranges. Get some fruit involved! Here are two cute ways to make your fruit festive and fun. Grab some bananas and chocolate chips, or simple make your fruit the jack-o-lantern that holds more fruit. Fun!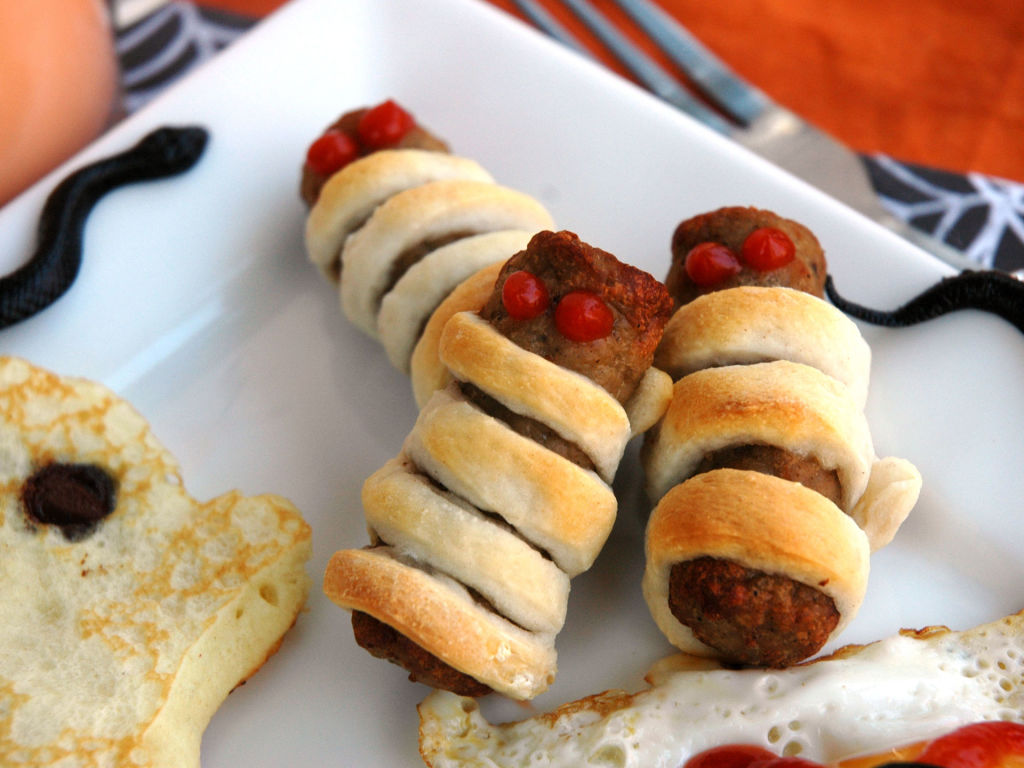 Mummy Sausages. Now these aren't ghosts but sometimes you just need some meat with the meal, right. I love these little mini sausages wrapped with a tube of biscuit with ketchup eyes. So fun and tasty.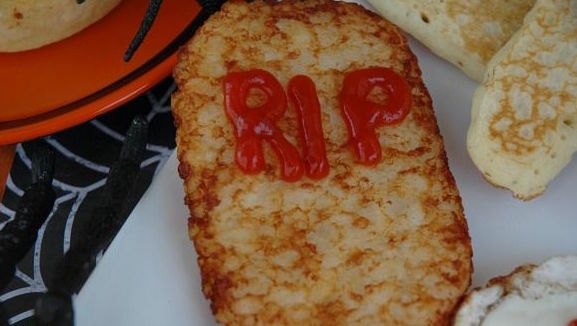 Hashed Tombstones. Again not a ghost, but mmmm I love me a crispy hash brown. Add these to your halloween breakfast menu to bring more to the plate. Super simple. Just buy the hash browns and then write with ketchup RIP!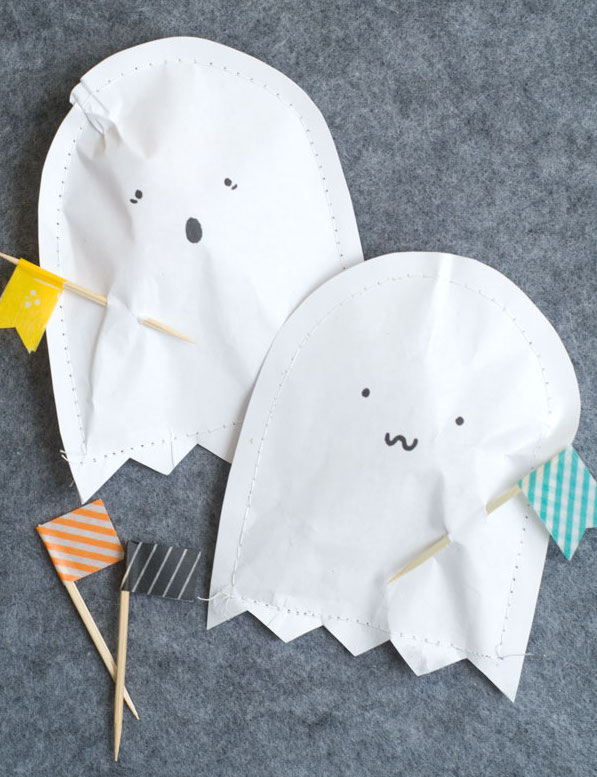 Trick or Treat Ghost. You probably have everything to make these right now. Printer paper, sewing machine and pen. Just cut out the shape you want sew, leaving an opening. Stuff with sweets and sew the rest up. Draw a face on and add a flag if you want. Makes a great take home party favor!
THE SET UP
• Paper straws can be found in tons of darling patterns and prints and add a fun touch to your drink.
• Two yards of fabric will cover a small table (or grab more for a larger table) to create lots of options for table coverings. Fabric stores have lots of seasonal fabrics. Or check out your local Dollar Store for a cheap option!
• Whimsical ghosties grouped together make a cute centerpiece! Or snag white vases and put orange flowers in them.
• Purchase some helium filled white balloons and draw ghost faces on them. Or just group some orange, black and white ones around for fun.
• Add in black and white plates, napkins,and cake stands to tie your theme together.
Plan your Boo Breakfast and make it a smashing hit this year. I can't wait to eat up some of these delightful goodies and decorate for a special halloween morning. I hope you have a Boo-tiful season celebrating and eating. What are some Halloween traditions you keep in your home?
Sources:
http://pizzazzerie.com/holidays/mini-ghost-pastries-with-a-sweet-surprise/
http://pocketchangegourmet.com/halloween-breakfast/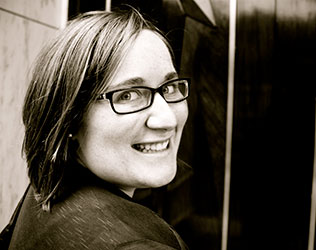 Carolyn Spencer
Monthly Newsletter Contributor since 2015
Email the author! carolyn@dvo.com