The Pizza Stone Cookbook Review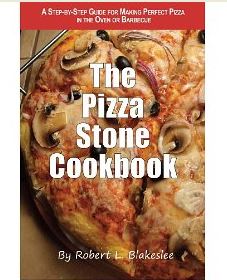 Have you ever attempted to make the perfect pizza at home and failed miserably? Maybe the crust was too crunchy or the sauce's flavor was off or it just didn't cook right. I hate to admit it, but I've had more pizza disasters than I care to remember. If only I had had The Pizza Stone Cookbook! This cookbook will help you create the perfect pizza every time!
This cookbook was written by the award-winning author Robert Blakeslee. Robert Blakeslee's other cookbooks include "Your Time to Cook", "Your Time to Bake" and "Everyone's Time to Cook." Robert's cookbooks are known for their details, step-by-step instructions and beautiful photographs.
In addition to basic instructions for making the simplest of pizzas, this cookbook also features over 90 international pizza recipes. There are recipes for breakfast pizzas, dessert pizzas, thin crust pizzas, and gourmet sauces. There is an entire chapter on making the perfect crust. It will teach you how to bake pizza on a pizza stone, in the oven, or on a barbecue.
If you're a pizza lover, The Pizza Stone Cookbook will be the perfect addition to your cookbook collection. With The Pizza Stone Cookbook you'll enjoy making pizza at home. You'll find that there are more possibilities with pizza at home than you can find at any pizzeria. What kind of pizza will you make first? I'd like some barbecued chicken pizza please!

Cristina Duke
Monthly Newsletter Contributor since 2014
Email the author! cristina@dvo.com