Another Way to Eat Vegetables... Japanese Style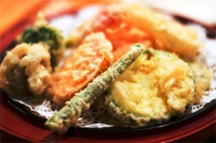 Tempura is a lightly battered vegetable or seafood that is fried in oil. Fresh produce and seafood are a must with tempura, as you want the fresh flavors and the crunch. Tempura is a fast and easy way to serve dinner.
The vegetables should be cut in uniform sizes, that way all vegetables cook evenly. They should also be washed, dried and then lightly battered. The tempura batter is almost transparent and very light.
This batter is surprisingly easy to make, consisting of flour, egg, salt, soda and ice cold seltzer water. The cold water makes for a crisp batter.
---
Tempura Batter
3/4 cup flour
1/4 teaspoon soda
1/8 teaspoon salt
1 beaten egg (yolk)
13 ounces ice cold water
Mix all the above ingredients together with a fork. Make this just before you are ready to dip and fry.
---
How to Fry
Sesame, peanut and Canola oils work the best. It is best to fry only a few vegetables at a time. Crowding the pan will reduce the heat of the pan. It is also important to have some paper towels close by to drain off the excess oil before serving. Tempura should be served hot, so you have to keep things moving. Most vegetables are cooked in about 3 minutes and should be a nice golden brown color. If you are also going to fry shrimp or chicken, do so after you fry vegetables. The cooking time required if the meat chunks are small is still approximately 3 minutes.
Vegetables that are Great Cooked Tempura Style
Onions
Cauliflower
Broccoli
Green beans
Sweet potatoes
Mushrooms
---
Dipping Sauce
3 Tablespoons soy sauce
2 Tablespoon orange juice
1 teaspoon sugar
1 teaspoon sesame seeds
Few splashed of chili sauce
This is a fun, new way to get your family to eat those vegetables.