Dinner's Unsung Heroes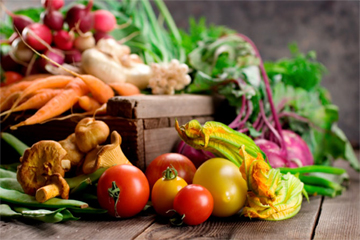 Vegetables, poor, sad, always-to-blame, rarely-loved, vegetables…What did they ever do to us? All they want to do is nourish our bodies, and sure, they may not be the prettiest things all the time, but I think they deserve a little more respect than they have been getting. The poor things are the object of much disdain, even the tears of children, but for what? Just for innocently attempting to make us more healthy. They really are the unsung (sometimes cursed) heroes of the dinner table. So today let's celebrate vegetables…all of them…even the brussel sprouts!
In our home vegetables tend to be relegated to the side dish I feel obligated to make in order for my children to get their daily whining quota met. I know this isn't how it should be, but after hundreds of meals that became the template. Recently my husband and I made some big changes and for a few weeks you might have thought we had asked out oldest son to eat bugs. He was horrified by most of what was on the table. We did try to make different accommodations for him so that he had more familiar things to eat even though his parents were eating such absurd things as asparagus and spinach (insane, right?), but we still got an earful while we all tried to adjust and find common ground.
After our fair share of revolt we finally started to see something amazing happen…our kids started trying new vegetables. That might not sound earth-shattering to you, but then you haven't met my kids have you? To this mom, it was a fantastic change. I am not even going to pretend that we are all veggie loving health nuts at this point, but we have come a long, long way. Little by little we might just convince our kids that vegetables are really tasty. Who'd have thought?
We want to share some of our favorite recipes for boosting the veggie intake – without hiding them on the sidelines!
---
Going Green Breakfast Smoothie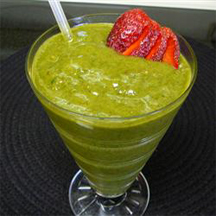 2 cups spinach
2 cups frozen strawberries
1 banana
2 tablespoons honey
1/2 cup ice
1. Place the spinach in the freezer until frozen, at least 1 hour.
2. Combine the spinach, strawberries, banana, honey, and ice in a blender. Blend until smooth. Serve immediately. Serves 4
---
Spinach Omelet
You can really cater this to your family. Add meat (even sandwich turkey slices if you are keeping it lean) or other cheeses. It makes for a healthy start!
2 eggs
1 cup torn baby spinach leaves
1 1/2 tablespoons grated Parmesan cheese
1/4 teaspoon onion powder
1/8 teaspoon ground nutmeg
salt and pepper to taste
1. In a bowl, beat the eggs, and stir in the baby spinach and Parmesan cheese. Season with onion powder, nutmeg, salt, and pepper.
2. In a small skillet coated with cooking spray over medium heat, cook the egg mixture about 3 minutes, until partially set. Flip with a spatula, and continue cooking 2 to 3 minutes. Reduce heat to low, and continue cooking 2 to 3 minutes, or to desired doneness. Serves 1.
---
Pasta with Baby Broccoli and Beans
1 (1 pound) package whole-wheat penne pasta
1/4 cup olive oil
1/2 whole head garlic, slivered
1/2 teaspoon crushed red pepper flakes
2 bunches baby broccoli (such as Broccolini)
1 (14.5 ounce) can fava beans, rinsed and drained
1/4 cup sun-dried tomatoes
2 tablespoons grated Parmesan cheese
1. Bring a large pot of lightly salted water to a boil. Cook the pasta in boiling water until cooked through yet firm to the bite, about 11 minutes; drain.
2. While the pasta cooks, heat the olive oil in a skillet over medium heat. Cook the garlic and red pepper flakes in the hot oil briefly, about 1 minutes. Stir the broccolini into the garlic; cook and stir together for 5 minutes. Add the fava beans and sun-dried tomatoes and cook until the beans are completely warmed, 3 to 4 minutes. Remove from heat and toss with the drained pasta in a large bowl. Sprinkle with the Parmesan cheese to serve. Serves 4.
---
Hearty Vegetable Lasagna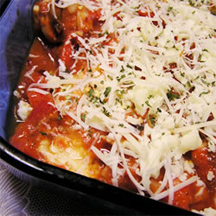 1 (16 ounce) package lasagna noodles
1 pound fresh mushrooms, sliced
3/4 cup chopped green bell pepper
3/4 cup chopped onion
3 cloves garlic, minced
2 tablespoons vegetable oil
2 (26 ounce) jars pasta sauce
1 teaspoon dried basil
1 (15 ounce) container part-skim ricotta cheese
4 cups shredded mozzarella cheese
2 eggs
1/2 cup grated Parmesan cheese
1. Cook the lasagna noodles in a large pot of boiling water for 10 minutes, or until al dente. Rinse with cold water, and drain.
2. In a large saucepan, cook and stir mushrooms, green peppers, onion, and garlic in oil. Stir in pasta sauce and basil; bring to a boil. Reduce heat, and simmer 15 minutes.
3. Mix together ricotta, 2 cups mozzarella cheese, and eggs.
4. Preheat oven to 350 degrees F (175 degrees C). Spread 1 cup tomato sauce into the bottom of a greased 9x13 inch baking dish. Layer 1/2 each, lasagna noodles, ricotta mix, sauce, and Parmesan cheese. Repeat layering, and top with remaining 2 cups mozzarella cheese.
Bake, uncovered, for 40 minutes. Let stand 15 minutes before serving. Serves 12