Champagne Shrimp with Pasta
This delicious-sounding recipe was submitted by one of our readers, Chef Steve Henderson. Thanks Steve!
---
This recipe is just right for a celebration. Make it for a special birthday dinner or for your sweetheart on Valentine's Day. The light, tender shrimp are a perfect match for this rich Champagne cream sauce. Serve this as an hors d'oeuvre or a main course. Either way, be sure to pour the leftover bubbly in flutes and toast.
A couple tips: Remember, only cook with a wine - or any alcohol - that you would drink yourself. Your food will taste better. Also, use a good seafood base for better flavor. There are many ready-made bases to choose from. I like Minor's Lobster Base for this sauce. Minor's is available in the deli-and-cheese aisle at the Conley Road Hy-Vee.
Champagne Shrimp with Angel Hair Pasta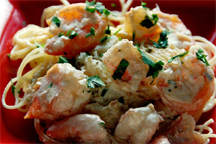 1-1/2 teaspoons extra-virgin olive oil
1/2 pound medium-size raw shrimp (prawns), peeled and deveined (see note)
3/4 cup Champagne (Brut sparkling wine works fine)
1/4 teaspoon salt (or to taste)
1 tablespoon minced shallots
1 tablespoon tomato paste
1 tablespoon freshly chopped thyme
2 tablespoons lobster base
1/2 cup heavy cream
Salt and pepper to taste
1-1/2 tablespoons fresh chopped parsley
Parmesan cheese, freshly grated
Heat the olive oil over medium-high heat in a large saute pan or frying pan. Combine shrimp, Champagne or sparkling wine and salt in the pan and cook over high heat. As the liquid just begins to boil, remove the shrimp from the pan using a slotted spoon. Add the minced shallots and tomato paste to the Champagne and boil until the liquid is reduced to about one-third - 1/4 cup. Add the cream and lobster base and cook until slightly thickened. Add the shrimp and parsley to the pan and cook until thoroughly heated. Adjust seasonings to taste. Garnish with freshly grated Parmesan cheese. Serve over angel hair pasta. Follow package directions for cooking pasta.
Note: I used raw, 26-to-30-count-per-pound shrimp for this recipe.
Serves: 2 for dinner, 4 for a starter