2 Quick & Healthy Ways to Use Your Noodle!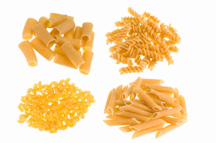 If you're like me, you are on the lookout for more quick and healthy meals. I want to feel like I am eating a meal that is well rounded nutritionally, but I don't always have a long time to be in the kitchen. I'm always on the hunt for recipes that are quick, easy and yummy.
It seems to me, the norm amongst my friends is to vow to eat healthy after feasting on rich food during the holidays. I'm not going to talk about New Year's Resolutions; I'm just saying that come January we feel the need to eat less of the foods that keep us on a constant sugar high! Yikes, I think it could be called de-junking! I like the idea of easing into the changes that create a healthier diet. I say use your noodle and make some pasta recipes that are quick and healthy.
Noodles are economical and if you check out some of the newer brands of pasta, you will find some have vegetables powders, various grains or added fiber in them. Pasta is also a good choice because we all know that most kids love noodles. They may not like everything you put in the pasta recipe, but they do like the noodles! Pasta-like soup is a forgiving food in that you can add or subtract different ingredients depending on your desired taste or what you have available at the time. I'm not a promoter of oodles of noodles but I think they are definitely a must have at least a couple of times a month.
---
Spiral Noodles with Greens and Beans
12 ounces spiral noodles
1 teaspoon olive oil
3 cloves garlic
1 Tablespoon flour
2 cups broccoli florets
2 cup chicken broth
1 pound spinach (chopped)
1 16 ounce can white beans
2 Tablespoons lemon juice
1 red onion finely chopped
Parmesan cheese
Cook the pasta as directed on the package. In a skillet over medium heat, saute the onions, garlic and broccoli together. The broccoli needs to be a deep green and crispy, about 3 minutes. Remove broccoli and onions from skillet and place in a bowl. In the skillet add the flour. Cook, stirring for 1 minute. Gradually add in chicken broth and whisk until blended and smooth.
Add broccoli mixture, spinach and white beans, Parmesan cheese and lemon juice and bring to a boil. Reduce heat to simmer for 5 minutes, until the sauce thickens and vegetables are tender.
Drain the pasta and in a large bowl combine the pasta and sauce together. Sprinkle with more cheese if desired and serve immediately.
---
Mushroom and Peppers Linguine
6 ounces linguine
1 sweet onion (minced)
2 teaspoons olive oil
2 cups fresh mushrooms
3 cloves of garlic
1/2 teaspoon thyme
1/2 teaspoon oregano
1 Tablespoon chopped fresh basil
2 Tablespoon fresh parsley
3/4 cup chicken broth
3 Tablespoons Parmesan cheese
2 red or green peppers thinly sliced
In a skillet sprayed with cooking spray, heat the oil on medium heat; add onions and saute for 5 minutes.
Add the mushrooms, garlic and peppers and saute for an additional 3 minutes. The mushrooms will start looking weepy. Add the thyme, basil and oregano. Simmer for about 5 minutes until the peppers are soft.
In a large pot, cook linguine noodles according to the directions on the package. Drain. Place pasta in a serving dish and toss with mushroom mixture. Sprinkle with Parmesan cheese.