Winter Wonderland of Vegetables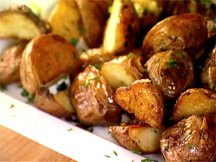 So often during the winter season we have plenty of potatoes, squashes and root vegetables. I have found that many of the vegetables I use to steam or boil are now more favorable to me roasted. This is especially true for root vegetables. Roasting root vegetables seems to bring out their natural sweetness, plus they remain crisper when roasted in the oven. Roasted root vegetables are a great main dish or side dish during these cold winter months. I love the colors of these vegetables. They range from completely white to all sorts of golden and yellow colors.
Some of you may not have ever tasted a rutabaga or parsnips. Then again you may have and not known you had. They can be mistaken for potatoes and can be interchanged with potatoes and carrots in many recipes. The secret to cooking a delicious rutabaga or parsnip is the seasoning. Adding some thyme, rosemary, garlic and, of course, salt and pepper are a must. If you are making a winter stew, try adding some parsnips or rutabagas that have been roasted for a nice rich flavored stew. Roasted vegetables are less likely to get soggy. And, if there is one thing I can't stand it's mushy vegetables, even in my soups.
I haven't found a vegetable that wasn't delicious roasted in the oven. If you sprinkle these vegetables with a little olive oil and some spices, you will have yourself a winter wonderland of delectable veggies.
Tip: try to cut the vegetables uniform in size and this helps with even cooking. I love roasted sweet potatoes and squash, green beans, asparagus, peppers, tomatoes, carrots, white potatoes, cauliflower, you name it! I honestly can't think of a vegetable I like eating that I don't enjoy eating even more when roasted. If you haven't tried roasting vegetables you may fall in love with the idea as much as I did.
Take advantage of the root vegetables during the cold month. They can a wonderful addition to your winter meal.
---
Roasted Root Vegetables
1 cup chopped onion
2 pounds white potatoes
1 yam (peeled and sliced)
2 large carrots
1 large rutabaga (peeled and sliced)
2 parsnips (peeled and sliced)
3 Tablespoons butter
3 Tablespoons olive oil
4 teaspoons dried thyme
2 teaspoons salt
1 teaspoon pepper
4 garlic cloves
1 (10 ounce package) Brussels sprouts
In a large roasting pan, combine the above vegetables. Drizzle with butter and oil. Sprinkle with herbs; toss to coat.
Bake at 425 degrees for 30 minutes. Uncover; stir in Brussels sprouts and garlic. Bake uncovered for about 1 hour or until vegetables are tender and are golden brown, stirring occasionally. This recipe makes 16 servings. This is ideal for serving as a side dish one night and adding the rest of the vegetable to a stew.
---
Roasted Cauliflower
1 head cauliflower, cut into large pieces
1/4 cup butter
1/4 cups flour
1 1/2 cups milk
2 clove garlic, whole
1/2 teaspoon red pepper flakes
1 cup grated Parmesan
1/2 teaspoon salt
1/4 teaspoon freshly ground black pepper
1/8 teaspoon freshly grated nutmeg
2/3 cup bread crumbs
Preheat the oven to 350 degrees. Bring a large pot of salted water to a boil over high heat. Blanch the cauliflower for 2 minutes. Transfer the cauliflower to a buttered 9 by 13-inch baking dish and let cool, about 5 minutes.
In the same skillet, melt the butter. Add the flour and stir until combined. Continue stirring for 2 minutes to cook the flour. Slowly add the milk, stirring continuously until the milk has incorporated and there are no lumps. Add the garlic clove and red pepper flakes and stir the sauce over low heat until the mixture coats the back of a wooden spoon. Add the Parmesan, salt, pepper, and nutmeg. Stir to combine. Pour the sauce over the cauliflower to cover. Top with a sprinkling of bread. Bake for about 25 minutes. Serve immediately.
---
Oven Roasted Sweet Potatoes
2 large sweet potatoes
2 tablespoons olive oil
3 tablespoons honey
2 teaspoon fresh lemon juice
1 teaspoon salt
Preheat oven to 350 degrees.
Peel and cut the sweet potatoes into 1-inch pieces and put in a 9 by 13 baking dish. In a small bowl whisk together olive oil, honey and lemon juice. Pour mixture over potatoes and toss to coat. Sprinkle with the salt, and bake, stirring occasionally, for about 1 hour, until potatoes are tender.
---
---
An unbeatable value with exclusive benefits for members only.
Get a newsletter like this each week when you join the Cook'n Club.