Wok It Off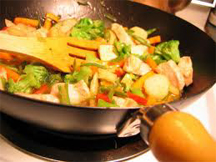 When it comes to meals that are heavy on the vegetables I don't know that there is anything better than stir-fry. You can get so many flavor combinations by altering this or that, adding this vegetable, removing that one, or changing up your meat or sauce.
It is so easy to customize and there are so many different directions to go in. You can go with a traditional asian flare or totally change it up and try something different. Stir-frying really offers a great way to load up on the fresh, delicious flavors of vegetables while still giving yourself a lot of options for a hot meal.
With a few tips and some great recipes you'll be woking in no time!
Stir-Frying Tips, Tricks, and Pointers:
1. Make sure you have all the ingredients you need ahead of time. You want everything to cook evenly so there is no time to run to the store or the neighbors house!
2. Make sure all the food is cut according to directions before you start. Never try to prepare food while stir-frying. It is much easier to have it all ready so it can go in and cook evenly.
3. Cut the ingredients in uniform-sized pieces so that they all cook at the same rate. I recommend cutting things so they are easily picked out if you are feeding picky children! My kids may not eat all the vegetables, but most is better than nothing and when they have control over which ones they eat, they do much better.
4. If you're not following a recipe, a good rule of thumb is to cut everything into bite-sized pieces. Cut the vegetables on a diagonal to maximize exposure to the heat.
5. Heat the wok on medium-high to high heat for at least a minute before adding oil. (You may want to skip this step if you have a nonstick pan - it can damage the coating.) If you don't have a wok, don't panic. You can use other good-sized pans to get the job done.
6. Add the oil (up to 2 to 3 tablespoons depending on the dish; peanut, canola or other vegetable oils are good) so that it circles around the sides of the wok before reaching the bottom. This coats the sides of the wok in oil and the oil heats faster.
7. Before adding other ingredients, toss in a few pieces of garlic and ginger and cook for a few minutes. This flavors the oil nicely. (Note: you may want to reduce the heat at this point to keep the aromatics from burning). Mmmm, can you smell it yet?
8. If the recipe calls for meat and vegetables, cook the meat first and set it aside. Add the meat back when the vegetables are almost cooked. This ensures that the meat is not overcooked, and that the meat and vegetables retain their individual flavors. You don't want overcooked meat and you really don't want undercooked meat so this will give you the chance to make it perfect.
9. Meat is normally stir-fried on high heat to sear in the juices (individual recipes may differ).
10. Never add more than a cup of meat at a time to the wok. Lay the meat out flat. If necessary, stir-fry in batches to insure consistency and quality.
11. Remove the meat from the wok when it changes color - for example the redness in the beef is gone. At this point the meat is approximately 80 percent cooked. You will cook it the rest of the way when you add it to the veggies.
12. Stir-fry vegetables according to density, with the densest vegetables being stir-fried first and for the longest time. Denser vegetables such as broccoli, carrots and eggplant require more cooking time than green leafy vegetables such as bok choy.
13. If possible, wash the vegetables ahead of time to ensure that they have drained and are not too wet. If they end up too dry you can always add a few drops of water while stir-frying.
14. To stir-fry, move a spatula through the wok, tossing the ingredients every few seconds. When stir-frying meat, wait a few seconds before tossing so that it has a chance to brown; when stir-frying vegetables, begin moving them immediately.
15. When adding sauce or a cornstarch/water mixture, push the ingredients up to the side of the wok, forming a well in the middle. Add the sauce in the middle and stir to thicken before mixing with the other ingredients.
16. Once the dish is completed, taste and adjust seasonings as desired. Then serve the stir-fried dish immediately!
Here are a couple of recipes to try these tips out on!
---
Chicken Stir-Fry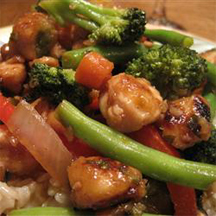 4 (4 ounce) boneless skinless chicken breast halves
3 tablespoons cornstarch
2 tablespoons soy sauce
1/2 teaspoon ground ginger
1/4 teaspoon garlic powder
3 tablespoons cooking oil, divided
2 cups broccoli florets
1 cup sliced celery (1/2 inch pieces)
1 cup thinly sliced carrots
1 small onion, cut into wedges
1 cup water
1 teaspoon chicken bouillon granules
1. Cut chicken into 1/2-in. strips; place in a resealable plastic bag. Add cornstarch and toss to coat. Combine soy sauce, ginger and garlic powder; add to bag and shake well. Refrigerate for 30 minutes.
2. In a large skillet or wok, heat 2 tablespoons of oil; stir-fry chicken until no longer pink, about 3-5 minutes. Remove and keep warm. Add remaining oil; stir- fry broccoli, celery, carrots and onion for 4-5 minutes or until crisp-tender. Add water and bouillon. Return chicken to pan. Cook and stir until thickened and bubbly. Serves 4.
---
Broccoli Beef Stir-Fry
1 pound boneless beef sirloin or boneless beef top round steak , 3/4 inch thick
2 tablespoons vegetable oil
2 cups fresh broccoli florets
1/2 teaspoon ground ginger
1/4 teaspoon garlic powder or 2 cloves garlic, minced
1 (10 3/4-ounce) can CAMPBELL'S condensed tomato soup
2 tablespoons lite soy sauce
1 tablespoon vinegar
4 cups hot, cooked rice
1. Slice beef across the grain into thin strips.
2. In 10-inch skillet or wok over medium-high heat, in 1 tablespoon hot oil, stir-fry half of the beef until browned. Remove set aside. Repeat with remaining beef.
3. Reduce heat to medium. In same skillet, in remaining 1 tablespoon hot oil, stir-fry broccoli, ginger, and garlic powder until broccoli is tender-crisp.
4. Stir in soup, soy sauce, and vinegar. Heat to boiling. Return beef to skillet. Heat through, stirring occasionally. Serve over rice. Serves 4.