"Sweet"-en Up Their Valentine's!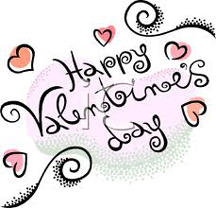 February - the month of love! Valentine's Day is traditionally a day for couples, but below are some really fun ways to involve the whole family in the holiday! If you don't have more than just your sweetheart with you, these ideas can be easily adapted to create a fun Valentine's Day for just you and your loved one as well. I wanted to quickly share one of my favorite Valentine's Day memories, just to get you in the lovey-dovey mood!
My husband, Ben, and I were married in March 2006, so we had just missed celebrating Valentine's as a married couple. So, the next year when Valentine's rolled around I wanted it to be so special! However, we had just moved into a new apartment-on February 13th! Our place was a sea of boxes, packing materials, and bubble wrapped artwork, not to mention that I couldn't even cook anything fancy since all of my kitchen things were still packed! We were your typical poor college students, so a big, fancy night out on the town was out of the question for our little budget, not to mention neither of us wanted to fight the crowds.
So, in a moment of brilliance, I stopped by the grocery store on my way home from work... I always beat Ben home by at least 30 minutes, so when he came home I had a candlelight "picnic" laid out on the floor of our living room in a small space I had carved out of the piles of boxes! We had a "blanket" (some towels that were wrapped around my vases), candles (little votive ones, since that's all I could find), and a delicious dinner consisting of deli salads, potato wedges, and chicken! I even found a bottle of sparkling cider and some "glasses" (they were plastic and had some strange logo on them!) for a toast! It turned out to be one of our favorite memories together, including when one of my precariously stacked towers of boxes fell over halfway through the meal! I hope you and your families enjoy celebrating your love for each other this month! Happy Valentine's Day!
Start The Day Off With a Little Love - Valentine's Breakfast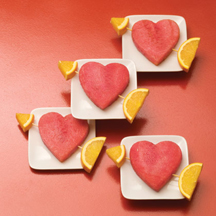 Since breakfast is the most important meal of the day, you can use it to let your family know that they are the most important thing in your life! Start off with heart shaped toast-once your toast is ready, use a cookie cutter to make the heart shapes. Spread with strawberry or raspberry jam for that touch of red that every heart needs! You can also make heart shaped pancakes! Several stores sell a silicone shaper for eggs or pancakes so it can stay right on the griddle and not melt. (I recommend Bed, Bath, and Beyond or Hobby Lobby for these.) Lastly, every breakfast should have a little fruit in it, so try these tasty, fruity, healthy hearts! Take a piece of watermelon (seedless is best) and again use that large heart cookie cutter to get that heart shape. Skewer each heart with a bamboo skewer and then complete the arrow with an orange slice tip and tail!
A "Love"-ly After-School Surprise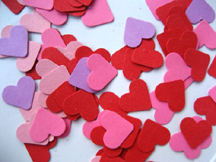 A fun thing to do while the kids are at school (or at work, if you're doing this for someone besides your kids!) is to "heart attack" their bedrooms! You will need heart confetti (purchase it or make your own), conversation hearts, and a big bag (or two!) of Hershey's chocolate kisses. Sprinkle the confetti and kisses around the room on the floor, their bed, and anywhere else you want. Then, get a large red or pink poster board and cut it into a heart shape. On the large heart you can write a love note to the bedroom's occupant. You can also put little valentine's on their bedroom door. One time my sisters even hung strands of crepe paper like a bead curtain across the doorframe of my bedroom and closet doors!
Share the Love - Valentine's Dinner
I have included some recipes below for a delicious Valentine's Day dinner consisting of heart shaped pizza, festive Red Bell Pepper soup, and chocolate covered strawberries. Serve the dinner with cherry Sprite for a dash of pink, or you can even color your milk pink with a little bit of red food coloring or strawberry milk powder! While you are having dinner, each person can share something they love about the person to their left, then their right, then straight across! This is a fun dinner that will have a "love"-ly memory attached to it for years to come!
---
Red Bell Pepper Soup
Servings 4
This heartwarming soup is rich and aromatic.
2 red bell peppers
1 cup diced onion
1/4 cup butter
1/4 cup fresh garlic pressed
1/2 teaspoon pepper (white, if available)
1 fresh lime juiced
2 teaspoons sugar
1/2 cup butter
1/2 cup flour
4 cups half and half cream
cilantro or thyme chopped finely
Microwave red bell pepper on high for 2 minutes. Cut into pieces and puree in blender. In a saucepan saute onions in the 2 tablespoons butter until tender. Add garlic, pepper, lime juice, and sugar. Heat and stir for one minute. Add red pepper puree and remove from heat. In a separate saucepan melt the 1/4 C butter. Add flour and stir until well blended. Add half-and-half cream, stirring constantly until mixture reaches a boil. Continue cooking for about two more minutes. Add pepper mixture and blend. Serve hot. Garnish with chopped cilantro or thyme.
---
Heart Shaped Pizza
This dough is a great recipe for the family to make together, kids and push, pull, and twist it as much as they want-it only makes it better!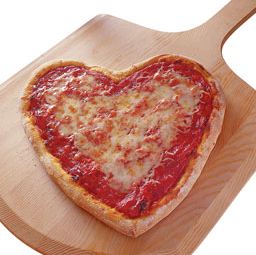 DOUGH
1 cup warm water
1 teaspoon sugar
1 (.22-ounce) package active dry yeast
3 tablespoons olive oil plus extra for coating
2 1/2 cups all-purpose flour plus extra for dusting
1 teaspoon salt
OTHER INGREDIENTS
olive oil for coating or cornmeal for dusting
1 cup homemade or store bought tomato sauce
1 1/2 cups grated mozzarella cheese
1 1/2 cups grated Muenster cheese
1/2 cup grated Cheddar cheese
Toppings of your choice such as: pepperoni, Canadian bacon, peppers, onions, olives, pineapple, etc.
Yield: Two 12 Inch Pizzas
1. Place 1/4 C warm water in a small bowl. Stir in the sugar until dissolved, then sprinkle the yeast onto the surface of the water. Let the yeast float for 1 minute, then stir it into the water. Let the yeast "proof" for 10 minutes. It should bubble a bit; if it doesn't, the yeast is outdated and inactive.
2. Pour the yeast mixture into a large bowl, then stir in the remaining water, and add the olive oil, flour, and salt. With a wooden spoon, mix the dough until it forms a ball. On a lightly floured surface, knead the dough for 10 minutes, or until it is smooth and elastic.
3. Coat the inside of a large glass or ceramic bowl with olive oil. Press the ball of dough into the bottom of the bowl, then flip the dough over so the oiled side is on top. Cover the bowl with plastic wrap, then let the dough rise in a warm place until it has doubled in bulk, about 1 1/2 hours. (Makes 1 1/2 pounds of dough.)
4. Heat the oven to 450 degrees. Punch down the dough, knead it a few times to remove all the air, and divide it in two.
5. On a lightly floured surface, use a rolling pin to roll one portion into a 12-inch round. Place on a lightly oiled baking sheet. You can at this time shape the dough into a heart, if desired.
6. Spread a thin layer of sauce (too much sauce will make your pizza soggy). Top your pizza with half of the mozzarella, Muenster, and Cheddar cheeses, and garnish with the toppings of your choice.
7. Bake 12-15 minutes. When it's done, your crust will with golden underneath. Repeat steps 5-7 for the other half of the pizza dough.
---
Easy Chocolate Covered Strawberries
Be sure to try my special tip below for the perfect chocolate covered strawberries!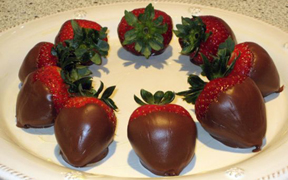 16 ounces milk chocolate chips
2 tablespoons shortening
1 pound fresh strawberries with leaves
Yield: 1 Poud Chocolate Covered Strawberries
1. Insert toothpicks into the tops of the strawberries.
2. In a double boiler, melt the chocolate and shortening, stirring occasionally, until smooth.
3. Holding them by the toothpicks, dip the strawberries into the chocolate mixture.
4. Place on maxed paper to cool.
*Special tip: For a nicer final look, turn the dipped strawberries upside down and insert the toothpick into a block of sturdy styrofoam (available at any craft store) for the chocolate to cool. This method keeps the strawberries from developing a flat bottom from the cooling chocolate.
---
---
An unbeatable value with exclusive benefits for members only.
Get a newsletter like this each week when you join the Cook'n Club.