Why Toaster Ovens?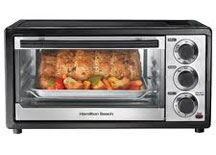 If you are trying to cut back on your power bill, or you'd like to keep the house cooler this summer and still have some nice baked or toasted food, the toaster oven is the appliance for you.
A toaster oven can warm pastries and muffins and toast extra-thick breads and bagels that don't fit into conventional toasters. Premium toaster ovens are large enough to accommodate a casserole or cake, roast a small chicken, or broil steaks and burgers. They're great for frozen foods such as pizza or French fries, and children can do it themselves. All in all, a good toaster oven is much better at browning than a microwave oven, also.
The first thing you want to do is measure your counter space, allowing for an extra four inches in depth; a hot oven must never be flush against the wall. And here's what you need to look for:

Capacity: Smaller ovens (from 12" wide x 10" tall x 12" deep) hold four slices of bread; larger ones (up to 20" x 10" x 15") can handle six slices. Be sure you choose a capacity that meets your needs and lifestyle.

Toast Settings: Basic models have one "toast" setting; premium models have light, medium, dark and numbered dials with everything in between.

Other Settings: Most have the capacity to bake and broil. Some have preset temperatures; premium models heat to 450 degrees.

Preset Functions: Some models feature kid-friendly settings labeled pizza or bagels.

Electric Touch Pads: For setting the temperature or timer.

Digital Displays: Allow for more precise heating.

Nonstick or porcelain interior: The easiest to clean. And what a world we live in - there is a toaster oven for every budget. Consider these choices:

Cooks: Height – 14.75", Length -19", Depth -14.5". Features: Two racks can be positioned at four different levels; includes baking tray; available in seven colors. See at jcp.com. ($70)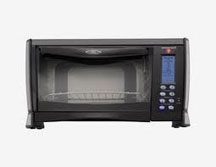 Oster Model 6292: Height - 10.25", Length – 19.5", Depth – 15". Features: Digitals setting include bagel, pizza, toast, bake and broil; 120-minute timer; nonstick interior. See at oster.com. ($100)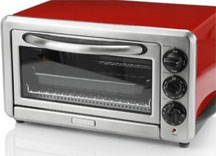 Kitchenaid: Height – 10.4", Length – 20", Depth – 14.8". Features: Temperature controls reach up to 450 degrees; nonstick interior; four rack positions. See at kitchenaid.com ($150)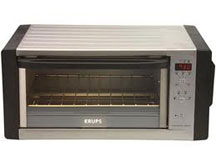 Krups Model FBC5: Height – 10.375", Length – 20.5", Depth – 14.75". Features: LCD panel with touch settings for temperature and time; two rack positions; defrost function. See krupsusa.com for stores ($250)