Bet You Can't Pick Just One! Potato Salad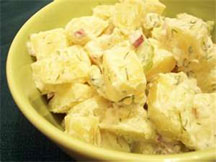 I believe that I mentioned before that my mother made the best potato salad in the world. Just ask my daughter! She is the connoisseur of all things related to potato salad, and swears no one but her grandmother could make it well. I believe she is right.
There are some very good recipes out in the cyber and friend world, however, which could certainly compete; not win of course, but compete. Just like everyone says that you can't eat just one potato chip, I'm betting that you can't make just one of the following recipes. Each one is unique so try all 3 and let me know what you think!
---
Potato Salad with Cornichons
(Cornichon is the French word for "gherkin"; the small sweet pickle that looks like a little cucumber)
Country Living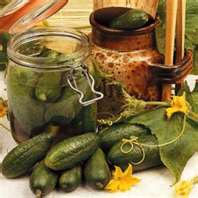 3 1/2 pound(s) russet potatoes, peeled and cut into 1 1/2-inch cubes
1 tablespoon(s) salt, for boiling water
3/4 teaspoon(s) salt
12  cornichons, finely chopped
3 tablespoon(s) pickle juice
2 stalk(s) celery, finely chopped
1 small yellow onion, finely chopped
1  hard-boiled egg, finely chopped
1/2 cup(s) mayonnaise
1/2 cup(s) sour cream
2 tablespoon(s) finely chopped fresh parsley
2 teaspoon(s) dry mustard
1 teaspoon(s) freshly ground pepper
1. In a large pot over medium-high heat, bring potatoes, 1 tablespoon salt, and enough water to cover by 1 inch to a boil. Cook potatoes at a gentle boil until tender, about 20 minutes, then drain. Transfer to a large bowl and sprinkle potatoes with pickle juice. Let cool to room temperature, about 15 minutes.
2. Add cornichons, celery, onion, and egg to potatoes. In a small bowl, stir together remaining ingredients, including 3/4 teaspoon salt. Gently mix dressing into potatoes until all ingredients are evenly distributed and potatoes are well coated. Refrigerate for 1 hour before serving.
Tip: Waxy fingerlings and red-skinned potatoes hold their shapes when boiled; russets and Yukon golds break apart, producing a fluffy texture.
---
Crispy Roast Potato Salad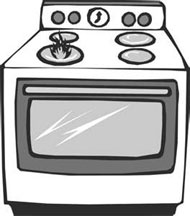 4 pound(s) russet potatoes, peeled and cut into 1-inch cubes
1/4 cup(s) olive oil
2 teaspoon(s) finely chopped fresh rosemary
1 1/2 teaspoon(s) salt
1/2 cup(s) mayonnaise
1/4 cup(s) buttermilk
2 clove(s) garlic, minced
Juice of 1 lemon
1. Preheat oven to 400 degrees F. Toss potatoes with olive oil, rosemary, and 1 teaspoon salt. Spread out in a single layer on 2 parchment-lined baking pans. Roast potatoes until golden, about 20 minutes, turning halfway through. Transfer pans to wire racks and let cool to room temperature, about 15 minutes.
2. In a large bowl, stir together remaining ingredients, including 1/2 teaspoon salt. Add potatoes and gently mix until well coated. Serve immediately.
---
Classic Potato Salad
Serves 5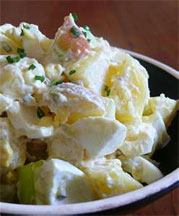 1 cup real mayonnaise
2 tablespoons rice vinegar
1 1/2 teaspoons kosher salt
1 teaspoon sugar
1 teaspoon garlic powder
4 cups cooked potatoes, Cubed (5-6 medium potatoes)
1/2 cup onion, Diced
1 cup celery, Diced
1/4 cup jalapeno, Diced (optional)
1/4 cup fresh parsley, Chopped
2 eggs, boiled and chopped
1. If potatoes are not cooked, peel and cube, boil in salted water for 12 minutes. Boil the eggs in the same liquid to save time, right on top of the potatoes for about 8 of the 12 minutes and scoop out!
2. Whisk to combine mayo, vinegar, salt, sugar and garlic powder.
3. Stir in potatoes, onion, celery and jalapeno (if using) and parsley.
4. Top with chopped or sliced eggs and sprinkle with paprika for color.