7 Layer Salad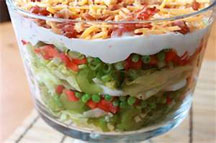 Today is a great neighborhood pot-luck. There is always hesitancy as to what to bring: chips and dip? Vegetables? Cake? It's summer and it's hot, so my feeling is that there is nothing like a good, crisp salad. Fortunately, I have this delicious and easy-to-make salad that is a joy to bring anywhere I go.
Get the ingredients ahead of time, and make up the salad up to 1 day before serving. People will think you spent hours on it!
Be sure to put this in a glass or plastic bowl so the vegetables can be seen from the side. It really is pretty.
---
Seven Layer Salad
8 cups shredded romaine lettuce
1 cup frozen peas, thawed
1 medium yellow bell pepper, diced
1 cup halved grape tomatoes , or quartered cherry tomatoes
1 cup sliced celery
1/2 cup sliced scallions
3/4 cup nonfat plain yogurt
3/4 cup low-fat mayonnaise
2 teaspoons cider vinegar
1-2 teaspoons sugar
1/4 teaspoon garlic powder
1/4 teaspoon salt
1/4 teaspoon freshly ground pepper
1/2 cup shredded reduced-fat Cheddar cheese
1/2 cup thinly sliced fresh basil
3 strips cooked bacon, crumbled
1. Place lettuce in a large bowl. Layer peas, bell pepper, tomatoes, celery and scallions on top.
2. Whisk yogurt, mayonnaise, vinegar, sugar to taste, garlic powder, salt and pepper in a medium bowl until smooth. Spread the dressing evenly over the top of the salad (an offset spatula is handy for this, if you have one). Sprinkle with cheese, basil and bacon. Serve room temperature or chilled.