In Praise of Poppy Seeds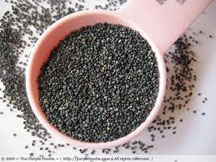 Poppy seeds are used in various forms to add worth to the diet. They serve several purposes. They add a pretty touch to breads, rolls, cookies and cakes. They do a good job of thickening various types of sauces. They're versatile—they can be used in desserts and salads as well as in entrees and baking.
They also provide a wonderful flavor and aroma when added into a recipe. But apart from offering good taste, these seeds also pack a number of health benefits. Here are some of the most alluring benefits offered by poppy seeds:
Mineral source: Poppy seeds are a good source for a variety of minerals like iodine, manganese, magnesium, zinc and copper.
Vitamins and trace elements: Poppy seeds provide a number of vitamins and trace elements such as thiamine, riboflavin, lecithin, oxalic acid, pentosans and amorphous alkaloid.
Enzymes: Poppy seeds enhance enzyme utilization (diastase, emulsin, lipase and nuclease).
Fatty acids: Poppy seeds are a good sources of fatty acids, especially the omega-3 fatty acids, which are required by human body to ensure good health.
Carbohydrates: Poppy seeds are considered a good sources of carbohydrates and thus they are helpful in enhancing the level of energy supplied to human body for routine functions.
Digestion: Poppy seeds are also helpful in facilitating effective digestion.
Heart disease: Poppy seeds contain linoleic acid, which protects the body from heart attacks and other heart disorders.
Breast cancer: Poppy seed oil has been shown to be helpful in treating breast cancer due to the oleic acid it contains.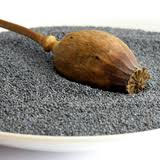 I can't get over how wonderful the world of food is! Here's a tiny seed that blesses our lives in so many ways, and enhances any food it graces as well. My fascination with this seed led me to hunting recipes that incorporate it.
I found that Eastern Europeans, especially, regularly use poppy seeds in their baking and cooking, and a dessert table would invariably include something sweet made with poppy seeds, either ground or whole. The poppy seed yeast bread or roll (known as makowiec in Polish), for instance, uses poppy seed paste available in the ethnic aisle of most supermarkets.
If you, too, enjoy this amazing seed, then let's join together in praise of poppy seeds as we try these intriguing recipes:
---
Poppy Seed Rolls
Makowiec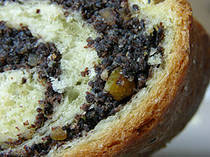 1 package active dry yeast
2 cups warm milk
8 cups all-purpose flour
3/4 cup sugar
1 teaspoon salt
5 eggs
4 ounces (1 stick) butter, melted
2 (11-oz) cans poppy seed filling (or make your own, see below)
Filling:
1 pound ground poppy seeds
1 cup sugar
6 ounces softened butter (1 1/2 sticks)
1 cup hot milk
1 lemon rind, grated
If making your own filling, grind the poppy seeds in a *poppy seed grinder, then combine all filling ingredients. Beat well and set aside. In a small heatproof bowl, dissolve yeast in 1/2 cup of the warm milk. In the bowl of a stand mixer or a large bowl, combine flour, sugar, salt and eggs. Add remaining 1 1/2 cups warm milk, butter and yeast mixture. With the paddle attachment, or by hand, beat until smooth. Dough will be sticky at this point.
Scrape dough into a clean, greased bowl. Sprinkle the top with a little flour and cover. Let stand in a warm place for 1 hour or until double in size. Punch down dough and turn out onto a floured surface. Divide dough in half and shape each half into a rectangle. Spread 1 can or half of the filling you made on each rectangle of dough and roll up like a jelly roll. Turn ends under so filling will not leak out. Place on a parchment-lined or greased pan, cover and let rise again until double in size.
Heat oven to 350 degrees. Brush tops of rolls with additional melted butter. Bake 45 to 60 minutes or until rolls are golden brown. Remove from oven and cool. Dust rolls with confectioner's sugar, if desired.
---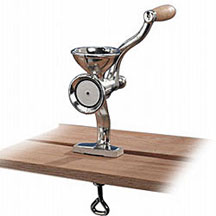 Poppyseed Grinder:
$21.49 from www.Overstock.com
Many models shown on www.BuyCheaper.com (from $16.99 and up)
---
Lemon Poppy Seed Cookies
Yield: about 30 cookies
This delicious recipe, courtesy of Real Simple Magazine, creates a crisp, delicate cookie with lots of zing and tang; poppy seeds add crunch.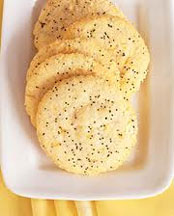 1/4 C fresh lemon juice, plus 3 1/2 tsp freshly grated lemon zest (2-3 lemons)
8 oz (2 sticks) unsalted butter
2 C flour
1 tsp aluminum free baking powder (I use Rumford's)
1/2 tsp salt
1 1/2 C sugar
1 large egg
2 tsp vanilla
1 Tbsp poppy seeds, plus more for sprinkling
Preheat oven to 375 degrees. Bring lemon juice to a simmer in small saucepan over medium heat; cook until reduced by half. Add 1 stick butter; stir until melted. Whisk together flour, baking powder, and salt. Cream remaining stick butter and 1 cup sugar on medium speed in large bowl. Mix in egg and lemon butter. Mix until pale, about 3 minutes. Add vanilla and 2 tsp lemon zest; mix well. Add in flour mixture and poppy seeds. Mix well again.
Stir together remaining 1/2 C sugar and 1 1/2 tsp zest. Roll spoonfuls of dough into 1 1/4-inch balls; roll them in sugar mixture. Place 2 inches apart on baking sheets. Press each flat with end of glass dipped in sugar mixture until 1/4 inch thick. Sprinkle with poppy seeds. Bake until just browned around bottom edges, 10 to 11 minutes (watch closely so they don't over bake). Store in airtight container up to one week.