Thunder Cake
I just finished up an awesome week of teaching science to young children. This year our theme was weather. We learned all about the different types clouds and how they form. We learned about the sun, temperature, wind, and the water cycle. We also talked about wild weather like thunderstorms, tornadoes, flash floods, and hurricanes. We even had a guest speaker from the National Weather Service come to visit. The kids loved it! …And so did I.
What does this have to do with cooking?! Well, I'll tell you! We read one of my favorite children's pictures books of all time: Thunder Cake by Patricia Polacco. It is the story of a little girl who goes to visit her grandmother's farm on a stormy, summer day in Michigan. The little girl is terrified of thunderstorms so her grandmother helps her overcome her fears by baking a "thunder cake" with her. They gather all of the ingredients while they watch for the lightning and count how far away the storm is. Once the storm hits, they bake their cake and eat it. This really helps the little girl overcome her fear of thunderstorms.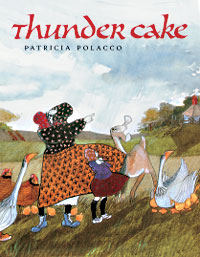 One of the great things about this book is that is based on a true story about the author. She includes her grandma's thunder cake recipe at the end. I have made it several times and it is SO good! Here is the recipe:
Thunder Cake
1 cup shortening
1 ¾ cup sugar
1 tsp vanilla
3 eggs, separated
1 cup cold water
1/3 cup of pureed tomatoes
2 ½ cups cake flour
½ cup dry cocoa
1 ½ tsp baking soda
1 tsp salt
Chocolate Frosting
Strawberries
Add Recipe to Cook'n
Cream together one at a time shortening, sugar, vanilla, eggs, water, and tomatoes. (For the eggs, blend the yolks in. Beat the egg whites until stiff, then fold into the creamy mixture). Sift together the flour, cocoa, baking soda, and salt. Mix the dry mixture into the creamy mixture. Bake in two greased and floured 8 ½ inch round pans at 350 degrees for 35 to 40 minutes. Frost with your favorite chocolate frosting and top with strawberries.
The kids always think that the secret ingredient "pureed tomatoes" sound disgusting in a chocolate cake recipe, but they are usually pleasantly surprised by how moist and delicious the cake tastes. You might be pleasantly surprised as well. Enjoy!

Cristina Duke
Monthly Newsletter Contributor since 2014
Email the author! cristina@dvo.com