Carbonara, Veggies, and Spaghetti Squash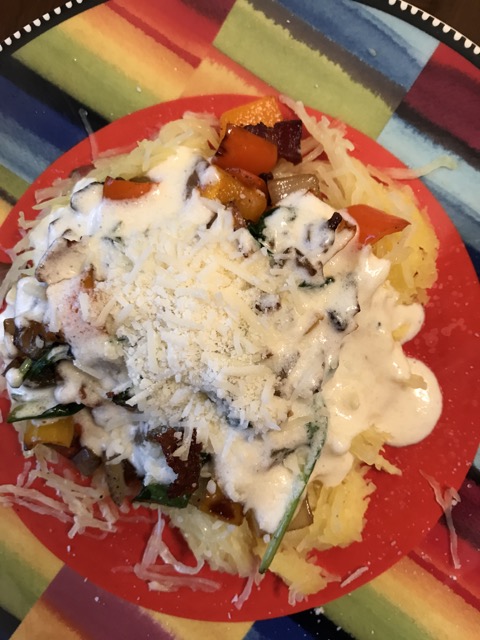 Serves:
4
I rarely cook in the microwave, but spaghetti squash is easy and quick and always comes out perfect in the microwave. When done, you will be able to easily pull shreds from the squash that look like spaghetti. I prefer spaghetti squash over pasta.

Dovetailing tip: You used half of a package of bacon for Meal 2. Pull out the remaining half to use in this recipe.
Prep Time:
Cook Time:
Total Time:
Ingredients:
1

medium

spaghetti

squash

1/2

package

bacon

2

cups

diced assorted colors of bell

pepper

1

medium chopped

onion

1

large handful chopped fresh

spinach

4

tablespoons

unsalted

butter

1/4

cup

grated

Parmesan cheese

1/2

teaspoon

California

garlic powder

3/4

cup

heavy cream

sea

salt

, to taste

freshly ground

black pepper

, to taste

shredded

Parmesan cheese

, to top
Directions:
Half spaghetti squash and scrape out seeds. In glass casserole dish, place the spaghetti squash, cut side down. Pour water into container to make about 1/2" of water. Cover with plastic wrap or lid. Microwave for 10 minutes on high.

Meanwhile, dice bacon and cook in skillet until crispy. Remove to plate. In bacon drippings, add bell peppers and onion. Saute until onion is translucent.

While vegetables are sauteing, start the cream sauce. In saucepan, melt butter. Add 1/4 cup grated Parmesan cheese and garlic powder; stir until melted. Pour in cream and reduce heat to low. Allow sauce to heat and thicken. When onions and peppers are done, add bacon and spinach; allow spinach to wilt.

Scrape spaghetti squash from shell onto 4 dinner plates. Top with vegetables and bacon, then sauce. Salt and pepper to taste. Sprinkle with shredded Parmesan cheese to serve.

Source: Rose Turnbow
Add Recipe to Cook'n
---