Authentic Vietnamese Spring Rolls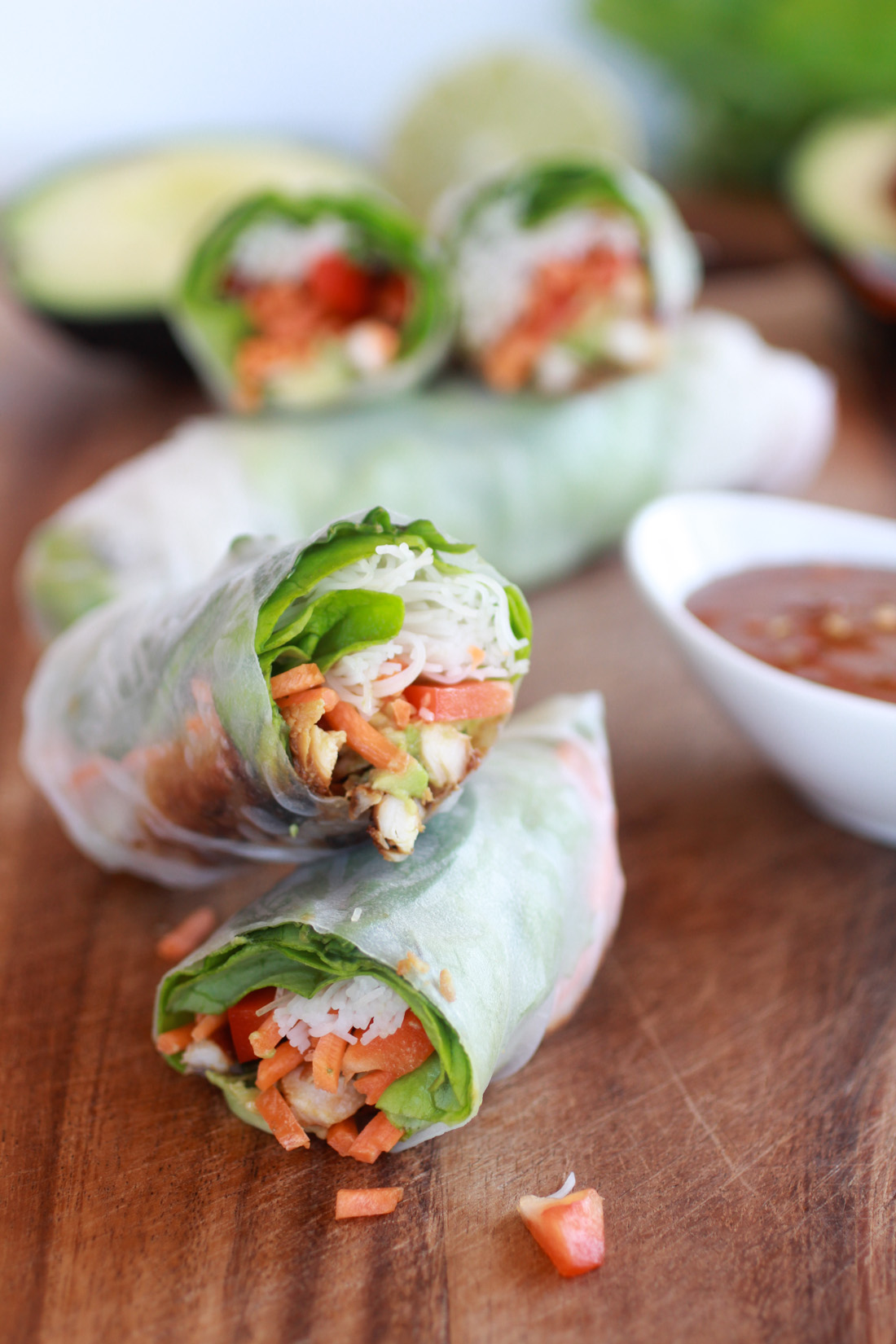 My love for spring rolls only grew when my husband Scott told me that his Vietnamese friend Trang from work was willing to come to our house to give us a spring roll lesson! Having gone to Vietnam on our honeymoon, we already had a love for the food and interest in learning how to make it ourselves. Making spring rolls would be an ideal date night or activity with friends since there is a lot of sorting and assembling, even artistry involved. But, if you make them on your own just put on a good audiobook and go to town!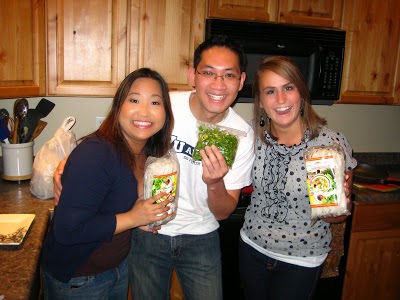 The first step to a successful spring roll is to get the best and freshest ingredients possible. Actually, that is true for any recipe, but especially important here since so many ingredients are raw. The meat is what makes these spring rolls a "meal" at our house and not just an appetizer. You could omit the meat for a vegetarian or lighter dish, but you will sacrifice some of that tangy flavor! Here's the ingredients list:
Add Recipe to Cook'n
Spring Roll:
1 lb Ground Beef (yields about 11 spring rolls for me)  
Finely chopped garlic
Salt and pepper
1-2 dashes seasoned rice vinegar
lemon juice- use juice from half a medium size lemon
1 Tablespoon sugar
1 Bunch fresh cilantro
1 Bunch fresh basil
1 Bunch fresh mint
Julienned Carrots
Bean Sprouts
Dried Onion
Vermicelli noodles
1 Head butter leaf or romaine lettuce
1 Package of 8" rice paper (found at most Asian markets)
1 Lime
Dipping Sauce:
Soy sauce
Seasoned vinegar
Beef broth
Cooking the Meat:
Brown the meat, adding in ~2 Tablespoons finely chopped garlic, generous salt and pepper, a dash or two of seasoned rice vinegar, and juice from half a lemon.  At the end, sprinkle about a Tablespoon of sugar over the meat.  
Preparing the Herbs:
Taste each of the herbs before you start because once I made all the spring rolls and later realized that my basil was bitter and affected every single spring roll.  Wash, dry and pluck off the herbs from the stems.  I usually buy each of these herbs in a giant plastic bag, from an Asian grocery store, but you can find them most anywhere.  Do not skimp on the herbs!  When washing and arranging your herbs, prepare more than you think you'll need.  You want lots of herbs per roll, and it's a hassle to prepare more herbs once you're in the assembly stage. Trang taught me to tear the basil and mint into halves or thirds to bring out the scent and flavor. If you have mint leftover, make some fresh squeezed mint lemonade to go with your meal!
Preparing Other Ingredients:
Bean Sprouts- These are also easy to get at the Asian market.  They add a great crunch to the roll, do not skip these.

Dried Onion- We made this fresh with Trang, but since then I've used store bought and it's pretty good.  Be sure to use little bits of dried onion, not onion powder.

Vermicelli Noodles- I always think I'll need a whole pack, but really just cook half the noodles that come in the package and save the rest for next time.  After they are boiled (just about 3 minutes) you need to rinse thoroughly with cold water so they don't get mushy and stick together.

Lettuce- Butter leaf is the best but I have used romaine and iceberg too.  This is primarily to give the spring roll some shape and have a place to hold the meat and noodles. I prepare about 15 lettuce leaves at the start- break off any pointy ends and kind of shape them so they'll be long and somewhat narrow, while still able to hold the ingredients.
Rice Paper- I use 8" circle paper.  Get a pan that is plenty big for the papers like a jellyroll pan, and fill it with the hottest tap water.  Then soak the rice paper until it is soft and pliable but not yet mushy and folding over on itself.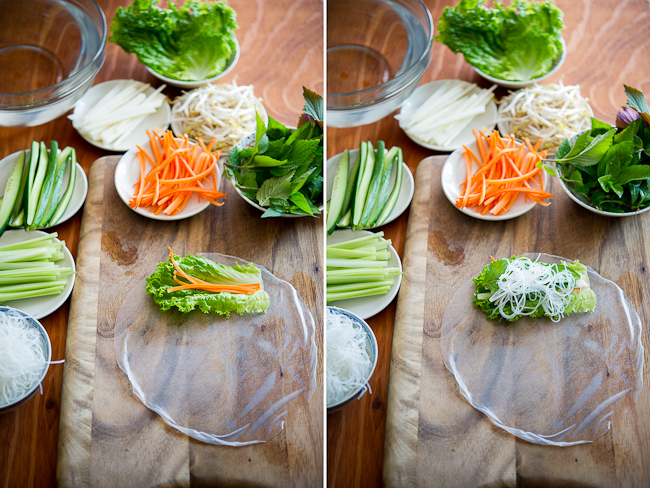 Once all the ingredients are ready, prepare your work station (I use a cutting board) to set your rice paper and then set everything else out around it so you can put them together without disruption. You will need a water dish to set and flip each rice paper so it's pliable before transferring it to your work station. Once your wet paper is ready, go around adding each ingredient to your spring roll. Lettuce first, then meat, and everything else can go in as you desire. Remember not to skimp on bean sprouts and herbs!
Once all the ingredients are in, give a generous squirting of lime juice all over the roll. Fold the bottom up over the lettuce, and roll tightly.  You roll it up like you would a soft taco.  You can either leave the top open or close it the same way you did the bottom, your preference.  Just make sure you do a beautiful job, as Vietnamese culture takes great pride in the presentation of spring rolls. Trang explained to me that this is an art, and to "try to make each roll more beautiful than the last." If your rice paper tears or has imperfections, you can wrap it in a second layer of rice paper without having to move over the ingredients to a new rice paper.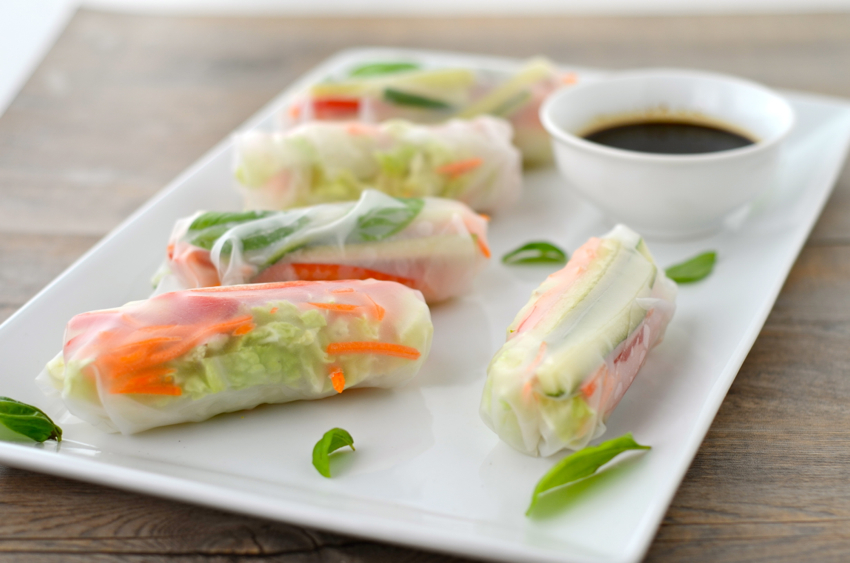 Preparing the dipping sauce:
The dipping sauce is 1 part soy sauce, 1 part vinegar, 2 parts beef broth.  Combine as much as desired.

Well, I think that's it!  I hope I didn't scare you too much with all the details, this really is a delicious meal and worth the preparation!  Enjoy, and let me know in the comments below if you make them!
Sources:
http://www.halfbakedharvest.com/avocado-and-vietnamese-chicken-springs-rolls/
http://www.girlmakesfood.com/vegan-vietnamese-spring-rolls/
http://whiteonricecouple.com/recipes/how-roll-fresh-spring-rolls/

Stefanie Hathaway
Monthly Newsletter Contributor since 2016
Email the author! stefanie@dvo.com