Dessert Pasta?!... Yes Please!
When I think of pasta for dessert, the first thing that comes to mind is a scene from the movie, Elf. Will Ferrell, who plays Buddy the Elf, grabs a plate of spaghetti noodles and smothers them with maple syrup, chocolate sauce, caramel, marshmallows, and jelly beans. He then proceeds to shovel it all in his mouth in a less than appetizing manner.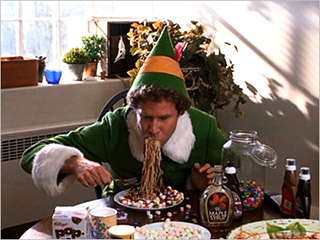 Spaghetti noodles covered in maple syrup would not be my first choice when it comes to dessert pasta. Luckily, there are lots of dessert pasta options that look and sound more appetizing. For example, chocolate pasta covered in hazelnut cream sauce. Or how about fruit lasagna layered with berries and sweet ricotta cheese? In Sicily, Italy you can find fried angel hair pasta topped with honey and pistachios. And don't forget raviolis stuffed with all sorts of sweet concoctions.
It is a little tricky to find dessert pasta in the United States. You have a much better chance of finding some in Italy. Since we all can't fly to Italy for dessert, you can prepare some delicious dessert pasta dishes from home. Here are a couple of simple recipes to get you started.
Chocolate Noodles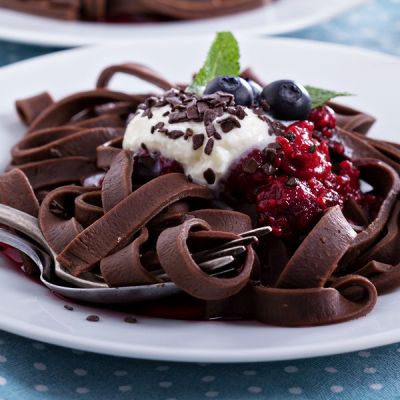 2 cups cake flour
3/4 cup all-purpose flour, plus enough to sprinkle work surface
1/4 cup unsweetened cocoa powder
1/8 teaspoon salt
4 large egg yolks, at room temperature
1/4 cup extra-virgin olive oil
1/3 to 1/2 cup water, plus extra as needed
Directions
In a food processor, pulse flours, cocoa powder, egg yolks and salt.
Gradually add the oil then water until the mixture forms a dough.
If the dough is too dry, add more water a Tablespoon at a time.
Sprinkle a clean work surface with flour.
Shape dough into a ball and knead until smooth, about 5 minutes.
Cover with plastic wrap and refrigerate for 30 minutes.
Cut the dough into 4 pieces, and press each piece flat.
Run pasta dough through a pasta machine, adjusting the settings thinner and thinner until dough is about 1/8 to 1/16 inch thick.
If you do not have a pasta machine, roll with rolling pin.
Cut the pasta into linguine noodles, or place through appropriate pasta setting.
Boil for 8-10 minutes until tender to bite.
Add Recipe to Cook'n
***What would you put on top of your chocolate noodles?
Manicotti Cannoli
1 package of manicotti noodles
2 teaspoons of sugar
1 teaspoon vanilla
2 cups cream cheese
2 cups ricotta cheese
¾ cup of sugar
Powdered sugar
Optional ingredients – cinnamon, orange zest, chocolate chips, chopped pistachios, fruit
Directions
Cook manicotti according to package directions, but instead of adding salt to the boiling water add 2 teaspoons of sugar and 1 teaspoon of vanilla. Set cooked manicotti aside to cool.
Combine the cream cheese, ricotta cheese and ¾ cup of sugar. Mix in any of the optional ingredients, such as chocolate chips or fruit, with the cheese mixture.
Fill each manicotti shell with about 2 Tablespoons of the cheese mixture.
Dust with powdered sugar. Eat just like a cannoli!
***What manicotti cannoli concoction sounds the best to you?
Add Recipe to Cook'n
Sources:
http://www.italiantribune.com/pasta-for-dessert/
http://zesterdaily.com/cooking/pasta-dessert/
http://www.thenibble.com/reviews/main/desserts/dessert-pasta-recipes.asp
http://grandmotherskitchen.org/recipes/chocolate-pasta.html

Cristina Duke
Monthly Newsletter Contributor since 2014
Email the author! cristina@dvo.com