Summer Picnics! Potluck and Desserts to Share
Summer is upon us! I love summer! Sunshine, warmth, biking, hiking, BBQs and picnics! I already have invites for a BBQ with some friends who are fantastic at it! Get-togethers are such a fun time to just sit, relax, chat, and eat food of course!
Great thing about this time of year is getting a chance to try so many different types of food at potlucks. Different salads, different sides, different desserts. I love how creative people are, and trying a little bit of everything. I usually have to go through the food line more than once to try everything that people bring. It all looks so good!
Depending of the type of gathering, I will bring different types of food. If I know we will have silverware, I might bring a salad, especially a fruit salad! Almost everyone loves fruit. I also love taking potato salad (my mom makes the best!), pasta salad, or chips and salad. But I especially love making desserts!
But if I know there will be lots of kids, or just simply a lot of people, or a lack of silverware, I try to take finger foods. I can still take fruit- but it's easy to eat pieces like grapes and strawberries. Chips are fantastic for this, and you can also make desserts work.
When it comes to desserts and potlucks, something easy to make, quick to make, and easy to serve is essential. You can make a fantastic looking cake or trifle, but if it is complicated to serve or eat, people will think twice about it. If you make cookies or bars that are easy to grab, those things will go so quick!
I love making cookie bars or brownies- people love them, they are easier to make than scooping out individual cookies, and you can make an easy serving size. If people have to cut their own, it gets complicated- it holds up the line and takes forever! Cut them before, put them on a paper plate or two and you don't even have to worry about taking serving dishes home! Super easy!
One of my favorite recipes to use is a chocolate chip cookie bar. Almost everyone likes them, they are easy to make, and also easy to serve! Enjoy!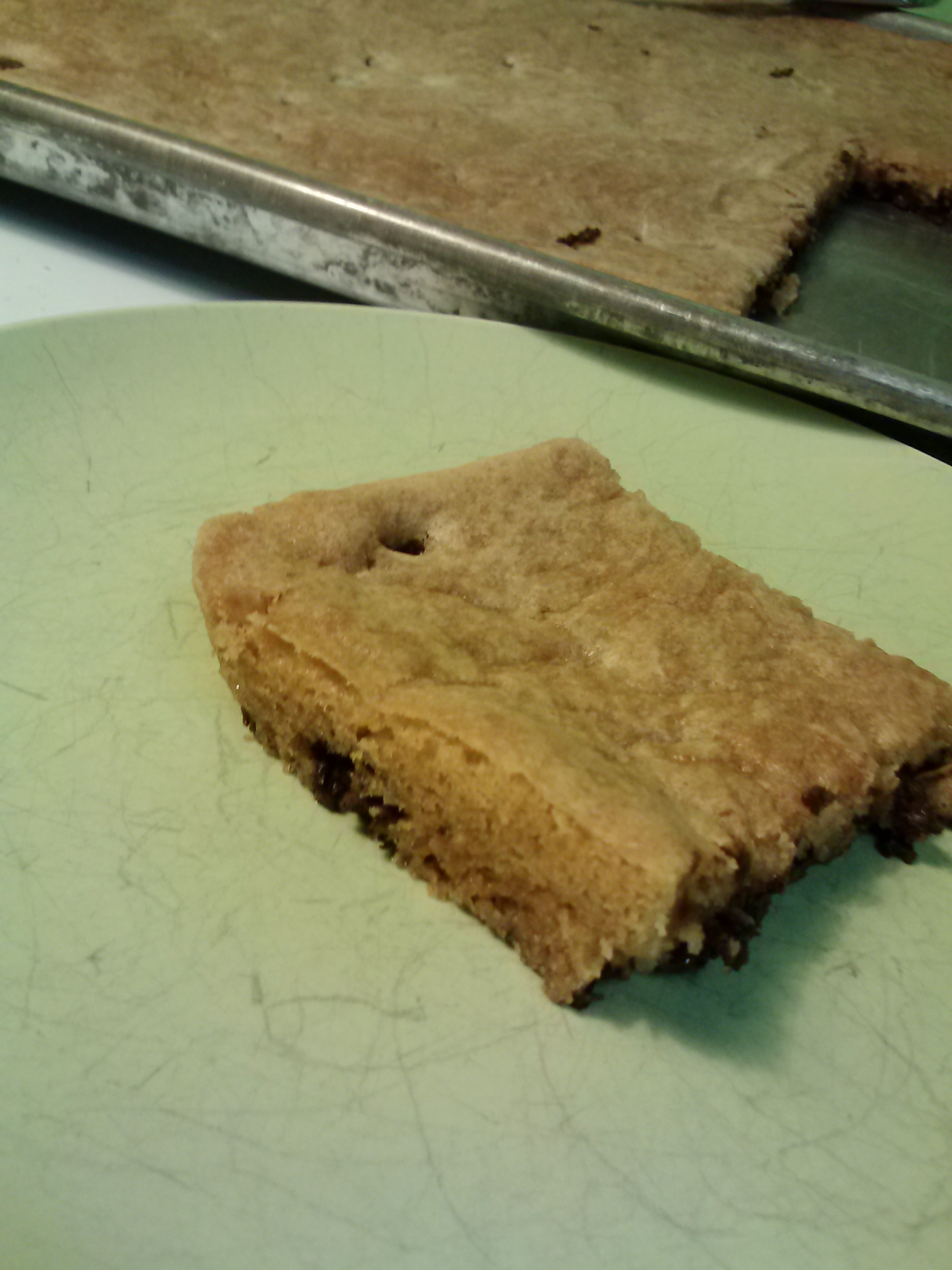 Chocolate Chip Cookie Bars
All the goodness of chocolate chip cookies with the simplicity of bar cookies. These disappear everywhere we take them! I have to make sure I grab one before they all go away!
Serves: 25
Prep Time: 10 minutes
Cook Time: 20 minutes
1 cup brown sugar
1/2 cup sugar
1 cup butter softened
2 eggs
1 1/2 teaspoons vanilla extract
2 1/2 cups flour
1/2 teaspoon baking soda
1/2 teaspoon salt
2 cups semi-sweet chocolate chips
Preheat oven to 350 degrees. Spray a large cookie sheet with cooking spray.
With handheld mixer (or in a stand mixer), cream together both sugars and the butter until fluffy. Add eggs and vanilla; mix until well combined.
Add flour, baking soda, and salt. Slowly stir together until moistened, and then mix until the dough is smooth. This will be a softer dough than cookies normally are! That's okay! Add the chocolate chips and stir just until evenly combined.
Place the dough in the prepared cookie sheet. I like to place several clumps around the cookie sheet, and then spread them out to meet each other. Don't worry about it being perfect, it will spread a little as it bakes.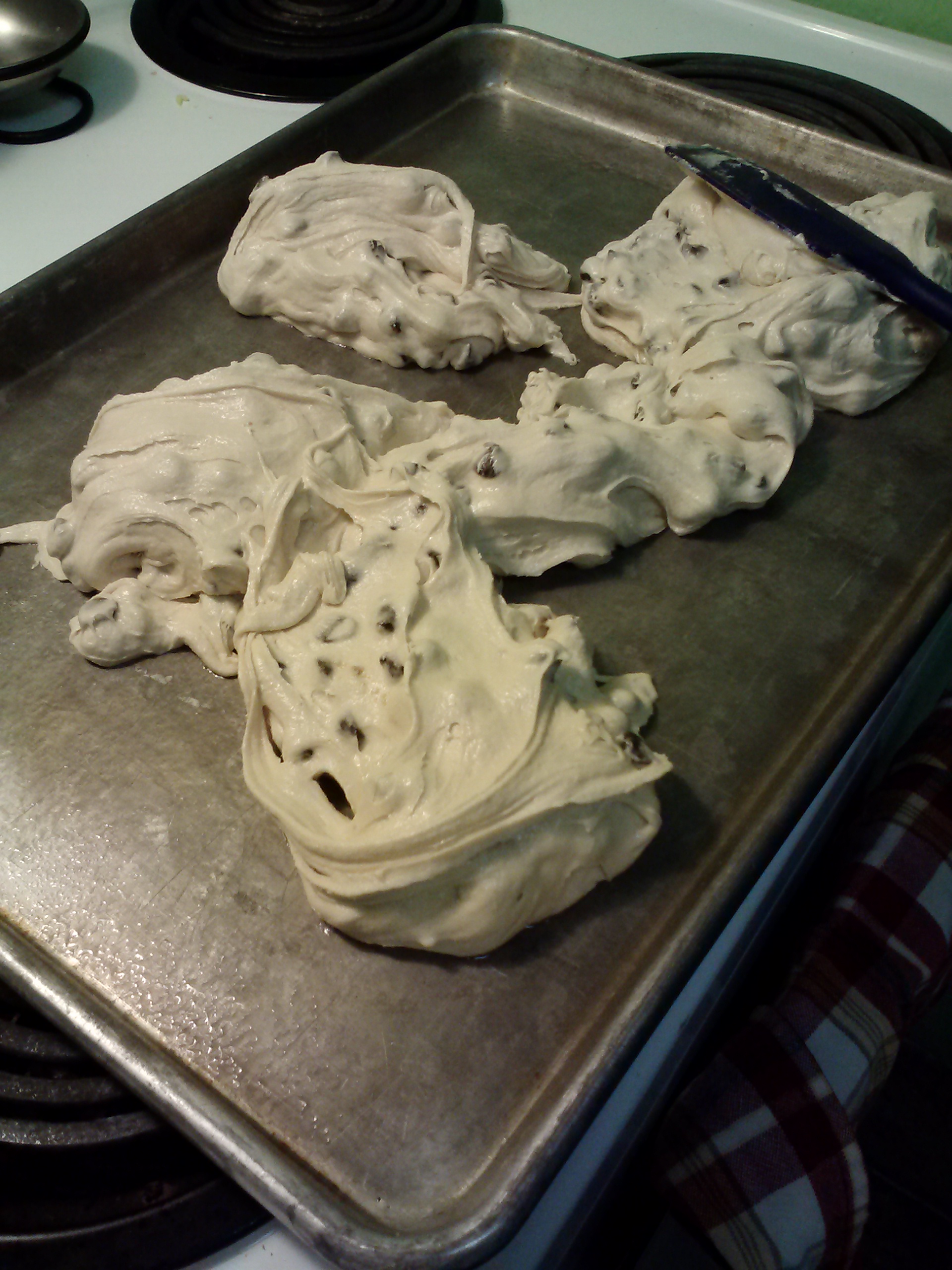 Bake at 350 for 15-20 minutes. Cool completely before trying to cut and serve. Once cooled, they hold their shape fairly well!
I have done these gluten free as follows: Substitute 1 1/2 cups brown rice flour, 1/2 cup potato starch, 1/2 cup tapioca flour and 2 teaspoons xanthan gum for the regular flour. All other instructions are the same!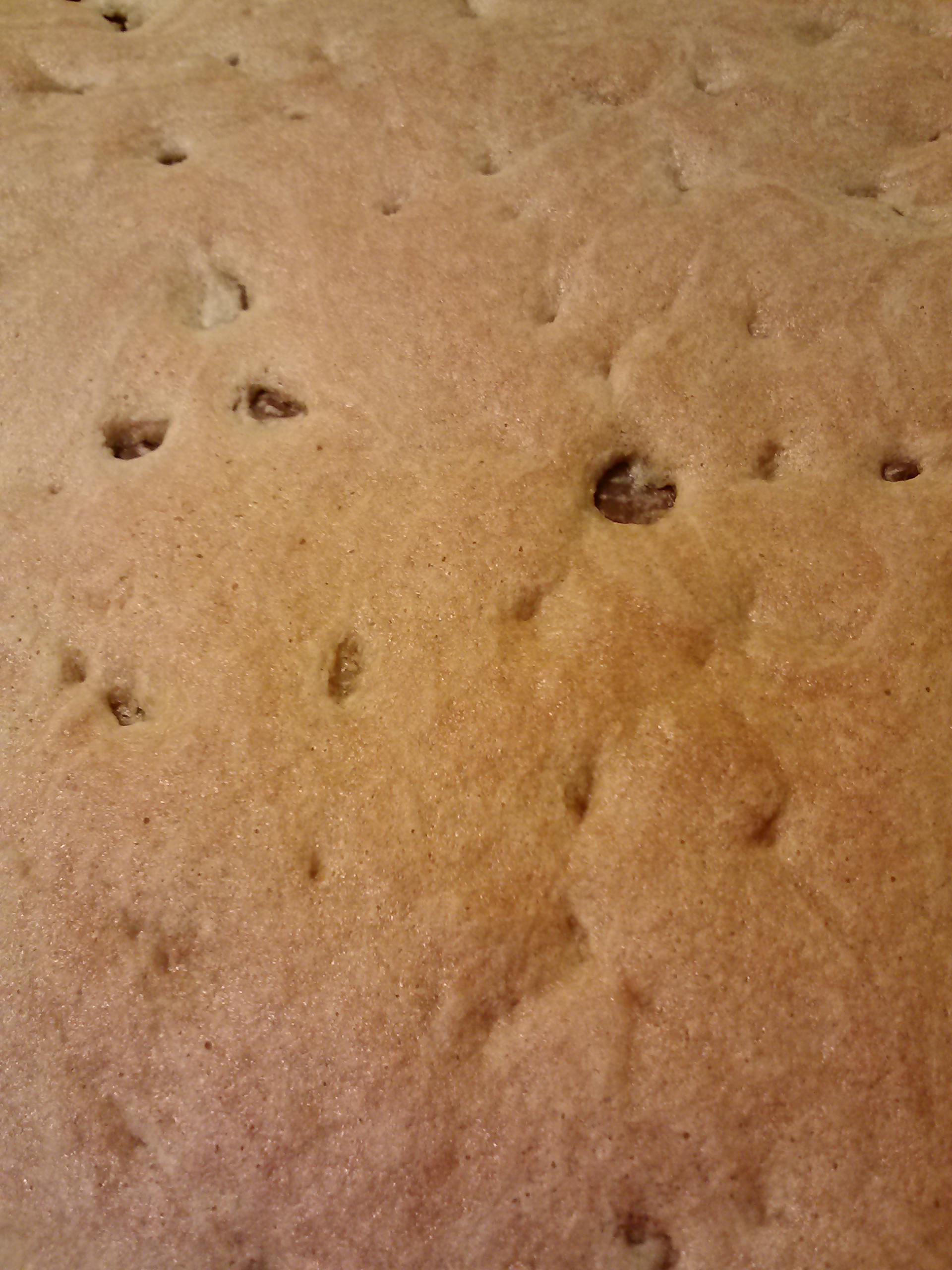 Add Recipe to Cook'n

Brenda Lower
Monthly Newsletter Contributor since 2015
Email the author! brenda@dvo.com