Oh my, Oh my, A Pasta Pie.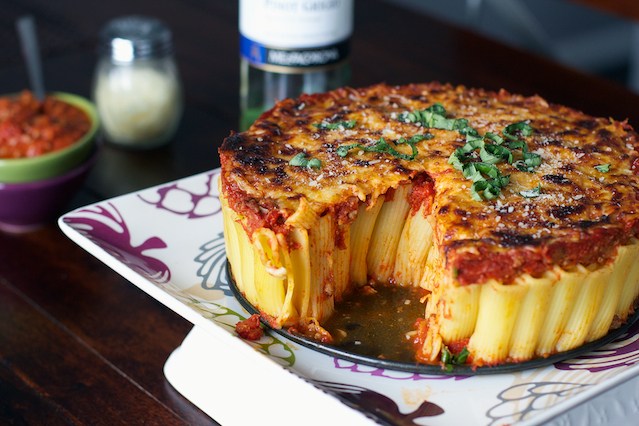 Are you ever looking for new ways to cook pasta? Somehow the ever so common staple of a meal seems to get boring with just a pile of sauce and cheese on top. But did you know that this common dish can have a little twist that will make it a major dinner hit and a photo worthy meal!? Well, bring on the Pasta Pie! I have looked for many ways to use the awesome spring from pan and never would have thought of making pasta in one. But now this Pasta Pie is going to probably be the thing I cook the most in mine.
When I hear the word, Pie, my mind instantly thinks of the word "comfort". Isn't a pie just comfort food? I think if you could have any food group become the food form of a word this would be the perfect coupling. Pies are warm, delicious, compartmentalized, only dirty one pan (love that feature) and are simple to serve. Now, this pie is a little unique and has some different steps but as a whole it is like making a classic delicious pie in your pan.
Another great thing about this pie is you can experiment with ingredients. In my opinion that is one of the greatest things about making a pasta dish. You can throw in a new spice, a different meat or extra tomatoes and mix up the same dish over and over to create new ones. Try creating different versions of this pasta pie and enjoy making it new each time you try it. One of my favorite things about this pie is the process of making it. I love how you get to stack all the pastas up vertically, when do you ever do that with pasta! Then it's like a little puzzle as you add all the layers together. Isn't it great when making dinner is fun and not drudgery.
Pasta has always been one of my very favorite main meal dishes. Maybe it's the love of Italy that is within me, or maybe it's my obsession with bread. I love all the different shapes, sauces and spices you can add to a pasta. What are some of your favorite go to pasta dishes that you use in your homes? I hope you can add the great great pasta pie to your list and that you enjoy having a new pasta recipe in your arsenal. Comment below what things you would add or change to your pie! I would love to hear from you great chefs.

The Rigatoni Pasta Pie
INGREDIENTS:
1 tablespoon olive oil
½ pound ground sirloin
3 cloves garlic, minced
½ an onion, finely diced
a pinch crushed red pepper flakes
salt and pepper, to taste
1 (28 ounce) can whole peeled tomatoes
1 pound rigatoni pasta
2 tablespoons freshly grated parmesan cheese
2 cups mozzarella, shredded
DIRECTIONS:
1. Preheat oven to 400 degrees F.
2. Heat olive oil in a large skillet over medium-high heat. Add the ground sirloin and diced onion and cook until meat is browned, about 5 minutes. Add garlic, crushed red pepper, and season with salt and pepper then sauté for another minute. Add the can of tomatoes, crushing the tomatoes with your hands. Simmer on medium heat, stirring occasionally, 20 minutes.
3. In the meantime, cook the pasta until it's slightly undercooked. Drain and set aside. Lightly oil a 9-inch springform pan. Spread a thin layer of sauce of the bottom of the pan, then tightly pack the rigatoni in the pan, standing the pasta on its ends.
4. Pour the sauce over the pasta. Sprinkle the top evenly with mozzarella cheese, then sprinkle with parmesan cheese.
5. Bake approximately 30 minutes, until cheese is browned and bubbly. Top with fresh basil, if desired. Let sit 15 minutes before serving.
Add Recipe to Cook'n
Sources:
http://livelovepasta.com/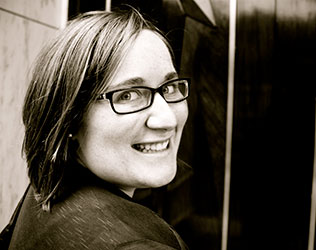 Carolyn Spencer
Monthly Newsletter Contributor since 2015
Email the author! carolyn@dvo.com