Camping Out With Food, Family and Fun!
Camping has always been a huge thing with my family. Ever since I was a little kid, we have gone camping multiple times a summer. Our family reunions are usually camping together up in the mountains. We love it!
Something my husband and I have noticed when camping, we always eat better camping than we do at home! No necessarily more healthy, just more food and really good food! I don't make cobblers often, but when I do, I might be camping! Creamy cheesy chicken and rice in a Dutch oven? I'm out camping when I have it! Lots of snacks and food around? I'm probably camping! For me, camping and good food go hand in hand!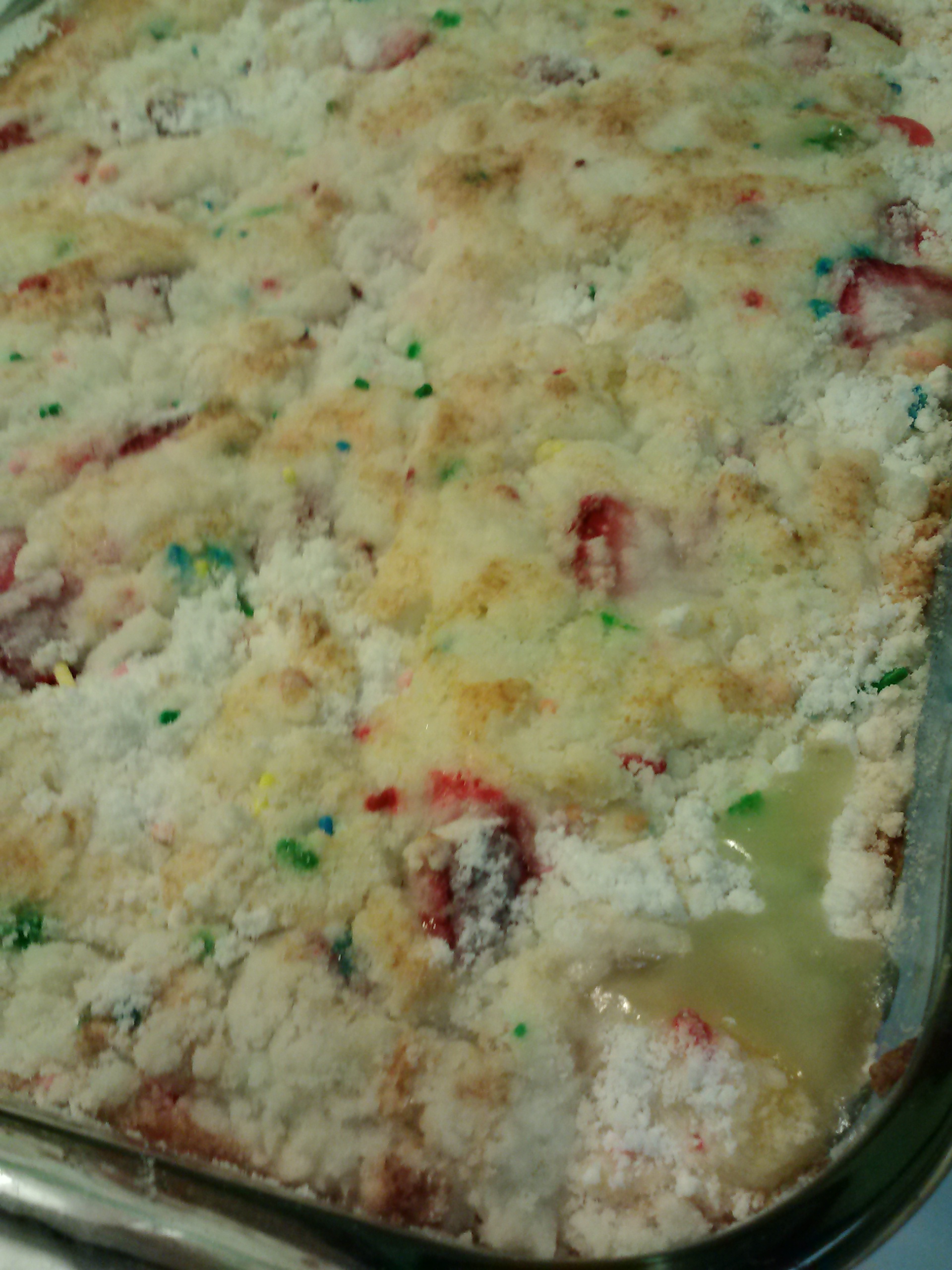 Even while we are out hiking, I pack lots of snacks. Last year, we were hiking with some family and the hike was much longer than expected, not to mention a very steep climb! When we finally got to the top, all the kids were exhausted! Luckily I had packed extra food and was able to share it out to help them! That's how much food I pack whenever I go camping!
I must admit one of the perks of camping is that delicious food you get only when camping. I love s'mores, but you only have them while camping! I don't care for hotdogs generally, but if I roast them over a fire, they taste so much better! Stew at home is fine, but the best stew I ever had was a super simple one made only with meat and veggies while we were camping.
My family uses camping as a bonding time- time to catch up with relatives we don't see that often, time to have fun with cousins, and time just to relax and chill. I've done everything from hike mountains to water games to rafting rivers to just sit and chat. Remembering the time that my brother flew off the front of a raft as we were going down the Green River on rafts is priceless! Watching my nieces and nephews try to soak their grandpa with water balloons is hysterical!
I think camping is so great because you disconnect from the rest of the world while you do it. The places we go usually don't get cell reception. No work, no silly computer games, no silly distractions from what matters most- our families.
Share this fantastic recipe with your family! You can do it at home, if you can't make it out camping, or do it in a Dutch oven under the stars!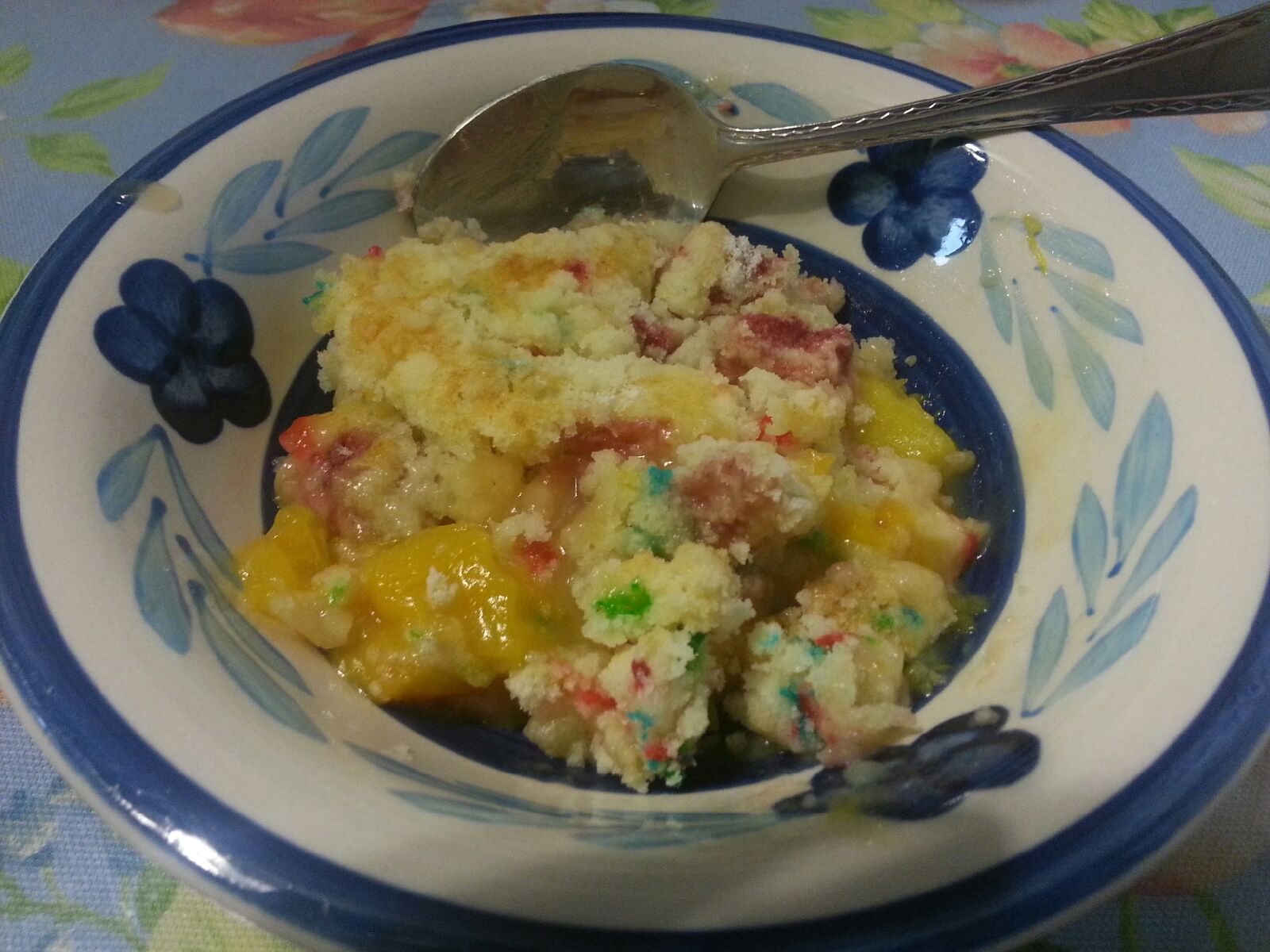 Super Easy Peachy Berry Cobbler
Easy either in an oven or out camping, one of my go-to recipes. It always disappears as soon as I serve it!
Serves: 8
Prep Time: 5 minutes
Cook Time: 55 minutes
3 (15-ounce) cans sliced peaches
1 cup strawberries sliced
1 yellow cake mix
1/2 cup butter melted
Heat oven to 350 degrees, and grease your 9 by 13 pan.
If desired, you can use a gluten free cake mix! I like to use the Pilsbury Funfetti cake mix!
Reserve the juice from one can of peaches. Put fruit from that can, plus 2 other cans with juice into pan. Place sliced strawberries on top of peaches. Sprinkle dry cake mix on top of fruit- do not add the ingredients from the box! Sprinkle it evenly over the fruit. Drizzle the melted butter over the dry cake mix. If using a gluten free cake mix, add the reserved juice at this time. I prefer to lightly stir the butter, juice, and cake mix together just a little.
Bake for 55 minutes, or until nice and golden on top. Serve warm, with ice cream!
To bake this in a 12 inch Dutch oven, prepare as above, but I recommend lining the Dutch oven with tin foil before you start! Much easier to clean up. Use about 24 briquettes, 12 on top and 8 on the bottom. Bake for 45-55 minutes, or until nice and golden on top!
Add Recipe to Cook'n

Brenda Lower
Monthly Newsletter Contributor since 2015
Email the author! brenda@dvo.com