Red White & Blue
Not only do we celebrate the great red, white and blue for the Fourth of July, but all year long there are days to hang our flag and be proud of our country. The flag of any nation has great importance and I love that we have these great 'banners' that stand for something and that have great meaning. Every flag around the world has a history and should be important to us. When you hang an American flag those colors all have a reason why they are on our flag.
The United States of America Flag has three colors; red, white and blue. Let us remember why we have those three. White signifies purity and innocence. Red is for hardiness and valor. And the Blue, signifies vigilance, perseverance & justice.
As you go about this year when a special holiday comes up to honor your flag maybe think of some fun ways to eat the colors on it in a fun way. Pinterest has some fantastic ideas for you to peruse through and discover your favorite. Here are a few that I think are very fun and simple and great for the summer time season while fresh fruit is plentiful.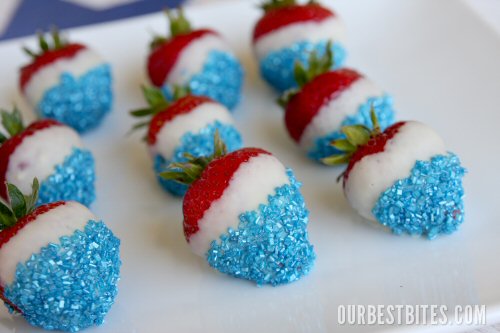 Patriotic Strawberries
Some of us fear dipping berries because of the work it involves. But this great berry takes the simple route. Instead of having multiple colors of chocolate you just take your white chocolate dipped strawberry and dip it into some blue sprinkles! Super easy, adorable and delicious.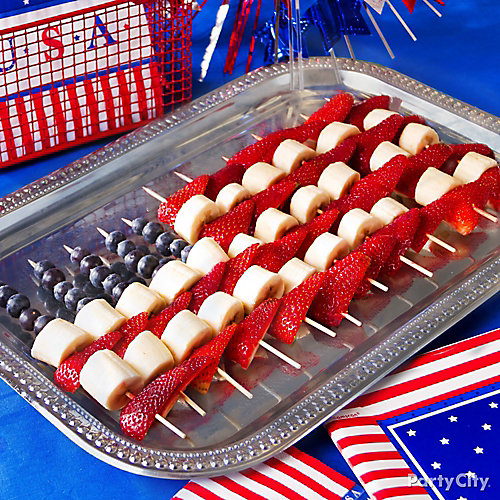 Skewered Fruit Flag
I love this idea! And again it's doable and not a stressful ornate flag creation. Simply go get bananas, strawberries and blueberries, cut them up and skewer away. What a fun way to present the flag!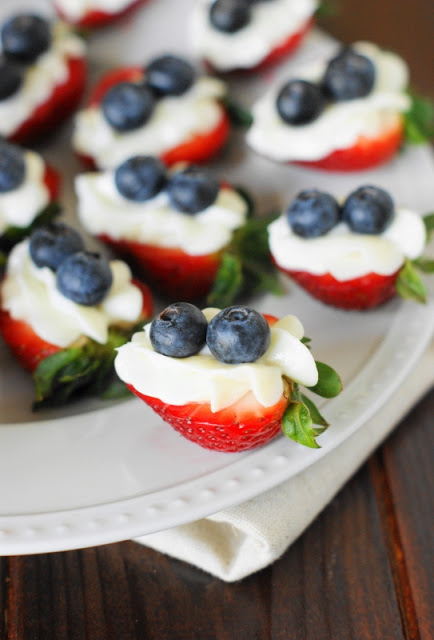 Red White and Blue Cheesecake Bites
Anything that says cheesecake is a plus for me! These fun little bites are simple and quite adorable. The recipe is simple with: 4 oz. cream cheese, softened, 1/4 c. confectioner's sugar, 1/8 to 1/4 tsp. almond extract. Place softened cream cheese, confectioner's sugar, and almond extract in a small bowl and stir until smooth. Chill for about 10 to 15 minutes and put over your strawberry halves and poke blueberries on top.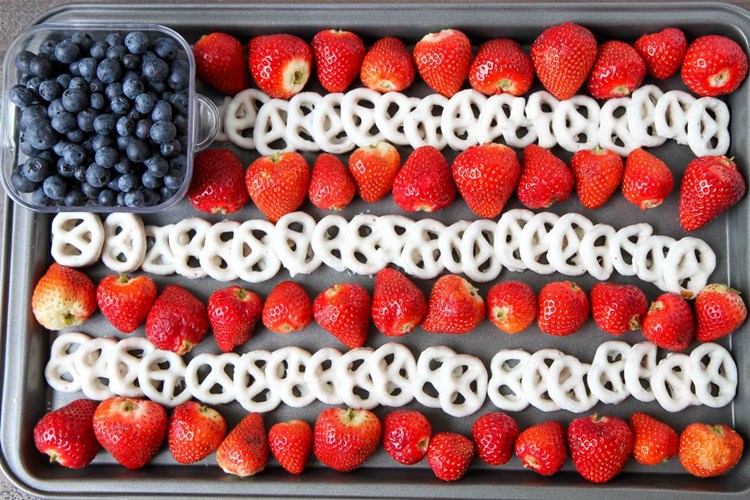 Flag Tray
Here is another take on the flag assembly. This one really truly requires hardly any prep at all. Just buy three ingredients and start being creative. Get your blueberries in a bowl, line your strawberries and pretzels on a pan and voila you've got your flag!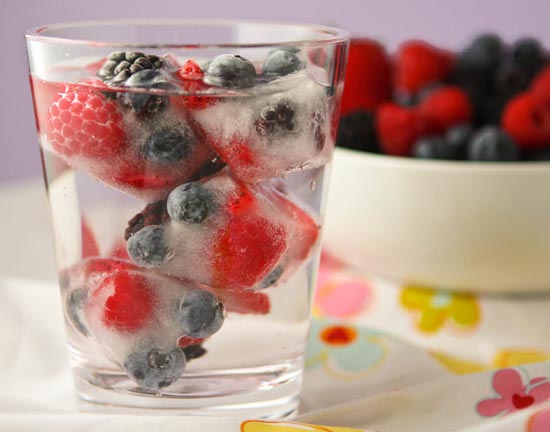 Fruit Cubes
You've probably seen this idea over the years and it's a great one! Collect your favorite red and blue fruits and fill an ice tray with them, fill with water and freeze and then plop into a favorite drink. It's a fun way to spruce up your holiday drinks for sure.
I hope some of these fun ideas might get you excited to celebrate the red, white and blue of the American Flag. What ways do you make flag days special in your homes?
Sources:
http://ourbestbites.com/2011/07/red-white-and-blue-patriotic-strawberries/
http://m.partycity.com/categories/party%2Bideas%7Choliday%7C4th%2Bof%2Bjuly%7Cfood%2Bdrink%7Camerican%2Bflag%2Bfruit%2Bskewers
http://www.thekitchenismyplayground.com/2015/06/red-white-blue-strawberry-cheesecake-bites.html?m=1
http://www.momadvice.com/post/4th-of-july-flag-fruit-dessert-tray
http://www.pipandebby.com/pip-ebby/2011/6/19/fruit-cubes.html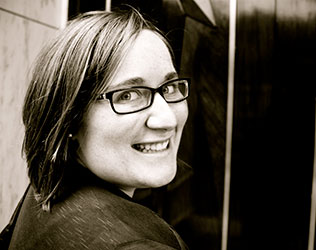 Carolyn Spencer
Monthly Newsletter Contributor since 2015
Email the author! carolyn@dvo.com