Pie Iron Camping Tacos

Summertime, a time for camping or spending the day up in the mountains is my idea of a good time! One of the most interesting things that we take with us when we head for the hills is our pie irons. They can be used for a myriad of things. Usually, we bring them along to make dessert pies, which only require some white bread, butter and canned pie fillings – sometimes 2 or 3 kinds of pie fillings! We don't make these pies all that often but everyone gets pretty excited when we do! These pies are perfect treats to make while singing songs, reminiscing or telling stories. After searching the internet for ideas for camping cruisine, I came across a recipe using the pie iron that I had to try… Tacos! I couldn't wait for a camping trip experience so we made them in our backyard fire pit.
The only decision we had a hard time with was whether to use corn and flour tortillas. Out of 9 people, we all preferred the corn tortillas, but the flour tortillas were still very good. The filling recipe I originally found was very generic so we decided to spice things up just a little bit by adding a small can of green chilies, a small can of refried beans and a can of black beans. You can use any type of meat filling you chose. Here is the basic recipe with the changes that I made.
Pie Iron Tacos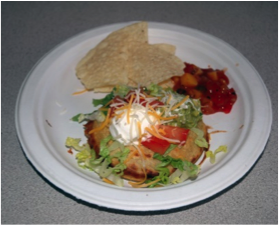 1 lb. ground beef
1 ounce package taco seasoning
1 cup shredded Mexican blend cheese
We added 1 (4 ounce) can green chilies
1-16 ounce can refried beans
1-15 ounce can black beans (drained)
Tortillas (corn or flour)
In a large skillet cook ground beef. Drain meat, stir in taco seasoning and cook according to the taco seasoning packet. Add green chilies, refried beans and drained black beans and cheese. Heat thoroughly.
Making a fire and let it burn for about 30 minutes. Apply a light coat of cooking spray into the inside of the iron pie. Fill the iron with a tortilla on the bottom, followed by the filling and cheese, and then top it off with another tortilla. Make sure you don't over fill. You will find that the tortillas are larger than the pie iron so we just cut off the excess outside the iron before placing it on the coals. We cooked each taco for 5 to 7 minutes. A little caution, don't let the little kids handle the pie irons especially when opening them up straight out of the hot fire – they are very hot!
Prepare your taco meat ahead of time. Have the lettuce chopped, the tomatoes diced and the salsa and sour cream and whatever other topping you are planning for your meal prepared ahead of time. Store in plastic lidded containers to make this meal very time efficient.
Place all the toppings on a table as you would for a buffet. When each taco is finished cooking, carefully remove it from the iron, place on a plate and then add your toppings.
FYI: Pie irons come in 2 shapes, round or square. The price ranges from $12.00 – $20.00 per iron. They can be bought at Walmart and other places that carry camping equipment. They make a wonderful gift for camping lovers.
Add Recipe to Cook'n

Jeanne Wolfley
Monthly Newsletter Contributor since 2008
Email the author! jeanne@dvo.com