Crock Pot Chex mix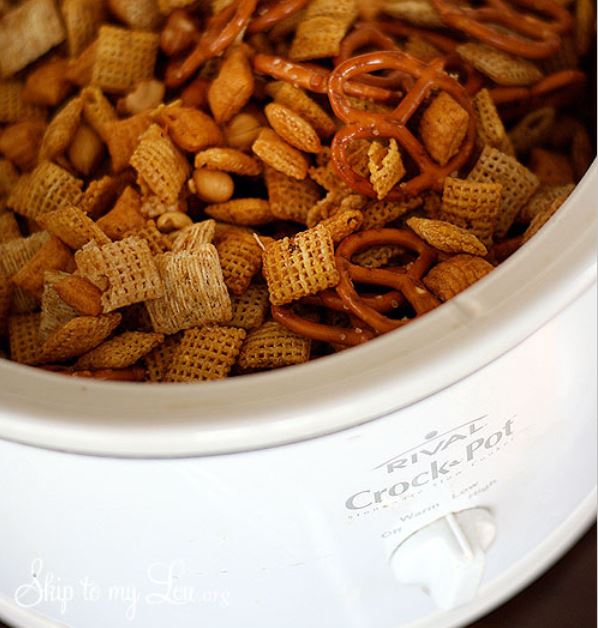 This month I was looking for an easy snack that we could take on the go, but didn't want to heat the house and wanted something that didn't require a lot of hands on time. My little guy loves chex mix. Lately, crazy enough he is going nuts over a new sriracha extreme cereal mix, is that even right that a 2 year old loves sriracha? I blame his father. I chose this crock pot cereal mix and it turned out pretty great. The best part is that it is customizable for your tastes and family.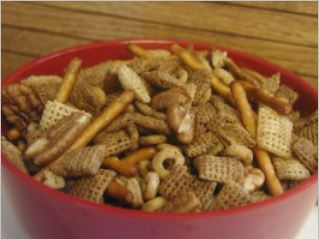 Add Recipe to Cook'n
When I made mine, I used corn and wheat squares, toasted oat o's and pretzels. I left out the hot sauce and nuts. You can really use whatever cereals you want, just make sure that the cereals add up to around 7 cups, and around 8 if you leave out the pretzels. You can also put in rye chips, or a cracker in place of the pretzel.
I followed the directions exactly, and here are my additional tips. Use a big crockpot, this makes a lot of mix, plus you want room to stir it without it falling out all over. When adding the cereal, hold back on a little of it, add the sauce, mix and add the last few cups, mixing again. I found that it was really hard to get the sauce that sunk to the bottom to cover all the cereal. A large spoon was great for digging in and under those bottom cereals, and pulling them to the top. Just keep stirring! Stir a little more often than every thrity minutes and watch for burning. My mix was done earlier and it did get a few pieces (mostly the ones I didn't manage to turn) a little too well done. You will know it is done after there is no wet stuff left and the cereal is dry and might even have a bit of a sheen. After I finished the crock cooking, I laid my mixture out on a big cookie sheet to cool a little more, I then threw it into a ziptop bag. Super easy!
I loved that with this recipe, I am not adding a bunch of additives that I can't pronounce. Also, I like that this recipe allows a perfect conversion to gluten free cooking, as always check every ingredient. I can add what I want and leave out other things. Also, if you like a bolder flavor, you can add more sauce, add hot sauce, or even add more garlic.
This is a great recipe for a take along summer treat that won't heat the house. It makes a huge batch, and can easily be divided into snack size bags for portion control and for lunch bags.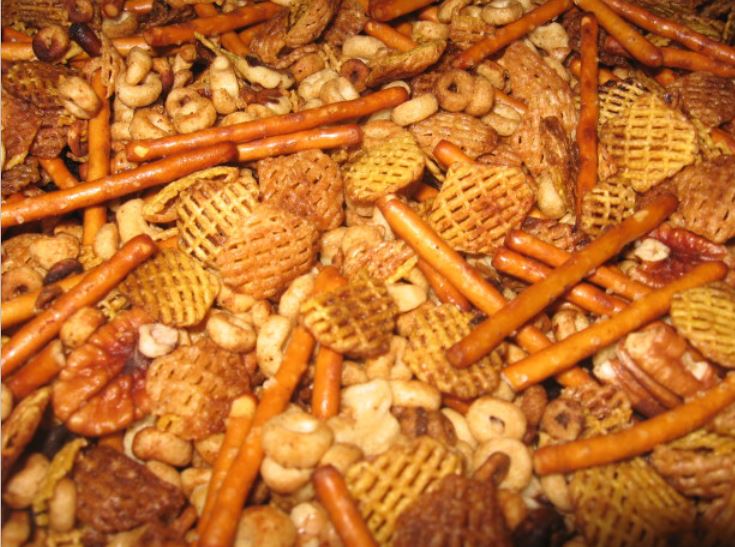 ---
Crock Pot Chex Mix
Make it gluten free by adding only GF cereals.
Prep time:
Cook time:
Yield:
10 cups
Serving size:

10


Calories per serving:

358




Ingredients:
3 cups

bite-size crispy

rice

cereal
2 cups

o-shaped toasted

oat cereal
2 cups

bite size shredded

whole wheat cereal
1 cup

pecans

or nut of your choice
1 cup

thin

pretzel stick

or small crackers
1/2 cup
butter
4 tablespoons
Worcestershire sauce
1/2 teaspoon

seasoning

salt
1/2 teaspoon
garlic salt
1/2 teaspoon
onion salt
1 dash

hot pepper

sauce

optional
Directions:
Combine the cereals, nuts and pretzels in crock-pot. Mix the melted butter with the remaining ingredients and pour over cereal mixture; tossing lightly to coat. DO NOT COVER the crock-pot. Cook on high for 2 hours, stirring well every 30 minutes; turn to low for 2 to 4 hours. Cool completely and store in airtight container.
Add Recipe to Cook'n
Sources:
http://christmas.food.com/recipe/crock-pot-party-mix-3-146786
http://www.skiptomylou.org/2013/01/10/crock-pot-chex-mix/

Sharon Ng
Monthly Newsletter Contributor since 2012
Email the author! sharon@dvo.com