Vanilla Bean Paste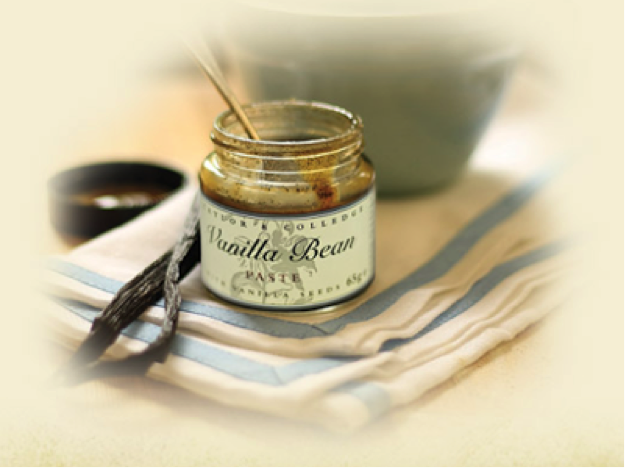 So I found myself in a pickle lately. I think almost all pickles are a chance to grow, (and all pickles were once cucumbers…), so the pickle has caused me to learn, grow, try something new and share what I have learned with all of you.
Here's the situation. In all my years of creating delicious treats, I ashamedly admit, I have never used a real vanilla bean. I usually just go with my standard clear Mexican vanilla, with its cinnamon hints, it is my go to. However, I have been finding these amazing recipes lately that call for vanilla beans. You know, the vanilla beans I don't have, and have never bought? Foodie friends, please don't judge me, I have been harboring my own self criticism on this matter.
So, I go online and I am researching vanilla beans and grades, and which countries produce the best vanilla, the processes, and even what to avoid in vanilla extract (some say avoid vanillin). I should also mention here that it is important if you are using Mexican vanilla to purchase from a reputable source, and check labels for Coumadin, it is a dangerous additive. While doing all this research, I found that the inside of the vanilla bean is scraped and the inside flesh, is what is used in recipes, the pods that are left can be ground into vanilla powder or added to sugar to make a nice vanilla sugar.
Then I stumbled across vanilla paste. I asked some of my foodie friends about it, and some swear by it. One friend, who has sporadic muscle and joint problems uses the paste because it is hard for her to scrape the vanilla beans out. The paste gives a strong rich aroma and flavor, and those beautiful dark flecks that a vanilla bean gives. My life has been changed, well, my baking life at least.
So, let me tell you. I have repented, had a change of heart, and will forever use vanilla paste. When cooking with vanilla paste, one Tablespoon of paste can be used for one vanilla bean.
Want to try it? I could not find vanilla paste locally. I could easily find it online however and here is a great recipe to give it a go on. It's a delicious vanilla muffin with cinnamon kick. This recipe alone should redeem me.
original source of muffin recipe is unknown
Sources:
http://suddenlunch.blogspot.com/2013/10/taylor-colledge-vanilla.html

Sharon Ng
Monthly Newsletter Contributor since 2012
Email the author! sharon@dvo.com
---
Recipe
Very Vanilla Muffins
A great vanilla muffin recipe that has a hit of cinnamon and uses vanilla paste. Substitute one vanilla bean per Tablespoon of vanilla paste.
Prep time:
Cook time:
Yield:
1 dozen
Serving size:

6


Calories per serving:

357




Ingredients:
1 cup
sugar
1
egg
2 cups
flour
2 teaspoons
baking powder
1/4 teaspoon
salt
1 cup
milk
1/4 cup

melted

butter
2 tablespoons

vanilla paste
1 tablespoon
sugar
1 teaspoon
cinnamon
Directions:
Preheat oven to 375°F.
In a mixing bowl, combine sugar and egg. Add flour, baking powder, and salt and mix well. Finally, add the milk, vanilla bean paste and melted butter. Mix until completely blended and dry ingredients are incorporated with the wet. Spoon into greased or paper lined muffin pans, filling 2/3 full. Combine sugar and cinnamon and sprinkle over muffin tops. Bake for 20 minutes or until toothpick inserted into the center comes out clean.

Recipe formatted with the Cook'n Recipe Software from DVO Enterprises.
Add Recipe to Cook'n