The Three Best Sandwiches Ever!
The most famous of all food is probably the sandwich. Most people have two or three sandwiches each week, probably because a sandwich makes for a quick, easy meal.
Did you ever wonder where the name sandwich came from? Well, story has it that Lord John Montagu, the Earl of Sandwich, was so busy gambling that he told the waiter to bring him some meat in between two pieces of bread. This allowed him to keep playing cards and it also kept his hands from getting greasy while doing so. I bet he wasn't the first guy to try this... but he's the one that gets credit for its discovery!
So think about it... A sandwich is really anything that is placed on, or in bread. There are no rules for making a sandwich, in fact when someone other than yourself makes you a sandwich don't they usually ask what do you want on it? I like to set out buffet style all the fixings for sandwiches and let everyone help themselves. A meal can't get any easier!
So John Montagu has left us the legacy of creating the original sandwich but new sandwiches are created every day. You could even name a sandwich after yourself. For instance, Elvis Presley loved to have a smashed banana in peanut butter spread between two slices of bread, buttered on both sides and grilled. This sandwich was known as the "Elvis" sandwich. I have prepared this sandwich for my family and they like it! Evolving from the Elvis sandwich, the grandkids and I created the peanut butter and marshmallow sandwich.
We are sure lucky! Sandwiches have evolved to include wraps, pitas, submarines, and hoagies, open-faced sandwiches and sliders. The list is endless! One thing for sure is the sandwich is not going away. It has too much going for it - its quick, easy, convenient and a super smart way to feed a small or large crowd.
Here are recipes for three of my favorite sandwiches.
---
Steak Sandwich Supreme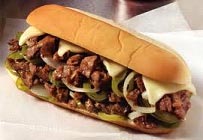 4 rolls (split)
1 1/2 pounds thinly sliced round steak
8 slices Swiss cheese
1 medium sweet onion
1 medium bell pepper
4 ounces mushrooms
3 tablespoons oil
1/2 teaspoon Worcestershire sauce
1/4 teaspoon salt
1/4 teaspoon pepper
1 teaspoon Italian seasoning
Garlic Parmesan Spread
1/2 cup mayonnaise
2 cloves of garlic (minced)
1 tablespoon parmesan cheese
Preheat oven to 475 degrees. Toast buttered buns until lightly toasted. Serves 4
Heat the olive oil in a large skillet over medium high heat. Heat olive oil. Cook thinly sliced steak for 2 minutes, sprinkle on Worcestershire sauce. Add the onions and peppers and cook for another 2 minutes. Add mushrooms and cook for 1-2 minutes. Add salt, pepper and Italian seasoning.
Spread the toasted bread with Garlic Parmesan spread. You will have some spread left over. Place the skillet steak and vegetables on the toasted bun that has been spread with Garlic Parmesan spread and top with a slice of tomato.
---
Ultimate BLT
8 slices bacon
4 slices lightly toasted bread
1 slice cheddar cheese
2 lettuce leaves
4 slices of tomato
Sauce for BLT
1/4 cup mayonnaise
1/8 cup chili sauce
1/4 cup sour cream
Cook the bacon in a large skillet over medium high heat. Cook until the bacon is evenly browned and crisp. Drain the bacon slices on a paper towel. Lightly toast the bread in the toaster. Arrange the bacon, tomato and cheese on one slice of bread. Spread the remaining piece of bread with the special sauce made for the BLT. Serves 4
---
The Best Egg Salad Sandwich Ever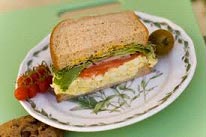 6 hard cooked eggs
1/3 cup mayonnaise
1/8 teaspoon garlic powder
1/2 teaspoon salt
1/2 teaspoon dried dill
1 teaspoon red wine vinegar
1/4 teaspoon salt
Cook and peel hard boil eggs. Smash the eggs with a fork on a plate. In a bowl add smashed eggs and all the above ingredients and mix well. Use about 1/3 cup of egg mixture per sandwich. I love this served on soft whole wheat bread. Try adding some sprouts and a slice of tomato. I just made myself hungry! When you add the a few favorite sandwich recipes to your Cook'n Software you will be able to pull up a shopping list for your ingredients as quick as a wink! Serves 4
---
---
An unbeatable value with exclusive benefits for members only.
Get a newsletter like this each week when you join the Cook'n Club.