How to Make or Break a Sandwich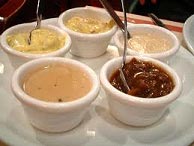 A sandwich, in my opinion, is only as good as the sauce you put on it. Some of you are mayonnaise fans and others of you love your mustard or ketchup. Since the sandwich is ever evolving and anything goes when it comes to the ingredients you put in between or on top of two pieces of bread. The same goes for the condiments we put on our sandwiches.
A new-fangled sauce can make your everyday sandwich unique and delectable. We have been trying new sauces on our sandwiches and I'm telling you, a savvy sauce can make a good sandwich heavenly. It's time to get something on that sandwich besides mayonnaise, mustard and ketchup. Here are few recipes for some sauces that will turn your everyday sandwich into a gourmet sandwich.
---
Honey Mustard Dill Spread
1/4 cup mustard
2 Tablespoons white wine vinegar
2 teaspoon chopped dill
1 cup mayonnaise
1 Tablespoon honey
This spread is fantastic on ham and cheese sandwiches. I also like this as an egg salad base! I just add a tablespoon of milk instead of honey. Whisk all the ingredients together for a delightful sandwich spread.
---
Basil Mayo Spread
1/4 cup mayonnaise
1/4 cup sour cream
2 teaspoons white wine vinegar
1/4 teaspoon garlic powder
1 Tablespoon chopped fresh basil
1/4 teaspoon dry mustard
This is a creamy spread that will give your chicken or turkey a flavor to die for! This is also delicious with grilled salmon on a bun. Whisk all the ingredients together.
---
Chipotle Spread
1 cup mayonnaise
2 Chipotle peppers in adobe sauce
1/2 lime
1/4 teaspoon salt
1/8 teaspoon pepper
You won't hear any complaints if you use this spread on a hamburger, a slider or a pork sandwich. Remove the chilies from the adobe sauce. Run a knife down the center of the pepper to remove the seeds. Finely chop the peppers. Stir all the ingredients together.
---
BLT Special Sauce
1/2 cup mayonnaise
1/2 cup sour cream
1/4 cup chili sauce
My husband loves this sauce on a BLT. This sauce is also tasty on a fried egg sandwich. Whisk all ingredients together until smooth and creamy. To make: Wisk all ingredients together.
---
I hope you try one of these sauces on your own creation!