Recipe for Kitchen Success
As some of you may be aware, if you are part of our Cook'n Club and have access to our forums, that I have another role for Cook'n besides writing for the newsletter every month. I am also the Director of Licensing - meaning that I get to search out and contract great cookbooks to offer every month! We are also going to start offering not one, but TWO cookbooks every month now, so you have choices!
Cook'n Club members get one free each month, so if you aren't part of our club yet-now is the time to join so you will get one free and still have another new cookbook each month! Since I am very familiar with the cookbooks we offer, I thought I would dedicate one of my articles each month to telling you all about the two new cookbooks. If you have any questions about the current cookbooks, suggestions for new releases, or want to tell me what you think about a recipe you tried, feel free to email me at megan@dvo.com and I will be happy to respond!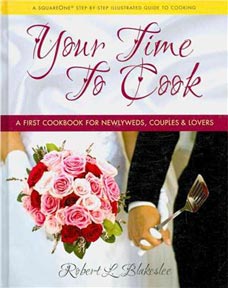 "Your Time to Cook" by Robert Blakesley: This is an absolutely awesome cookbook! It really has everything in it, from tips on stocking your pantry to the basic terms and techniques of cooking to entertaining ideas including centerpieces and napkin folding to full menus for special occasions (or just for fun) to fantastic recipes for breakfast, lunch, dinner, desserts, sides, and more with great pictures! (Didn't I tell you it had it all?) This is a fabulous cookbook for new cooks, nervous cooks, or cooks who just want to get back to basics and need some fun ideas. It's a great reference for quick and easy meals to make at the last minute as well, which is something I always find myself needing!
Robert first started cooking at age 7 when his dad hired him at 10 cents a meal to make breakfast every day. From there cooking became a hobby, and throwing dinner parties followed suite. Since he was always asked for his recipes, he decided to create this cookbook. He is also a professional food photographer so the pictures are really outstanding.
Since the subtitle to this cookbook is "A first cookbook for newlyweds, couples, and lovers" he has included some fun wedding and love trivia throughout the book as well. For example, did you know that there was a programmer who used a copy of the game "Bejeweled" to propose? His proposal and a picture of her pink sapphire engagement ring popped up when she reached a certain score and the makers of Bejeweled were so impressed that they paid for part of the wedding and honeymoon!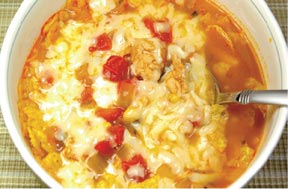 There are chapters full of recipes for just about everything you could think of. Beside your basic meals there are chapters for drinks, sandwiches, salads, soups, side dishes, and even a holiday-specific chapter. Some of the recipes that caught my eye were: Chicken Tortilla Soup, Upside Down Beef Tamale Pie, Cornbread Apple Sausage Stuffing, and Blueberry Apple Walnut Pie. It all sounds great, right? All of the recipes are very "user friendly" since they are easy to make, and simply delicious.
This cookbook would make a wonderful addition to any cookbook library, if not for all the fantastic recipes, than for all of the excellent cooking and entertaining advice! It really breaks down exactly how to have a successful kitchen and cooking experience.
"Cast Iron Covered Wagon Cookin-Diabetic" by David Herzog: This is a great cookbook for the summer time! We have released a Dutch oven cookbook from David once before, and this one has even more recipes, and they are Diabetic-friendly! The desserts in this cookbook are still delicious-tasting, and it's not just your typical cobbler, there is even a Dutch oven cheesecake recipe, as well as Dutch oven donuts and scones!
There are great recipes for breakfasts (my favorite kind of Dutch oven food) that sound delicious - I can't wait to try the Smothered and Covered Breakfast. The International Delights chapter has fun recipes for things like BBQ Pizza, Chicken Enchilada Casserole Verde, Kung Pao Chicken, and even Won Ton Soup! The meat chapter has innovative and creative recipes for Chicken Pot Pie and Philly Cheese-Steak Sandwiches, not your typical Dutch oven fare. The breads chapter includes recipes for pretzels, Sourdough Biscuits, corn and flour tortillas, and all kinds of rolls.
Also included in this cookbook is a cooking chart that explains exactly how many charcoal briquettes you will need to use for each Dutch oven size and cooking temperature. It even explains how many to put on the top and the bottom! There is also advice on seasoning your Dutch ovens, cleaning and storing them, and a list of helpful tools and utensils to have on hand to make your Dutch oven experience easy and hassle free. This a great Dutch oven cookbook, it's got a lot of recipes I had never even thought of cooking in a Dutch oven, and my husband (Mr. Outdoorsy) is so excited to try them out! Plus, since it has the oven cooking temperatures in the recipes, you can cook them at home as well as on a camping trip-so it works for any cook!
---
---
An unbeatable value with exclusive benefits for members only.
Get a newsletter like this each week when you join the Cook'n Club.