Secret Sandwich Recipes
Sometimes there are those meals that are so fantastic, so wonderful that they just become legendary! Well, we are going to share some great copy cat recipes for the top secret, legendary sandwiches from across the country!
We will start with a personal favorite! An undoubted splurge when we go to Disneyland and you would absolutely never find me shelling out this kind of cash for a sandwich, but this oh-so-yummy sandwich is worth all the hype!
---
Disneyland's Blue Bayou Monte Cristo Sandwich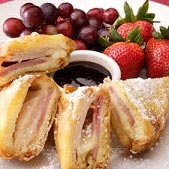 CURRANT JELLY SAUCE:
12 ounces red currant jelly
1 tablespoon water
1 tablespoon half-and-half
FRUIT COMPOTE:
1 (12 ounce) jar red currant jelly
1 (15 ounce) can peaches (or your choice of canned fruit)
BATTER:
2/3 cup water
1 small egg
1/2 teaspoon salt
1/8 teaspoon white pepper
2/3 cup all-purpose flour
1 3/4 teaspoons baking powder
SANDWICHES:
8 slices white bread
4 slices roasted cooked turkey (1 ounce each sandwich)
4 slices tillamook swiss cheese (1 ounce each sandwich)
4 slices smoked ham (1 ounce each sandwich)
vegetable oil, for frying
GARNISH:
confectioners' sugar, for dusting
fruit, compote
currant jelly, sauce
1 - CURRANT JELLY SAUCE: Combine jelly, water and half and half in blender and mix until smooth. Makes about 3/4 cup.
2 - FRUIT COMPOTE: Combine your favorite fresh and canned fruits and chill well. Yield is about 1/2 cup per person.
3 - BATTER: Place water, egg, salt, and pepper in a bowl and using an electric mixer, mix well at low speed. Add flour and baking powder and mix until batter is smooth. Chill.
4 - SANDWICHES: Make 4 sandwiches, putting cheese between ham and turkey. Cut into fourths and put a toothpick through each quarter.
5 - Heat about 6" of oil to 340 degrees in a fryer. Dip sandwiches in batter to cover all surfaces. Deep fry sandwiches until golden brown, turning as needed. An alternate way of frying it to put approximately 1/4" oil in a large pan and fry the sandwiches on both sides until crispy and brown.
6 - Remove from oil and take out toothpicks. Drain on paper towel to remove excess oil. Sprinkle sandwiches with confectioners' sugar. Serve with fruit compote and currant jelly sauce.
---
On to the next stop, this one is near and dear to my husband's Pittsburgh loving heart. This recipe is a copycat recipe for a classic Permanti Bros. sandwich. I better type it up because my husband says if I keep talking about it he may just cry. Yep, its that good!
---
Permanti Bros. Pittsburgh Style Sandwich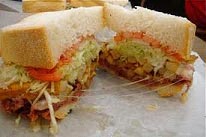 10 strips frozen French fried potatoes
2 slices Italian bread
5 slices deli cooked roast beef
2 slices provolone cheese
2 slices tomato
1/4 cup prepared coleslaw
Preheat oven and prepare french fries according to package instructions.
Layer Italian bread with roast beef, provolone cheese, tomato, coleslaw, and freshly cooked fries. Serve immediately. Serves 1.
---
Another fantastic sandwich that brings us back the flavors of the east coast – the reuben!
---
Junior's Reuben Sandwich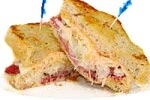 2 tablespoon unsalted Butter
2 slices Rye Bread
6 ounces lean corned beef
1/2 cup drained fresh sauerkraut
4 slices Swiss cheese
Melt the butter on a hot grill or in a large skillet. Grill both slices of bread on one side. At the same time, grill the corned beef in one stack and the sauerkraut in another. Cook until both are heated through. Turn over one slice of the bread on the grill. Stack on the corned beef, top with the sauerkraut, then the cheese, and the second slice of bread, grill side down.
Continue grill the Reuben until it's hot and melted, turning the sandwich over once. This usually takes place in 5 to 7 minutes. Serve immediately, hot off the grill. Serves 1.
---
Last but not least, we are going to head south for the delicious flavors found packed into a "po' boy" sandwich! The recipe from Uncle Bubba is sure to please.
---
Uncle Bubba's Po' Boy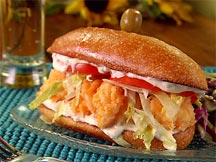 Uncle Bubba's Fry Mix:
6 cups self-rising flour
1 cup cornmeal
1 teaspoon salt
1 teaspoon black pepper
2 pounds, uncooked shrimp, peeled (tails left on), deveined and butterflied
Salt and freshly ground black pepper
3 eggs
1/4 cup water
1/2 cup Louisiana hot sauce (recommended: Texas Pete)
2 cups Uncle Bubba's Fry Mix, recipe follows
Peanut oil, for deep frying
Tartar sauce, for dressing
Lettuce and tomato slices, for topping
For Uncle Bubba's Fry Mix:
Mix ingredients together and store in an airtight container for up to 4 months.
Lightly sprinkle the shrimp with salt and pepper. In a small bowl mix the eggs, 1/4 cup water and hot sauce. Place the fry mix in a shallow dish. Dip each shrimp in the egg mixture and then into the fry mix.
Cook's Note: If the fry gets lumpy you can sift it to make smooth.
Heat 3 to 4-inches of peanut oil in a Dutch oven or deep-fryer) to 350 degrees F.
Place the shrimp in the pot and fry until golden brown, about 2 minutes. Remove with a clean strainer or slotted spoon and drain on paper towels for a minute.
Serve on a toasted hoagie roll with tartar sauce, lettuce and tomatoes
---
---
An unbeatable value with exclusive benefits for members only.
Get a newsletter like this each week when you join the Cook'n Club.