The Ultimate Cheese Sandwich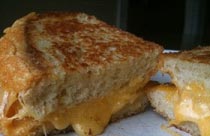 Every so often, I get the hankering for a grilled cheese sandwich, but I don't want a processed piece of cheese and some thin white bread. I believe to have the best sandwich your bread and cheese choices are important.
Just as important to make a grilled cheese sandwich the best ever, you need a spread that is melt-in-your-mouth good and will enhance the flavor of the cheese. I will share with you what think is the perfect bread, cheese and spread for the ultimate grilled cheese sandwich. Then when you are feeling adventurous, try the yummy Brie and Mango grilled sandwich that I've included. I love it too!
---
The Ultimate Cheese Sandwich
Serves 2
4 slices French bread (1/2 inch thick)
1 slice cheddar cheese
1 slice provolone cheese
1 slice tomato (optional)
2 teaspoons of Garlic Parmesan Spread
Garlic Parmesan Spread
2 teaspoons butter
1 teaspoon mayonnaise
1/8 teaspoon garlic powder
2 teaspoons grated parmesan cheese
Spread insides of bread with Garlic Parmesan Spread. Add the cheddar and provolone cheese. Butter the outside of the bread with additional butter and grill at medium-high heat.
The mayonnaise and Garlic Parmesan Spread make this sandwich a bit of heaven. This spread is also good on French bread for a new version of garlic bread. Make extra and try it on your broccoli. Yum! Put this recipe in your Cook'n software and if you want to make Garlic Parmesan Spread for 6 ultimate cheese sandwiches, Cook'n software will calculate the ingredient amounts for you. How great is that?
---
Another wonderful sandwich is made with Brie cheese and thinly sliced mango. This is one of my all-time favorites.
---
Mango Brie Cheese Sandwich
4 slices of bread
4 slices brie cheese
1 Mango thinly sliced
Butter the outsides of 4 slices of bread. Add 2 slices of brie cheese on one slice of bread, top with the mango and top with another slice of bread. Grill on medium heat and serve with a salad. This sandwich will put a smile on your face! Serves 2