Girls at the Grill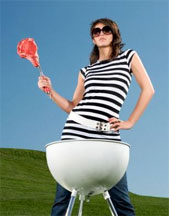 Grilling isn't just a man thing, here are some reasons why you should take over those grilling tongs!
Grilling is a great way to eat healthy. Not only can you pick some lighter meats, but marinades are a great way to cut back on calories, but not on taste. As an added bonus, most men will not complain about eating anything off a grill; even a beautifully grilled veggie burger might make the cut. Both chicken and turkey are good options, and low in cholesterol. Fish is also a great healthy grilling option. Veggies can be grilled without heavy glazes or gravies, with just a little olive oil.
We particularly enjoy ground turkey burgers that can be bought prepackaged and frozen in the grocer's freezer case. We season the premade patties with a bit of garlic salt, grill them, making sure to get some pretty grill marks, and serve on buns with onion, avocado, and condiments. You can certainly make your own ground turkey burgers, and get crazy with the spices; but for our family of 2 (soon to be three) this is the simplest way, and results in less waste.
Pairing grilled meats with a pasta or starch dish can pacify those with a need for "man food".
Grilling is easy. Once you understand the basics of grilling, along with temperature guidelines for safe meat, you can get really creative! It's a simple way to cook and eat. Side dishes can be prepared ahead of time.
Grilling does not heat up the kitchen. What a life saver in the summer months! Slaving over the hot stove for company is not always the most fun, especially if it is already hot inside. Keeping the heat outside is refreshing, and eating outside can be a fun change of atmosphere for your family. We enjoy making grilling a special event with some ice cold sparkling cider!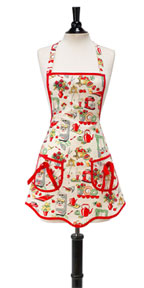 Grilling lets you get some sunshine! While you are outside perfecting that yummy meal, you can soak up some vitamin d, and get a breath of fresh summer air. Maybe momma being outside will inspire some kids to run around and burn off some energy too!
Grilling can create fewer dishes. Who does not love fewer dishes? I am the girl that would rather scrub a bathroom floor than do dishes, so this is a huge positive for me. I whole heartedly support using ziplock bags for marinating meats for easy cleanup, and using aluminum foil packets for grilling or steaming veggies and some meats.
Someone else can set the table, because you are busy outside. "Hey honey, I am busy at the grill, can you set the table really fast, and throw together that salad?!" It works like a charm, trust me!
There is beauty in those perfect little grill marks. Preheat your grill, spray it with a little Pam, put your meat on the grate at a 45 degree angle and let it sear (time will depend on the meat). Then pick up the meat with your tongs and turn it 90 degrees, creating a gorgeous cross hatch. (This does work better on gas grills.)
Nothing gives you a girl power lift more than doing something "manly" and doing it better than your man! I am the griller in this house. My hubby can do it in a pinch, but I enjoy the challenge and change, and I seem to have a skill for it. I love when my husband brags to guests about my grilled chicken, and would eat it three times a week if I made it.
The equipment can be CUTE! Have you seen all the retro, sassy aprons they sell now? Yours does not have to say, "World's best dad" (complete with those adorable handprints), unless you want it to! You can even find matching oven mitts. So throw on your cute apron and get your girl grill on!