---

Recipe from the July 2012 Newsletter
---
Ingredients: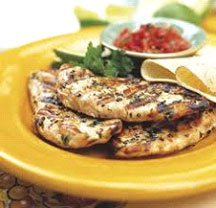 I went to college in turkey country and have had turkey prepared in many, many ways, but this is a local favorite.
1/2 cup soy sauce
1/2 cup canola oil (or vegetable)
1 cup Sprite
1/2 tsp. horseradish
1/2 tsp. garlic salt
6-8 turkey breasts or chicken breasts
---
Directions:
Mix together first 5 ingredients in a gallon zipper bag. Add turkey or chicken and marinate in the fridge for 2-8 hours. Grill until cook through.
Be sure to check the Cook'n Recipe Archive for more recipes.