Deliciously Down Under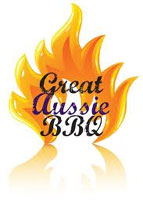 As I set out to choose topics to write about this month I asked my friends on Facebook what they thought I should write about BBQ. There were several fun ideas that I will share throughout the newsletter, but the friend with the most intriguing (at least to me) idea was from a dear friend in Australia. Annette simply commented, "Aussie BBQs are the best!" so I thought we should give her a chance to prove it!
Barbie is Australian slang for BBQ but in the land down under barbie doesn't just refer to the food as much as it refers to the whole experience. A barbie is a party with a laid back atmosphere where everyone can relax, enjoy, and have a good time... and a great meal! As far as the menu goes, Aussie BBQ classics include sausage (snags), chops, steak, burgers, and chicken. Of course, seafood makes the party menu frequently as well. In America we often hear the phrase, "Throw another shrimp on the barbie" but a funny little fact about that is that the phrase came from an American commercial in the 80's. Australians usually refer to them as prawns so you will likely never hear that phrase actually used at a real Aussie BBQ!
Add onions, mushrooms, corn, and potatoes to the menu and you are ready for a barbie all your own!
Here are some bloomin' good recipes to try out with your family. Don't worry, no kangaroo burgers here.
---
Aussie BBQ Steak with Herb Butter
4 pieces rump steak, thick
1 cup butter, softened
2 Tbsp fresh parsley, finely chopped
2 Tbsp fresh basil, finely chopped
2 Tbsp fresh chives, finely chopped
2 Tbsp fresh coriander, finely chopped
1/2 Tbsp tomato paste
4 drops fish sauce
Sea salt to taste
Freshly ground pepper to taste
Place all the ingredients other than the steak in a food processor and mix well, or simply use a bowl and mix with the back of a fork.
Place on a sheet of plastic wrap and roll into a sausage shape about the diameter of a twenty cent piece, twisting the ends to seal.
Chill in the fridge until firm.
Heat the barbecue to medium hot and oil lightly.
Cook the steak to your liking.
Cover loosely with foil and rest somewhere warm for a couple of minutes.(Leftover butter can be stored in the fridge or freezer)
Place the steak on a warm plate and top with a slice of the herb butter. The butter will melt to cover the meat and your delicious meal will be ready.
---
Chili Lime Prawns
1 1/2 cups prawns
2 tablespoons sweet chilli sauce
2 tablespoons lime juice
1 tablespoon dijon mustard
1 pinch salt, to taste
1. Clean the prawns and prepare for the BBQ.
2. Mix the sweet chilli sauce, lime juice, mustard and salt in a large bowl until well combined.
3. Add the prawns and marinate for at least 1 hour.
4. Cook on a medium heat preheated BBQ until cooked through.
Serves 2.
---
Lamingtons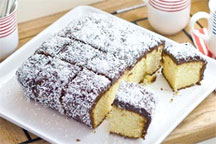 2 cups of all-purpose flour
2 tsp of baking powder
1/4 tsp of sea salt
2 large eggs
1/2 cup of room temperature butter
3/4 cup of white sugar
1 tsp of pure vanilla extract
1/2 cup of milk
2 cups of icing sugar
1/3 cup of cocoa powder
3 tbs of butter
1/2 cup of milk
Whipped cream for serving
Preheat the oven to 350F.
Lightly butter an 8 inch square cake tin. Set aside.
In a large bowl, sift together the flour, baking powder and salt. Set aside.
In a separate bowl, use an electric beater to cream the butter and sugar mixture together until pale and fluffy.
Add the eggs one at a time to the butter/sugar mixture. Beat well after adding each egg.
Add the vanilla to the mixture and mix well to combine.
Next, use a spatula to alternately add the flour mixture and milk, in three additions, starting and finishing with the flour.
Spread the batter into the cake tin, making sure it's evenly spread.
Bake in the oven for about 30 minutes. Test the center of the cake with a toothpick and make sure it comes out clean.
Cool the cake in the tin for about 5 minutes and then invert it onto a wire rack to cool.
Once the cake has cooled cut it into squares of a desired size and place them in an airtight container. Pop the container in the fridge for at least 2 hours or even overnight.
Now for the icing. Place the icing sugar, cocoa powder, butter and milk in a heat proof bowl over a saucepan of simmering water.
Stir the mixture until it is smooth but still a bit thick. You don't want the liquid to get too thin otherwise the sponge cake won't absorb the coating.
Now it's time to assemble the Lamingtons. Put out some newspaper under wire racks to catch any mess. Place the cake pieces on the racks and have your chocolate icing and desiccated coconut ready.
Quickly coat the sponge cake on all sides in the icing mixture and then gently roll the cake in the coconut. Repeat the process.
The Lamingtons can be stored in an airtight container for 5 days.
---
---
An unbeatable value with exclusive benefits for members only.
Get a newsletter like this each week when you join the Cook'n Club.