Cookbook Review: Color Coded Cuisine
7 Color Cuisine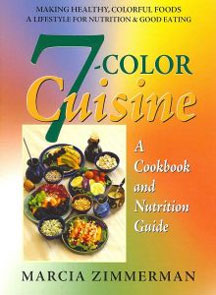 One of the cookbooks that we are featuring this month is called "7 Color Cuisine", and it's all about color coding your food! Author Marcia Zimmerman explains that our food should be "not only feasts for your eyes and treats for your palate, but nourishing for your mind and body." Using four simple steps, she shows how to choose healthy foods that are also satisfying and delicious. The steps: Get Set, Go Shopping, Fix Meals, and Savor Your Food, are all talked about in depth and are so easy to incorporate into the way you select, buy, prepare, and enjoy your food that eating healthy will soon become second nature!
The philosophy is that the colors of the foods we eat show the different kinds of healing and healthy properties that food contains, so by making sure we have some of each color, we are getting the balanced nutrition our bodies need to stay healthy, and even to fight off disease. The first chapter (and even the introduction) contains a lot of great advice, facts, and other useful information in preparing you to eat healthier, there's so much information I can't even begin to scratch the surface of it all in this article! It is definitely a very natural approach to starting and maintaining a balanced, nutritious, and very satisfying diet. This is half cookbook, half regular book since it teaches so much on proper nutrition, creating a healthy balanced pattern of eating, and even how to shop better!
One of the benefits to the 7 color plan is that it can be vegan, vegetarian, or include the meats that a lot of people love! You can really customize it to become exactly the kind of meal plan that you would want to follow, which makes it even easier to stick to! If you want to go vegan, this can teach you how to do that. If you just want to healthify your existing food, this can show you how to do that too! It even teaches you healthy snacks! This is not a DIET book, it's a healthy nutrition guidebook.
I know you are dying to hear what some of the recipes are, right? Here is a sample of some of the delicious stuff included with this cookbook: Potato Leek Soup, Linguini with Vegetable Saute, Macadamia Nut-Encrusted Cod, 7 Color Minestrone, and Grilled Rib Eye Steak with Cherry Salsa. This has a little of everything for everyone, and it's all beautiful to look at, delicious to eat, and good for your body!
Vicki's Vegan Kitchen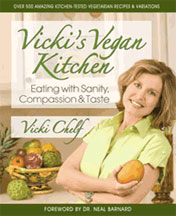 Our other new cookbook this month is called "Vicki's Vegan Kitchen", and it's really amazing! It's no secret that fresh is better for you, and the vegan lifestyle follows that mantra. However, vegan cooking sometimes gets the reputation that all you get to eat is a piece of raw lettuce and a hunk of tofu. This cookbook has some incredible recipes in it that you wouldn't expect to be as delicious and satisfying as they really are! There are fourteen chapters, with over 500 recipes in this book! Everything from breads and muffins, to soups, salads, and sauces, and pasta, pizza, and even desserts!
The beginning few chapters of this cookbook explains the vegan diet more in depth, including the nutritional benefits and its impact on weight control. It also covers ingredient questions, cooking techniques, and food preparation methods and much more. This books is also full of tips and suggestions to make setting up a vegan kitchen even easier! There is a section on making sure that you get all of your nutrients and vitamins, including suggestions for what foods provide necessary nutrition like calcium, protein, and zinc. Another section includes a break-down of popular vegan foods-what it's used for, what nutrients it adds, and more.
Some of the delicious recipes in this cookbook (and I had a hard time not just listing everything since it all sounds so good!): Breakfast Banana Wraps, Southwestern Tomato Squash Soup, Curry Roasted Sweet Potatoes, Raspberry Cream Pie, and Melon Sorbet. Even if you don't want to go a full vegan lifestyle, if you want a great collection of healthy recipes to have on hand, this cookbook is the way to go! There is a little bit of everything you could think of this cookbook-I am especially excited about all of the desserts since I won't feel guilty for over-indulging in the sweet treats in this cookbook!