Beyond Couponing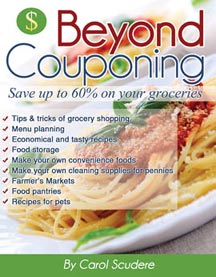 I am very excited to introduce you, our readers, to a remarkable woman named Carol Scudere. She is the author of an absolutely amazing book called Beyond Couponing which will teach you how to save up to 60% on your groceries, every time you go to the store! This is an incredible book that includes information about: tips and tricks of grocery shopping, menu planning, economical and tasty recipes, food storage, making your own convenience foods (such as powdered milk, syrups, and even coffee!) and cleaning products, Farmer's Markets, food pantries, and even has recipes for pets! Carol says that, "This book was designed to help families so that they could provide more food for their families at the lowest possible costs. The methods described in this book came about from years of research and practice to help prevent hunger in families." What an incredible goal!
For twenty years, Carol ran an employment agency and a state certified school for household staff. Unfortunately, when the economy went south, so did her business-yet many unemployed individuals continued to contact her and were disappointed she didn't have jobs for them. "I had to do something," Carol comments. "I'm sixty-four years old and I haven't drawn a paycheck in three years, but I knew about food, so I decided to teach people how to do more with less." So, Carol founded the non-profit organization Budget Meals, Inc. two years ago and began to present free classes to food pantries, churches, and more on how to save money while grocery shopping, beyond just clipping coupons. Her book Beyond Couponing grew out of these classes, and expands the topic of saving money to include developing a budget, using coupons, planning a weekly menu, and creating a shopping list.
It also includes lots of economical and delicious recipes, explains the ins and outs of food storage, how to buy in bulk, how to stock your pantry, cooking with children in the home, and so much more! This book teaches how to feed a family of 4 for approximately $300 a month in a delicious, enjoyable, and nutritionally balanced way. Carol comments, "These are life skills and habits that people need. I feel compelled to help those families who face a radical loss of income due to job loss or the replacement of a well-paying job with one where the ends no longer meet, or anyone who wishes to stretch their food dollar while improving their nutrition and the quality of their food."
One of the most amazing things about this book is that when you purchase a copy, they are able to give away another book to a needy family who will truly be able to benefit from it! Only $30.00 covers the book, shipping, and sales tax, and you will be able to help someone truly in need. This 254 page book, when shared with those desperate to make ends meet, will aid in helping them to improve their self-sufficiency, which in turn will ease the strain on local food pantries, as well as state and federal agencies. By donating books to those truly in need of the valuable education it contains, Carol and her organization truly embody the proverb, "Give a man a fish and you feed him for a day. Teach a man to fish and you feed him for a lifetime."
If you would like to learn more about Beyond Couponing (and I strongly encourage you to do so!), to purchase your own copy, or to make a donation to this great organization, visit Beyondcouponing.com for more information. At this website you can actually preview the table of contents, and you will see how broad this book really is, teaching great tips like when to purchase fruits and vegetables, how to find and use the most beneficial coupons, menu planning, and equivalency charts that are guaranteed to save you money. The table of contents alone will sell you on this book, it literally covers everything you could think of! And the recipes are great, there is definitely something for everyone to enjoy.
I am a big fan of this book - if you have read some of my past articles you know that I am a big-time list maker! I never go to the grocery store with my weekly menu and my grocery list safely in hand. This book follows a lot of the principles that I do when shopping and planning meals-and I can promise you that it works! For those of you who have Cook'n, don't forget that it can also help you with your menu planning and grocery lists! And, if you have the newest version of Cook'n, you can get your grocery list sent straight to your mobile device for convenience in the store. So, get Beyond Couponing to teach you how to save money, and then use your Cook'n products to put that education into practice!