Four Fantastic Light Desserts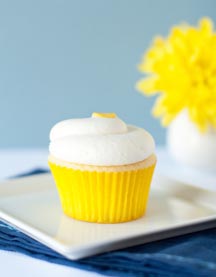 You may be thinking the same thing I have in the past, "Is there really a light dessert that tastes luscious?" Well, there are and I'm going to share four of them with you. As you will see, they have low fat ingredients or applesauce for sweetener. Many people are looking for alternatives for fats and sugars in recipes; it's quite easy to find these recipes in specialty books and on the Internet. Speaking of Internet recipes, did you know you can capture and save Internet recipes in your Cookin' software?
Light recipes help us keep our calories minimal and also help us keep our sugar intake down. Just because these recipes are considered "light" doesn't mean we should allow ourselves to eat more than a serving. Light desserts are an aid to help us have an occasional treat without feeling guilty. You know the old saying "moderation in all things." We should be able to enjoy a tasty treat but in order for the "light" in the recipe to work, we have to be careful how much of it we eat.
One of the things I have found helpful is to make sure I eat my dessert slowly. I savor the taste and try to make it last. This helps me from feeling like I have to have another piece. And let's face it, even if you are being careful what you eat, you may still have someone around you that could care less, which in turn may increase your temptation! That being the case - if we are watching our calorie and sugar intake, we need to be prepared by telling ourselves ahead of time "one piece."
What I like about this light lemon cupcake recipe is that it is a good one to freeze. That way you don't have to feel obligated to eat them all up all at once. The brownie recipe is a great one for feeding a crowd. They will never know this is a light dessert. The apple dessert is mostly apples with just a bit of flour and sugar. And, last of all, the banana cake can be served with fresh fruit. I wanted to show you a wide variety of desserts that are considered light or healthier desserts.
---
Healthier Brownies
I found this recipe on Food.com where it was given a high rating. They said you would never guess that they were low fat and suggested using a higher quality cocoa for an even richer flavor. Can I just say, that it has been my experience, that the type of cocoa being used in a recipe really does make a big difference? In my opinion, Dutch cocoa is the very best! It's one ingredient that I don't mind spending more money on because it's taste is so superior.
1/2 cup cocoa
1 cup flour
1 teaspoon baking powder
1 teaspoon vanilla
1/2 teaspoon salt
2 Tablespoons butter
1 3/4 cup white sugar
2 egg whites
3/4 cup applesauce
Preheat oven to 350 degrees. In a large bowl, cream the butter and sugar together using a hand mixer. Add egg whites, applesauce and vanilla. Mix all other ingredients in a separate smaller bowl and add to wet ingredients in the large bowl. DO NOT over mix! Spray 8x8 inch pan with cooking spray. Bake for 30 minutes.
---
Light Lemon Cupcakes
1 cup all purpose flour
1/4 cup instant dry milk
5 Tablespoons softened butter
1/2 cup white sugar
1 teaspoon baking powder
1/2 teaspoon salt
1/4 teaspoon baking soda
1 large egg
1/4 cup non-fat milk
1/4 teaspoon lemon extract
1/2 cup nonfat lemon yogurt
Preheat oven to 350 degrees. Line the muffin tin with cupcake liners. In a large bowl, cream together the butter, sugar and egg. Add milk, flour, dry milk, baking powder, baking soda, salt, and lemon extract. Fold in yogurt. Spoon the batter into the muffin tins 3/4 of the way full and cook for 25 minutes. Toothpick should come out clean. Remove from muffin pan and let cool completely.
To Frost with lemon icing: Mix 1 cup powdered sugar, two teaspoon lemon juice, 1 tablespoon water and 1/4 teaspoon lemon zest.
---
Light Apple Dessert
6 apples (sliced)
1/2 teaspoon cinnamon
1/8 teaspoon salt
1 Tablespoon lemon juice
3/4 cup brown sugar
1/4 cup water
1/4 cup all purpose flour
1/3 cup butter
Preheat oven to 350 degrees. Spray a quart casserole dish with cooking spray. Peel and slice apples. Toss the apples in the cinnamon, lemon juice, salt and water. Lay them in the casserole dish.
Mix the brown sugar, flour, and butter together. Spread this over the apples and bake for 30 minutes. Serve warm.
---
Banana Cake with Strawberries
1 cup mashed bananas
1/4 cup canola oil
2 eggs
1/3 cup plain yogurt
1 1/2 cups all purpose flour
2 teaspoon baking powder
1/4 teaspoon vanilla
2-3 cups strawberries
Preheat oven to 350 degrees. Beat the mashed bananas, oil, eggs, yogurt and vanilla until creamy. Add flour, baking soda, baking powder and beat well. Spoon batter into two 8 inch cake pans that have been sprayed with cooking spray. Smooth batter out evenly as it is thick. Bake for 15 to 20 minutes or until toothpick comes out clean.
Slice strawberries and spoon over first layer of banana cake. Add second layer of cake and add more sliced strawberries and non-fat whipped topping.
---
After you have enjoyed these desserts, you will want to make them again. Make sure you create a "Light Dessert" section in your Cook'n Organizer so these recipes will be easy to find!