Super Spring Snacks
For me, one of the best things about the coming of warmer weather is eating healthier! There are so many delicious fruits and veggies that can be enjoyed, and spring time always makes me feel healthy. It might be because it's sunny and beautiful outside, or because winter has all of the heavy food holidays in it (I seem to enjoy my favorite Thanksgiving and Christmas treats well into March...), but whatever the reason, spring always brings more fresh foods to our table.
I thought it would be fun to share two fun ideas for you and your families, with spring in mind! These are both very easy to make, and are sure to be a hit around the house. The first recipe is great for an after school snack, or serve it up for lunch! The second recipe is fun for a dressed-up breakfast, or a treat after homework time is over! It's a treat that I could eat every day.
---
PB & J Flowers
Servings 6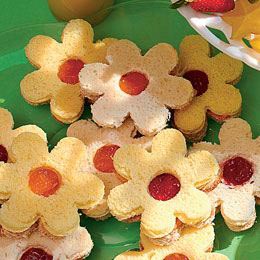 12 slices your choice of bread
peanut butter
raspberry jam or your favorite kind
1 water bottle cap
1. For each sandwich, cut two slices of bread into flower shapes with a cookie cutter.
2. Cut a hole in one of the slices by pressing a water bottle cap into the center.
3. Spread the peanut butter and jelly on the whole piece and place the slice with the hole on top.
---
Beautiful Bubbly Berries
Servings 6
For best results, chill all ingredients.
2 red grapefruit halved, seeded, and sectioned
1 pint fresh strawberries rinsed and halved or quartered
1 (25-ounce) bottle sparkling apple cider or any other flavor
fresh mint leaves for garnish, if desired
1. Alternately spoon the grapefruit sections and the sliced strawberries into 6 goblet glasses until you have enough fruit in each to make a nice serving.
2. Slowly pour enough sparkling cider over the fruit to almost cover it. Add a sprig of mint to each goblet, and your treat is ready to eat.
---
Also, be sure to check out two of my favorite Cook'n cookbooks for more healthy, light, and delicious recipes: Ultimate Juicing and Cook'n Lite and Healthy. These are great cookbooks for healthier foods to serve up to your families. Don't forget that Cook'n will also analyze the nutritional value of your recipes so you know exactly what kind of nutrition you are feeding your family. Don't have Cook'n already? Click here for more information!