Made From Scratch Fruit Pizza



---

Recipe from the April 2012 Newsletter
---
This is a healthier version of the classic fruit pizza, since the crust is not sugar cookie dough, and the cream cheese topping is a healthy version as well.
Ingredients:
Crust
1 cup (2 sticks) softened butter
1/4 cup sugar
2 cups white whole wheat flour (King Arthur brand recommended)
Frosting
3/4 cup Homemade Healthy Cream Cheese (can also use softened cream cheese, if desired)
1/4 cup powdered sugar
pinch sugar if desired, will lessen the tartness of the frosting
Toppings
sliced fresh fruit of your choice, such as: kiwis, bananas, strawberries, peaches, any kind of berries, grapes (halved), and pineapple




---

Directions:

1. Cream butter and sugar. Stir in flour and finish by hand. You may need to add a little more butter to get it to come together.

2. Once the dough holds it shape when squeezed, begin to press one handful at a time into a greased or buttered pan, about 1/4 inch thick. A small cookie sheet or a 9x13 glass dish is recommended.

3. Bake at 350 for 15-20 minutes, or unt the edges start to brown.

4. While the crust cools, make the frosting by mixing together the homemade cream cheese, powdered sugar, and sugar until smooth. Spread on cooled crust.

5. Top with your choice of fresh fruit.

Yield: One 9x13 Inch Dish

April 2012 Newsletter

Be sure to check the Cook'n Recipe Archive for more recipes.
---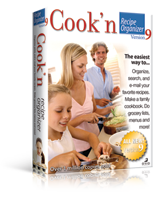 Be sure to check the Cook'n Recipe Archive for more recipes.
Piles of recipe cards in your drawer? Download Cook'n today and get organized!
Buy the CD or download of Cook'n right now! Includes over 300 of our best recipes.
---
"I might learn how to cook yet with all this software of yours. You can't believe how much it has helped. I've had friends come over (I'm just a single guy with a dog - but looking for the right woman) and rave about the meals I prepared for them. It's not all that hard if you just follow the directions. In the end I have to tell them my secret, it's not talent - it's your software.
Oh well, the food is still delicious. Now if I could just figure out how to use the dishwasher.
-John
Cook'n Is Several Products in One!